Hybrid Console for the Modern Studio
Connect Your DAW, Your Gear, and Your Studio
Between its stunning SuperAnalogue sound quality, ultra-smooth workflow options, and extremely warm analog summing, the SSL Matrix2 delivers the large-format console benefits serious engineers demand. A total of 40 inputs and 16 motorized faders for both tracking and DAW control more than meets the demands of most small professional facilities and project studios, and a combination of six aux buses and four stereo returns with full stereo mix bus routing makes it easy to integrate all of your outboard gear as well. Top it off with amazing multilayer DAW control, powerful communications, and X-Rack system integration, and the ultra-modern Matrix2 line-level console is your ticket to mixing perfection.
SSL Matrix2 Mixing Console/Control Surface at a Glance:
Streamlined for a Hybrid Workflow
Pristine SuperAnalogue Circuitry
Take Complete Control of Your DAW
Professional Monitoring and Talkback
X-Rack Integration for Total Recall
Hover over features below for a detailed description
Dual 12-segment meters for DAW and analog channel levels
Dual automation status indicators for DAW (Pro Tools only) and analog channels
Twin VU meters sourced via Main VU Select
12-segment bus meters for Mix, Rec, Mon, Cue St, and FX 1–4 buses
Channel Input (CH IP) with +/- 20dB of gain (pre insert)
Switched Insert Matrix return lets you patch in outboard gear
Channel Output (CH OP) with +/-20dB of gain (post insert)
Stereo Cue and FX Sends provide analog routing
Pan knob control provides stereo field panning
TRK switch toggles monitor mode and source
SEL switch assigns Master Channel Controls to the selected channel(s)
Digital scribble strip displays channel, DAW, and V-Pot information
Assignable V-Pot endless rotary encoder with push switch controls DAW parameters
Focus-dependent Solo and Cut buttons for DAW and analog signal path control
Dedicated DAW Track Select buttons perform mode-based functions
Smooth 100mm motorized faders offer smooth mixing with Total Recall
Motorized 100mm fader provides simultaneous DAW and console control
MF Focus works with the channel fader SEL switches to control groups of faders/channels
Includes standard stop, play, record, fast-forward, and rewind controls
Additional DAW-specific commands accessible via switches
4-mode jog wheel makes scrubbing, nudging, and other functions intuitive
Bank and Channel buttons let you select which DAW tracks are assigned to the faders
Modifier keys let you perform keystroke commands from the console
Mode-specific cursor keys let you access specific functions in your DAW
MF Focus switch lets you reassign the Master Fader as a channel or DAW track fader
DAW Layer Select lets you switch between control of up to four DAWs
User presets let you change the function of your DAW controls
Change various DAW-specific control functions with the SEL Key modes
V-Pot Modes switches let you redefine the function of the V-Pot endless encoder
16 electronically labeled soft keys let you control various aspects of your DAW
Upper-row buttons allow you to select the lower row's soft key groups, for a total of 64 commands
QWERTY commands are sent to your computer via an independent USB connection
Counter readout displays DAW timeline position
Mode indicator shows V-Pot function setting (MCU only)
Save and Undo buttons send critical commands to your DAW
Each of the four stereo returns can be independently routed to the main Mix, Record, or Stereo Cue bus
Pan control includes a sum to mono switch, which turns it into a balance control
Output controls include a trim knob and an AFL switch
Mono AFL monitor lets you audition the FX signal via the main monitors
Switchable insert includes a return sum option for parallel processing
Recording and Stereo Cue buses include Mix Bus assignment switches
AFL switch included on the Stereo Cue bus master
Receives the pre-level Control Room Monitor source and sends it to an onboard headphone amplifier by default
Artist switch changes the input source to a pre-level control feed from the Artist Monitor section
Input source selector lets you grab signal from three monitor feeds and two external inputs
Sum button lets you combine monitor sources to create advanced artist mixes
Tweak the mix with a switchable 2-band shelving equalizer
Mono monitoring option includes a monitor output level control
Choose from the Mix, Rec, or Mon buses
-10dB button lets you avoid pinning the needle with over-normalized mixes
Separate controls for AFL, Dim, and Mini levels let you set up your levels to taste
Dim and Cut switches let you instantly attenuate or mute the output
External monitor inputs include one digital source and two analog sources
Sum lets you easily combine monitor sources
Mono and Left Polarity switches let you check the mono compatibility of your mix
Solo Clear makes resetting channel solos and AFL simple
An extra bank of controls for whichever channel strips are assigned via their SEL buttons
Focus Mode selection button switches between analog mixing and DAW control
Built-in talkback microphone lets you comfortably communicate with artists
Dedicated level control lets you adjust the talkback volume
ADC lock LED indicates that the ADC is locked to an incoming S/PDIF or AES signal
SRC button selects between the Rec bus, the Mix bus, or the Pre Monitor level signal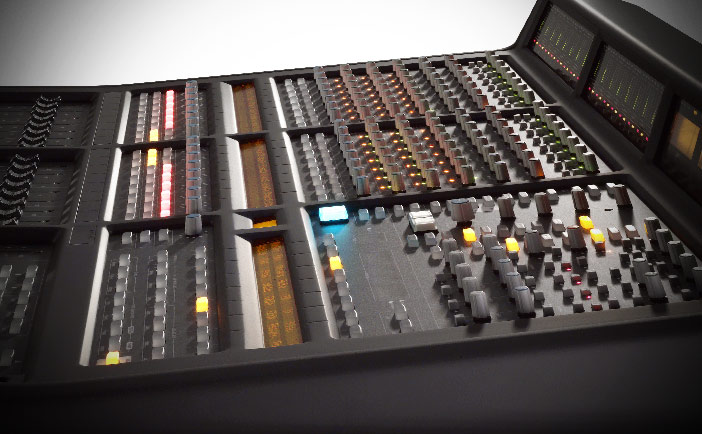 Streamlined for a Hybrid Workflow
A perfect modern console for your outboard gear
With no microphone preamplifiers, equalizers, or dynamics processors onboard, the Matrix2 eliminates a huge chunk of circuitry from your signal path while providing ample connections for your outboard gear. Each of the Matrix2's 16 channels includes a main input, a DAW return input, and an insert point. This insert point actually connects to the console's Insert Matrix, which lets you route your outboard gear to each channel with the flexibility of using a software plug-in. You can even use the Insert Matrix to A/B different processing chains, and since you can control everything from software, fitting this feature into your mixing workflow is easy. And when you're finished mixing, you can take advantage of 40 inputs for incredible analog summing.
Hybrid Workflow at a Glance:
Minimal signal path makes it easy to use your outboard gear
Each channel includes inputs for both tracking and for mixing
Insert points let you patch in additional outboard processors
Insert Matrix provides plug-in-style hardware routing options
Stereo Cue ins add a total of 40 inputs for analog summing
Pristine SuperAnalogue Circuitry
Don't let your desk be the bottleneck in your rig
Audio systems are defined by their bottlenecks, such as dynamic range, noise floor, and true frequency response. In most systems, this occurs well before the digital stage, which offers 144dB of dynamic range (at 24-bit) and supports frequencies up to 96kHz (a full 76kHz above the threshold of human hearing). That isn't the case with SSL's SuperAnalogue DC-coupled circuitry design. Using top-of-the-line surface-mount manufacturing techniques, the signal path from any point to another in the Matrix2 offers an extremely wide frequency range with a flat response, next to no distortion, and an almost unmeasurable noise floor. Even if you're recording at 24-bit/192kHz, this console will never be your sonic bottleneck.
SuperAnalogue Circuitry at a Glance:
Same DC-coupled circuit design found in SSL's top gear
Transparent signal path exceeds 24-bit/192kHz resolution
Extremely wide frequency range with flat response
Ultra-low distortion performance won't color your sound
Virtually nonexistent noise floor offers extended dynamics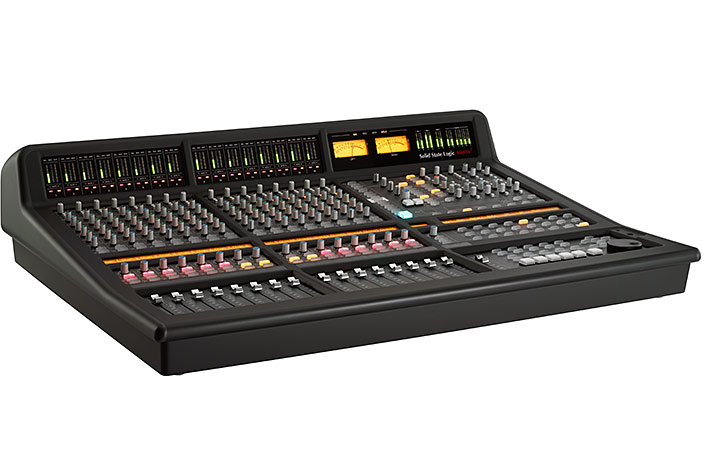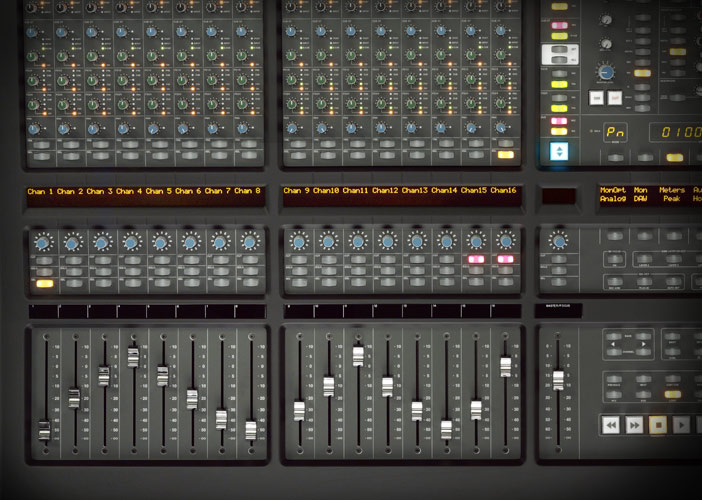 Take Complete Control of Your DAW
Loaded with extensive control surface functions
As a true hybrid console/control surface, the SSL Matrix2 takes total command of your DAW environment, putting the vast majority of software functions at your fingertips. With HUI or MCU modes, the 17 motorized faders and channel controls provide complete hands-on control over your DAW mixer. Additionally, the Matrix2 gives you access to transport and navigation functions, plug-in and virtual instrument parameters, and essential DAW commands, allowing you to work quickly and easily using just the console surface. For crucial track adjustment, the unique Focus Fader mode enables the Master Fader (and accompanying V-Pot) to control any channel within your DAW environment that is not part of the currently selected layer. It's a real timesaver when you're mixing down.
DAW Control at a Glance:
DAW Focus Mode provides full control surface functionality
HUI and MCU mode presets cover every major DAW software
17 motorized faders provide amazing hands-on control
Complete transport controls and timeline readout onboard
Focus Fader mode provides additional mixing flexibility
Professional Monitoring and Talkback
Full com systems for tracking and mixing onboard
Communications and monitoring are two of the things the engineers here at Sweetwater put a lot of thought into when they built their own studios, and they're two of the things that really stand out about the SSL Matrix2. Separate Main, Mini, and Independent Artist monitor (headphone) outputs make it easy to set up your monitoring workflow in a simple and logical way, whereas five additional stereo monitoring inputs (including digital inputs for your DAW) let you jump between the main mix, reference tracks, and other material. You can use this section for listen back as well, and an integrated talkback mic with level control provides easy communication with your talent.
Communications at a Glance:
Main and Mini outputs let you easily switch between monitors
Artist monitor output is perfect for setting up headphones
Five external monitoring inputs provide ample source selection
External input summing makes adding reference tracks simple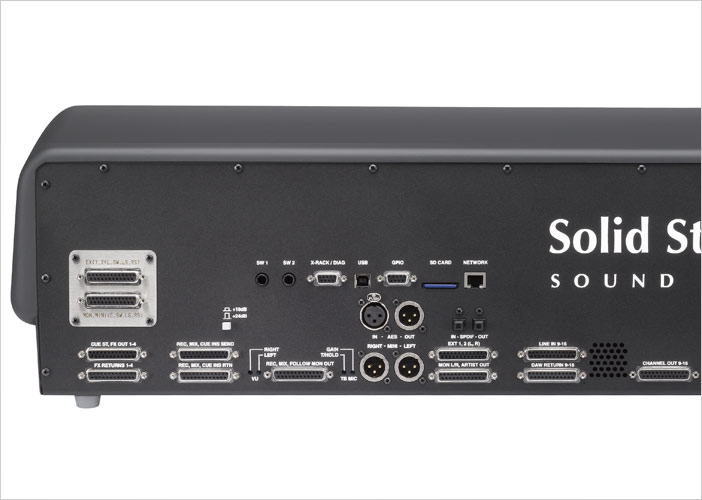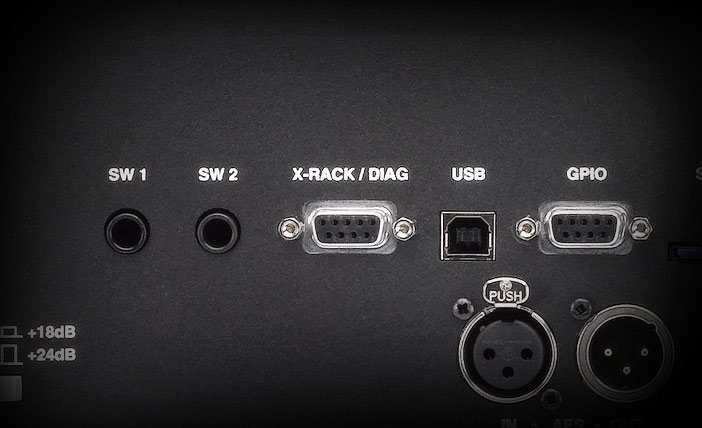 X-Rack Integration for Total Recall
Enhance your Matrix2 rig with SSL X-Rack equipment
Total Recall has been one of the most characteristic features of SSL consoles for generations, and the Matrix2 brings a whole new level of software control to this invaluable tool. Thanks to the Total Recall tab in the Matrix Remote application, taking TR snapshots and keeping them organized is a piece of cake. Several of the Matrix2's settings can be automatically recalled, and LED indicators on the rest of the controls make recall as painless as possible. What's more, the Matrix2's Total Recall fully supports up to six SSL X-Rack modules, allowing you to save and recall settings on your compatible outboard gear.
Total Recall at a Glance:
Updated Total Recall system makes restoring settings easy
Manage TR setups right from the Matrix Remote application
Many settings can be instantly and automatically restored
Manual settings guided with simple LED indicator lights
TR supports up to six additional SSL X-Rack modules