Expressive Acoustic Guitar Tracks over MIDI!
MusicLab's RealGuitar 4 virtual guitar plug-in makes it easy to achieve realistic acoustic guitar solo and accompaniment sounds, all without dusting off that old dreadnought. This sample-based virtual instrument features special technology that imitates the way a guitarist would change fret position on the neck. With it, you can smoothly play up to 104 guitar frets, using just 43 keys of your MIDI controller. RealGuitar 4 also features Guitar Touch technology, which lets you access guitar-specific techniques — including strumming, plucking, sliding, bending, and muting — by using standard MIDI controls. RealGuitar version 4 adds the drag-and-drop Song Mode to build backing tracks, Chord Selector to quickly flesh out existing arrangements, and a 9-parameter Humanize engine to adjust pick position and more.
Perform with expressive guitar techniques
RealGuitar 4's Guitar Touch technology lets you use your MIDI controller's pitch-bend wheel, modulation wheel, sustain pedal, and aftertouch features to tap into guitar-specific techniques. Perform strumming, plucking, sliding, bending, and muting styles just as a real acoustic player would.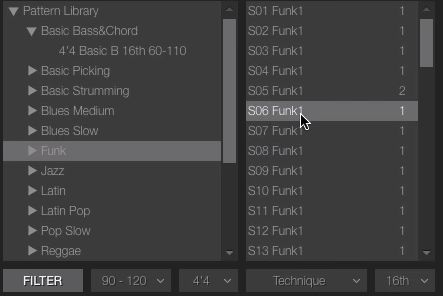 Build guitar-centric rhythms with Pattern Manager
Using RealGuitar 4's built-in Pattern Manager feature, you have instant access to a wide range of natural rhythms and strumming patterns: 1,250 in total. Patterns cover a number of musical styles and give you great jumping-off points for creating your parts. When RealGuitar 4 is used as a plug-in, the Pattern Manager will sync to the tempo of your DAW.
Packed with more songwriting features
Whether you're looking to swap out MIDI tracks with real acoustic guitar tones or stretch your songwriting muscles, RealGuitar 4 has you covered. Song Mode lets you build tracks just as a guitar player would. Chord Selector provides a wheel of key-specific chords to help you find the right mood for your verses, choruses, and bridges.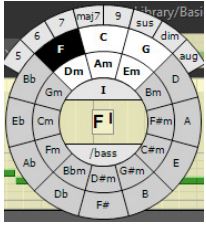 MusicLab RealGuitar 4 Acoustic Guitar Plug-in Features:
Acoustic guitar virtual instrument plug-in suite
Use standalone, or as a plug-in with your DAW (Mac/PC, VST/AU)
Perform in real time for live performances
Create realistic guitar arrangements for your music
Perform expressive techniques like tapping, hammer-ons, bends, and palm mutes with your MIDI keyboard
Packed with features for songwriters
Pattern library includes 1,250 rhythm patterns, synced to the tempo of your project