Zen Studio. Plus.
How does Antelope Audio improve on their hugely successful and critically acclaimed portable USB audio interface? For the Zen Studio+, they kept all the great features — the beloved form factor, 20 analog inputs, 12 world-class mic preamps, front-panel instrument jacks, ADAT, their signature clocking, audiophile sound quality, and more — then added fast Thunderbolt connectivity and an ever-growing arsenal of incredible-sounding FPGA-powered hardware-modeled vintage effects. Antelope Audio's Zen Studio+ is a tour-de-force: a versatile, high-end mobile recording solution that transforms wherever you are into a pro studio.
Modeled Vintage EQs, Compressors, and More On-board
Hardware-based modeling of classic gear
Antelope Audio's FPGA technology means Zen Studio+ provides near-zero latency performance and also powers the FPGA effects suite with digital re-creations of beloved classic hardware processors. FPGA enables effects to respond more like hardware compared with many other plug-ins thanks to this powerful processing platform.
Authentic vintage models
Antelope's included FPGA software suite delivers spot-on emulations of vintage processors allowing you to sweeten tracks with Pultec EQ emulations, make vocals shine with the 1073 EQ model designed in partnership with BAE, add life to drums and guitars with the VEQ-55A plug-in, and utilize vintage and contemporary guitar amp and cabinet simulations to create larger-than-life tones. All of these effects processors can be instantiated on any input, output, or DAW track, making Zen Studio+ a powerful virtual effects rack.
Antelope's world-class reverb
AuraVerb is an original reverb processor designed by Antelope's top programmers and is included as part of the Antelope Audio FPGA suite. Because it runs in real time on Antelope's Modeling Engine, you can use it for tracking as well as mixdown with virtually no latency.
More models are on the way
The EQs, compressors, and effects in the Antelope FPGA suite are just the beginning. Antelope's engineers are continuously working on creating new models of classic vintage gear, and you'll be able to add them to your software suite as they become available.
Guitar Amps
Burnsphere (DE)
Marcus II (US)
Overange 120 (UK)
Tweed Deluxe
Top30
Darkface
Modern
Plexi 59
Rock 75
Rock 22.10
Equalizers
VEQ-55b
VEQ-STU 089
VEQ-STU 169
VEQ-STU 900
VEQ HA32C
BAE 1023
BAE 1084
NEU-W492
NEU-W495
NEU-PEV
VEQ-4K Series
VEQ-4K Black
VEQ-4K Brown
VEQ-4K Pink
VEQ-4K Orange
BAE-1073
VEQ-HLF
VEQ – 1A
VMEQ-5
VEQ-55A
Lang PEQ2
UK-69
Parametric EQ
Compressors
X903
VCA160
Gyraf Gyratec X
Tube176
Grove Hill Liverpool
FET-A76
Antelope FeedForward Compressor
Reverb

Features for the on-the-go working pro
The Zen Studio+ features an onboard Talkback function for quick-and-easy communication between artist, engineer, and producer. Re-amping guitar? You no longer have to tie yourself in knots. Dedicated Re-amp outputs make Zen Studio+ the perfect interface not only for mobile engineers and touring artists, but for professional guitarists as well. Monitor mixes? Antelope's proprietary routing matrix lets you create up to four independent, real-time mixes, assignable to any output, including two independent headphone outputs, or the Line or Monitor outputs.
All-access via desktop and mobile apps
Antelope Audio gives you multiple ways to control Zen Studio+. Their intuitive desktop software for Mac and PC offers customizable presets and flexible signal routing. The iOS/Android apps give you remote control for adjusting Mic Pre gain levels from anywhere in your studio — ideal for checking mic levels right at the source.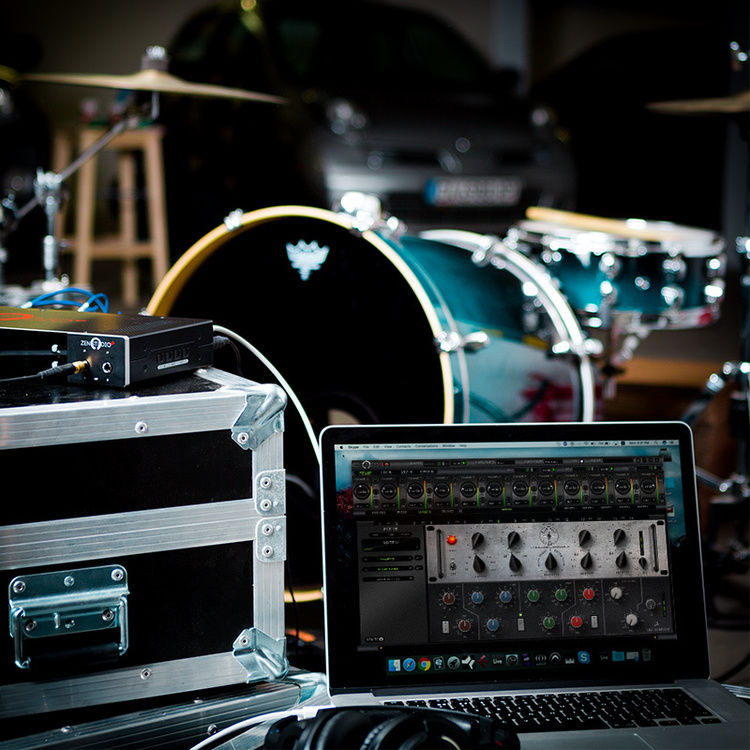 Impeccable clocking for sonic perfection
Antelope Audio's acclaimed 4th-generation 64-bit Acoustically Focused Clocking (AFC) jitter management is the technology behind the unrivaled clocking accuracy of the Zen Studio+. AFC technology, used in top mastering facilities worldwide, delivers some of the most analog-sounding audio conversion we've heard here at Sweetwater. Expect wide and balanced frequency response, sparkling transients, and vast stereo imaging with an uncanny sense of depth and dimension. This is sonic perfection, Antelope-style, as in their ground-breaking OCX HD and Trinity master clocks.
Antelope Audio Zen Studio+ Features:
12 Class A mic preamps with phantom power
8 mic/line inputs, 4 mic/line/instrument inputs
2 independently assignable headphone outputs
2 DSUB-25 connectors with 8 channels of I/O
Stereo Monitor out
4 ADAT connectors (up to 16 channels of I/O)
SP/DIF I/O on RCA connectors
Two inserts over TRS
1 Word Clock/LoopSync/Atomic Clock BNC in, 1 Word Clock/LoopSync BNC out
2 Re-Amp outputs
1 high-bandwidth low-latency USB 2.0 port
1 Thunderbolt port
Custom FPGA powers multiple monitor mixes and real-time FX processing
4th-generation 64-bit Acoustically Focused Clocking (AFC) jitter management
Remote software control via Mac/PC/iOS/Android apps