GUITAR EFFECTS: WAH'S UP?

Issue #32
June 5, 2006
The Birth of the Vox Wah-Wah...and Who Was Clyde McCoy?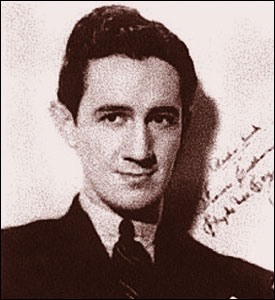 Clyde McCoy, the trumpeter who started the wah craze
This is a companion piece to my column on Vox amplifiers, which discussed the line's early beginnings as part of Jennings Musical Instruments in 1958. Although the first Vox amp, the AC15, was being manufactured in England by the late '50s, the Vox wah-wah pedal was totally a product of the '60s. It seemed there were suddenly hundreds of thousands of new guitarists following the British Invasion, which was spearheaded by The Beatles in 1964. And with all those new players came a huge demand for more sounds besides the classic spring reverb and tremolo effects.
Born in 1903, Clyde McCoy was not a guitarist, but rather a trumpet player. He was just 19 when he stumbled upon the "wah wah" trumpet sound that would bring him to prominence in the 1930s and in an odd twist of fate, ultimately led to the creation of the wah pedal. See, Clyde figured out that if he manually used a traditional trumpet mute, he could achieve a more expressive vocal-like sound. Essentially, the mute acts as a sort of acoustic equalizer, and as Clyde played solos, he'd move the mute in and out of the bell of the trumpet, emphasizing certain midrange frequencies.
The sound was almost certainly heard for the first time on McCoy's 1931 hit recording, "Sugar Blues," which was released by Columbia Records. The company sold millions of that original 78 rpm record. In fact, it was such a huge success that McCoy released another version on Decca that sold at least another million copies. John S. Wilson, a jazz critic for the New York Times, wrote that McCoy's trumpet could produce "...stuttering, coughing, brawling, smacking wet kissing sounds." Who knew, right? That quote could just as easily have been written about a Jimi Hendrix performance played using the wah-wah.
THE WAH-WAH MAKES ITS DEBUT
Clyde had a long career that actually lasted into the 1980s, mostly playing big band and Dixieland music until he passed away at the age of 87, after more than 60 years in the music business. Most trumpet players know who Clyde McCoy was, but guitar players in the 1960s only knew his name because it appeared (along with an artist's rendering of him) on the bottom of each and every black and silver Vox wah-wah pedal, which was also dubbed the "Cry Baby."
Exactly who came up with the idea of putting that signature sound into a guitar pedal is unclear, but we do know that an American engineer employed by Thomas Organs, Stan Cutler, was designing an electronic circuit that could be used on brass instruments to mimic the Clyde McCoy sound. Someone in the R&D department got the notion to try it using a guitar. In other accounts, Brad Plunkett of Thomas Organs is said to have created the sound at around the same time.
I should note here that a variation on the wah theme was actually used on a 1961 recording called "Boo Boo Stick Beat" by none other than Chet Atkins. We do know that Chet built the pedal he used himself and it sounds more like a tone control pedal to me, but it's an interesting historical sidenote. Was it perhaps the inspiration for someone at Vox or Thomas Organs to try this new circuit on a guitar? If you can locate a copy of that recording, you can judge for yourself, but it's a long time from 1961 to 1967, so who knows.
Oddly enough, I bought a Vox wah pedal about a week before I ever heard one on a record. I happened to be at the local Thomas Organ dealer in North Miami, which was the only local place for me to buy Vox products back in the 1960s. In either late April or early May of 1967, I was there checking out a used Gibson amp I was considering. As I was heading to the back room where all the used gear was kept (remember, nothing was "vintage" back then, it was just "used" and thus sold for significantly less than new items), I saw a big box being opened that had the Vox logo printed on it. Inside were dozens of these wah-wah pedals, which we had never seen.
The previous year, Vox introduced both a treble booster and a "fuzz box" in small rectangular casings that plugged into your guitar amp's input, and I owned one of each, but this was clearly different. Naturally, I had to try it out. Well, as you can imagine, this was something totally new - a sound I had never heard before, so I had to own one. I wasn't totally sure how it could be used. I didn't quite understand the concept of rocking the pedal to achieve the wah sound and neither did the sales staff. About a week later, I heard the sound on the "B" side of Cream's "Strange Brew." The song was "Tales of Brave Ulysses." Jimi Hendrix used it on "Burning of the Midnight Lamp" which was released later, but may actually have been recorded earlier.
THE PSYCHEDELIC EXPERIENCE
More than one writer has pinpointed 1967 as the birth year of what was to become called "psychedelic music." It was the Summer of Love with "flower power" in full force out in California. The "peace movement" began then as a pacifist protest over the war in Viet Nam. It wasn't just modern music that was changing, but the mind set of an entire generation, which was soon to spill over into the mainstream in the years to come.
| | |
| --- | --- |
| The latest version of iMovie comes with some cool tracks, like this one called "Gleaming" which uses a wah-wah pedal to help develop a smooth laid-back feel. | Play |
| I used a couple of Garage Band loops, a PODxt, an American Standard Strat plus a Morely wah pedal to create this example, which includes three wah overdubs. | Play |
| Chris Kelly took this iMovie file, called "Redondo Beach" and added a lead using his Dunlop Cry Baby, an Ibanez RA and a PODxt. | Play |
There was another development at Vox that happened at about the same time. The new line of Vox solid-state amps had a special circuit they called MRB, for Mid-Range Boost. You could engage it using a footswitch and there were three different settings, high, mid, and low. These roughly matched the sounds produced by the wah-wah pedal when you rocked it back just slightly, or to the middle of its range, or almost fully in the heel position. The best example of MRB I can recall was the solo on The Beatles' "Fixing a Hole" from the Sgt. Pepper album.
When I discovered this little trick, it hugely expanded my tonal range. I don't honestly know how many other guitar players really "got it" at the time, but I was certainly the only one in my town with a wah pedal for quite some time. Though the British Invasion was in full force and bringing new groups like The Who and The Yardbirds into the spotlight, lots of local bands were still playing it safe, covering songs from American bands such as Paul Revere and the Raiders, The Monkees, and The Beach Boys.
But it wasn't just psychedelic music that made fine use of the wah-wah pedal. It soon became apparent that the sound was very rhythmic, so the wah-wah was soon heard on plenty of R&B and so-called "soul music." The culmination of this was clearly the use of the pedal in the Isaac Hayes hit single, "Shaft!" which was the theme from the movie of the same name. Even today, you can't hear the first few bars of that song without conjuring up that fast, "whuka-chuka" sound that could only be produced by a wah-wah.
The most famous wah recordings? Well, I'd say that "Voodoo Child (Slight Return)" by Jimi Hendrix off the Electric Ladyland album is right at the top along with Clapton's searing lead on "White Room." Personally, the wah riff that most blew me away was Clapton's monumental solo on Blind Faith's "In the Presence of the Lord." There are several live cuts of that song, including one with Derek and the Dominos and each has something special about it. Got your own favorite? Let me know.
A WAH BY ANY OTHER NAME
By the time the Vox empire was collapsing, lots of other manufacturers were building their own version of the wah-wah pedal, mainly because neither Vox nor Thomas Organs seem to have gotten a patent on the circuit. Soon there were wahs offered by Hofner, Elka, Foxx, Maestro (Gibson), and even Fender, among others.
Eventually, some manufacturers came up with a circuit that produced a "Touch Wah" effect, where the resonance sweep is triggered by the input signal. The earliest example of this that I encountered was in the original Mu-Tron pedal. I doubt there's a multi-effects processor out there today that doesn't have some sort of auto-wah sound onboard. Some are very musically useful, others are just awful, though the sound can be radically different depending on which guitar - or more specifically, the type of pickup - is used for the input signal.
Sweetwater carries all the best wah pedals being made today. There are some wah connissoirs who claim that a great wah simply must have a certain combination of components to sound great. Oddly enough, these are usually found in the earliest examples of any effect from wah to fuzz and probably has less to do with the overall tone than some predisposition we might have to owning those original designs. I think you have to ask yourself this question: "Could they have possibly gotten it perfect on the very first attempt?"
Even Eric Clapton seems content to stomp on a stock Dunlop Cry Baby, while Carlos Santana uses an off-the-shelf Morley wah. For the guitarist who must have access to the original, consider the Vox Model 848 Clyde McCoy Wah-Wah reissue, while for sheer diversity, you can't beat the Boss Power Wah PW-10, which offers up models of all the most famous wahs, plus a few cool extras, like a modeled "Uni-Vibe" effect that's pretty darn good.
I'll toss a few audio samples into the mix for you, but ultimately, you'll have to decide for yourself which version you prefer. The good news is that, while I had to play dozens of gigs to pay off my first wah-wah, today's pedals are all super affordable. How cool is that?
Questions? Comments? Discuss this article in Jim Miller's Forum
Questions, comments, rants, suggestions, unwanted '62 Stratocasters and any other form of correspondence can be addressed to jim_miller@mindspring.com.