Studio Monitor Topics:
» Powered vs. Unpowered Monitors
» Studio Monitor Placement Guide
» What is "Bi-Amplification"?
» How does price relate to sound quality?
» Types of Headphones
» What is a Monitor Management product?
Powered vs. Unpowered Monitors
Q: Which is better, Powered or Unpowered monitors?
A: The answer, of course, is that there are benefits to either, and that it depends on your situation. A "powered" monitor is one that is self-powered, or has its amplification built into the speaker cabinet thereby relieving you of purchasing an amplifier separately (and the headaches involved). An "unpowered" monitor is not self-powered which necessitates purchasing a power amplifier.
Passive / Unpowered Monitors & Amps
To operate Passive / Unpowered Monitors, you simply connect the line-level outputs of your mixer to a power amp and then run speaker wire to the monitor. If you already own a power amp, then passive monitors may be your ticket to saving money. Simple right? Well, yes and no. Now you have to deal with two separate pieces (actually several when you consider cables and connectors) - the monitor and the power amp. Monitors are fairly straight forward, but while figuring out a power amp is not rocket science it's not super easy to set up for the beginning studio owner. Here are just a few issues you'll need to address when using a power amp:
Ensure Proper Cooling: If you rackmount your power amp, DO NOT block the front rear or side air vents. The side walls of your rack should be a MINIMUM of two inches from the amp and the back of the rack should be a MINIMUM of four inches away from the back of the amp. Without proper airflow, your amp will not function properly which can cause damage to both the amp and your speaker.
Proper Cables: Take time to figure out your inputs and outputs on your amp and purchase the correct cables with proper gauge (at least 22-24 gauge to your amp input, 16 gauge or better to your monitors, depending on distance). Your amp may have balanced or unbalanced XLR, balanced or unbalanced 1/4-inch connectors; or you may find banana plugs, spade lugs or even binding posts. Be sure to reference your owner's manual for specific information.
Use care when making connections, selecting signal sources and controlling the output level.
Remember that amps have a sonic character all their own. Just as you might combine the sonic characteristics of a microphone and preamp, you need to consider the combination of the sonic character of your reference monitor and separate amplifier. In other words, the same passive / unpowered monitor will not necessarily sound the same when juiced by different amplifiers.
A general rule of thumb when searching for amps to drive your passive / unpowered monitor is to purchase an amp that delivers twice (2 x) the wattage necessary for the monitor (this allowance is for headroom). So if you need 300 watts at 8 ohms, purchase an amp that is rated for 600 watts at 8 ohms. Again, this is just a rule of thumb and is not necessarily true in all cases.
Active / Powered Monitors
The benefits that come from investing in Active / Powered Monitors on the surface is that you simply don't have to deal with any of the above-mentioned issues. Many of us don't want to know about ohms, watts, damping, overload protection, crossovers, and the like - it's enough to know that the monitor works, it sounds great and all I really have to do is plug it into my mixer or computer audio interface. Besides, we'd really like to get back to making or recording music. If, on the other hand, you'd like to know more about the technical benefits of Active / Powered Monitors, we suggest you call your Sales Engineer.
---
Studio Monitor Placement Guide
Where do you aim the speakers to give you the smoothest and most consistent sound, and how far apart do you place them to give you a good stereo image? The basic rule is to follow the layout of an equilateral triangle, which is a triangle with all three legs the same length. The distance between the two monitors should be roughly the same as the distance between one monitor and your nose in the listening position where you are leaning forward on the console armrest. The speaker axis should be aimed at the half-way point between your furthest forward and the furthest rearward listening positions. This is typically a range of about 24" (600mm). If you can, you also want to try to get your ears lined up with the vertical speaker axis (half way between the woofer and the normal listening position lined up in the best spot possible. If this would have you resting your chin on the console or desktop, you could tilt the monitor back slightly. This keeps your head in the sweet spot whether you're leaning forward adjusting level or EQ, or leaning back and listening to the mix. Don't go crazy trying to get this exact to three decimal places, within an inch or two gets you into the game.
You will also want to keep your monitors upright and vertical even though you'll be tempted to place them on their side to give you a better line of sight behind them. With the monitor on its side, moving your head horizontally means that you are now moving through all those rays, or lobes, where the wavefront from the woofers and tweeters interfere with each other. The midrange frequency response will be different for each head position. It is our opinion that all two-way component monitors, no matter who manufactures them, need to be used with the multi-driver axis vertical (that's just the way it has to be when you're in the near-field).
---
What is "Bi-Amplification"?
When a passive system's single amplifier must reproduce the whole audio spectrum, low frequencies rapidly "use up" the amp's headroom. As higher frequencies "ride along" on lower frequency waveforms, they can be chopped off or distorted even though the high frequencies themselves would not be clipping. Separating highs from lows via an active electronic crossover lets a bi-amped system use two different amplifiers. Each is free to drive just one transducer to its safe maximum limit without intermodulation distortion or other interaction between the two drivers.
---
How does price relate to sound quality?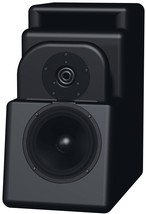 Q: Is there really a difference between monitors that are just a few hundred dollars and the ones that I see for a few thousand?
A: Sure, just as you would find qualitative differences in microphones, guitars, preamps, keyboards, etc. that varies in price, so it is with reference monitors. The old adage that "the devil is in the details" is still true. Generally speaking, manufacturers with monitors costing more, such as Genelec, Focal and Mackie (among many) have spent more time developing a better design and use higher quality components. This equates to a more accurate imaging, smoother frequency response, extended low frequencies and clearer high frequencies and consistent quality at different dynamic levels. In other words, better mixes, faster. Saying that, today's crop of monitors from M-Audio, Samson, and others that come in for just a few hundred dollars are a tremendous value for many desktop audio professionals who aren't necessarily planning to finish their mixes (or master) on their own. Our advice is to purchase the best set of monitors your budget can afford - your mix and your ears will thank you.

---
Types of Headphones
Headphones can be defined in terms of how they fit on your ear and/or in terms of the "open-ness" of their designed structure. In the end, headphones are much like studio monitors in that while the following information is intended to help you decide what type of headphone might be right for a given situation, personal taste still prevails. In other words, if they sound good to you, and they feel comfortable, use them!
Circumaural:
"Around the ear". Circumaural headphones encircle the ear, and provide a good seal. Such earphones are usually comfortable to wear, provide good isolation, and result in a consistent sound from one wearing to another. Bass extension is excellent with this design since a very good air seal can be made against the head.
Supra-Aural:
Used in reference to headphones. Supraaural phones rest "on the ear", rather than enclosing the ear. Supraaural phones typically are lightweight, and because they do not seal around the ear, tend to not provide good isolation. Response may vary, depending on the precise positioning of the earcup. Bass extension may suffer inasmuch as a good air seal cannot be made.
Open Air:
When referring to headphones, the term "open" means that the headphone remains open to the outside. Open air headphones are usually more comfortable than their closed air counterparts, but they do allow sound to leak in both directions. This means that sounds from the outside can get it, potentially making it difficult to hear the headphone signal, which is of particular concern with drummers or anyone who is monitoring near loud sound sources. They also allow sound to escape to the outside, which can become an issue in recording sessions. For example, a singer's headphone mix may leak into the vocal mic enough that it can be audible in the final recording, or at least to the extent that it effects the tonality of the final mix. For these and other reasons, closed air headphones are not often used in recording situations; however, open air headphones are often preferred for general listening and/or audiophile listening applications.
Semi-Open:
As seen with AKG's K240 Studio headphones, semi-open headphones combines the best features of both closed or sealed headphones and open air designs and relatively few or none of their disadvantages. Through careful attention to the control of resonances, a surprisingly realistic stereo sound field is developed, coupled with low distortion and extended low frequency response.
Closed (or Sealed):
A type of headphone design where the headphone forms some type of a seal around (or in) the ear. The purpose of closed ear headphone designs (in contrast with open air designs) is to provide isolation between the headphone signal and the outside world. This benefits users who are trying to monitor signals in loud environments. They also help keep headphone signals from leaking out and possibly corrupting a recording by leaking into mics, etc. The disadvantage might be that after hours of wear, ears tend to fatigue rapidly. Sony's MDR-7506 are an example of popular Closed earphones.
---
What is a Monitor Management product?

Mackie Big Knob
Studios used to designed and built around mixing consoles that offered extensive monitoring capabilities. While many commercial studios still house larger format mixing consoles, most studios do not which has left a void regarding monitor management capabilities. Enter products such as the Mackie Big Knob. Some of these new Monitor Management devices are rack mounted while others are desktop units. We expect to see this product category expand in the near future.