Pro Tools 10 is not officially supported in Windows 8.  However, if it is necessary to install Pro Tools on a Windows 8 machine, you may be able to get it up and running by following these steps:
First install iLok drivers by downloading them from here.
1. Simply open the "Pro Tools Installer"  folder (NOT the main setup file).  *To view this hidden folder, click View -> Options -> Go to the View tab, and select the bubble for Show hidden files, folders, and drives.  Click OK.*
2. Change the SETUP.exe file's Compatibility to "compatibility mode for Windows 7"
-To do this, right click on the icon, choose Properties, navigate to the Compatibility tab and select Windows 7 in the compatibility mode drop down menu.  Change the Run mode to – Run as Administrator. Press OK.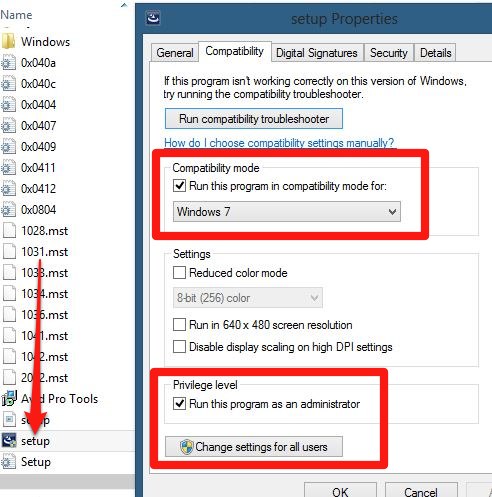 3. Run the setup.exe installer from this folder.
4. Once the installer has finished, install your audio drivers in the same way before you try and run ProTools. ie. Change the compatibility to Windows 7 and Run as Administrator before running any of the driver installers!
5. Go to the ProTools Application icon that's now installed on your desktop and repeat the same process. Right click the icon and choose Properties, change compatibility to Windows 7 and Run as Administrator before you try running it.
6.  You should be able to run ProTools 10 on Windows 8.  In the event you receive DAE error 9514, please click here.
---
Helpful Links
Pro Tools Troubleshooting Guide
My MOTU MIDI interface is not working properly with Pro Tools 11 on Windows 8.
When I minimize Pro Tools on my Windows computer, I can't bring the screen back up.
Windows 10 Compatibility Information
PC Optimization Guide for Windows 10