Eleven Rack Delivers Pro Tools
Power for Guitar and Bass
Loaded with impressive onboard DSP, Avid's Eleven Rack recording interface and multi-effects processor gives you the sound of the acclaimed Pro Tools Eleven effects plug-in, without taxing your CPU or adding latency. What's more, the Eleven Rack integrates into Pro Tools, providing you with advanced recording options, plug-in-style effects control, reamping capabilities, and much more. Bundled with a complete copy of Pro Tools 11, the Eleven Rack Expansion Pack, and amazing Sweetwater exclusive artist presets, Eleven Rack is perfect for every guitar or bass player.
Eleven Rack

New Standard in Sonic Excellence from Avid and Apogee
Avid joined forces with Apogee to create the Pro Tools | Duet and Pro Tools | Quartet USB audio interfaces, combining the unprecedented audio quality of Apogee converters with the streamlined production power of complete integration with Pro Tools 11. Amazingly transparent mic preamps and top-notch AD/DA conversion set a new high standard for desktop audio interfaces. Choose the Pro Tools | Duet for maximum portability, or choose the Pro Tools | Quartet for more I/O flexibility, ADAT input, surround-capable monitoring, and word clock.
Shop for Pro Tools | Duet

Shop for Pro Tools | Quartet

Seamless Integration with
Sibelius and Media Composer
If you're into video production or scoring, then Pro Tools 11 has a lot of great things to offer you. Capable of fully integrating with Avid Media Composer, Pro Tools 11 makes creating and arranging sound for post production second nature. That's because Pro Tools instantly recognizes critical meta data and even directly supports functions such as clip gain — dramatically speeding up your workflow. The same can be said about its integration with Sibelius scoring software, which offers a serious upgrade to Pro Tools 11's already seriously cool integrated notation view.
Media Composer

Sibelius

Get Your Hands on the Mix with
Powerful Control Surface Options
Pro Tools 11 is designed to give you a professional approach to mixing and processing audio and music. One of the key things many seasoned pros swear by is the hands-on style of mixing and editing you can expect from a quality control surface. Avid's Artist series control surfaces, including the Artist Mix, the Artist Transport, and the omni-purpose Artist Control, give you that level of control in a neat, compact-studio-appropriate format.
Artist Series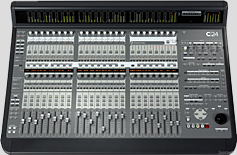 If you need even more tactile controls, a set of killer preamps, and the wow factor only a large-format mixing console can deliver, then the classic C|24 control surface is perfect for you.
C|24 Controller

A World of Powerhouse Plug-ins
and Virtual Instruments Awaits
Loaded with over 70 plug-in processors and virtual instruments plus ultra-fast 64-bit processing, Pro Tools 11 offers you major-league production power right from the start. Avid's revolutionary AAX plug-in format provides the kind of sound quality and stability no other plug-in format can claim, giving you the combined benefit of being able to achieve pro-level results quickly, without having to worry about workflow interruptions caused by sudden crashes. What's more, AAX plug-ins allow you to take projects back and forth between your Pro Tools 11 system and DSP-powered Pro Tools|HD systems, making it easier than ever to work with high-end professional studios.
See All Native Plug-ins

Expand Your Pro Tools Rig with Amazing Aftermarket Add-ons
Need more from your Pro Tools rig? No problem! Thanks to the wide range of incredible plug-ins from Avid and qualified third-party software developers, you'll have no trouble finding the additional processors and virtual instruments you need. For instance, Avid's Reel Tape Suite gives you the long-sought-after sound of analog tape and tape effects, and the Instrument Expansion Bundle loads up your system with five fantastic virtual instruments, including Structure, Strike, Velvet, Transfuser, and Hybrid. And if you're into recording guitar, then you've got to check out Avid's Eleven guitar effects and amplifier emulator, or go all the way with the mind-blowing Eleven Rack hardware interface and effects processor system.