Where the Magic Happens
The Rupert Neve sound is the culmination of all the bits of wire and op-amps strung together just so, but if there was a component that sets the Rupert Neve sonic signature apart from everyone else, it has to be the transformers. These custom transformers couple every input and output in the 5088 (even the inserts!), providing a one-two punch of incredible isolation between channels and the sweet musicality that has become synonymous with Rupert Neve equipment.
But the transformer is only part of the equation. The 5088 is loaded with newly designed high-voltage discrete op-amp cards. These cards were designed specifically for the 5088, and they eliminate any crossover distortion while endowing the 5088 with such necessities as more headroom, extended frequency response, and a full 10dB more dynamic range than previous Rupert Neve boards.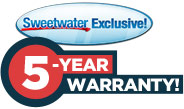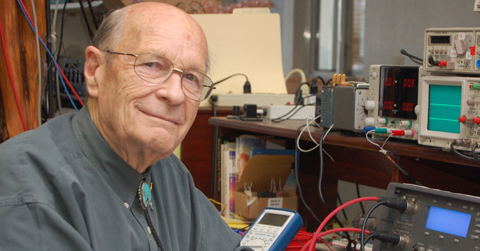 A few words from the man himself:
"Transformers are the reason why my original Consoles are still re-used, re-cycled and re-configured so successfully. From the earliest days all my designs, both inputs and outputs, were transformer-coupled. An audio transformer cannot be entirely successful without including the electronic circuit in the design because it works as an integrated package.

The value of a transformer, correctly used, lies in the total galvanic isolation it provides, giving freedom from ground loops and RF interference. Even microscopic levels of interfering signals cause loss of musicality and introduce unpredictable harshness and loss of definition.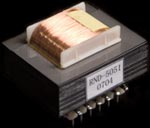 Of course, transformers that are not correctly configured for a particular application can introduce astonishing results! Audio transformer design is almost as much an art as a science... which may be why many circuit designers avoid them."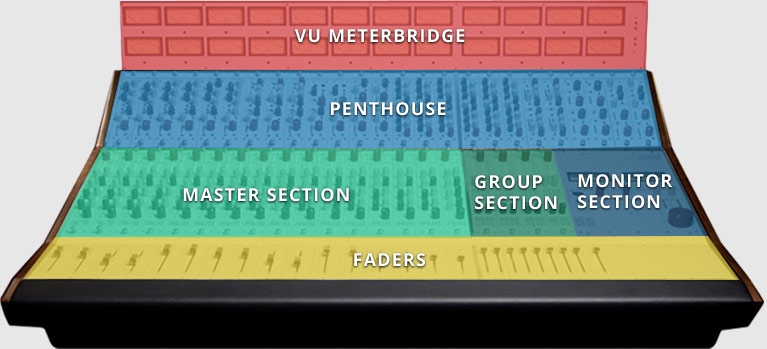 Mix and Match to Meet Your Needs
In the good ol' days, you bought a board, and it pretty much was what it was. Any modifications or customizations were often done at the studio by their own engineers. Rupert Neve recognizes that no two studios are alike, which is why the 5088 is completely modular. Configure your 5088 to meet your current needs, and when your studio expands or shifts gears, just reconfigure the modules to meet what you're doing now.

And if you were around when vintage Rupert Neve boards (and many other boards for that matter) first started popping up, upkeep and maintenance was a killer. It was a long, laborious process that was never any fun. But the 5088's modular design not only makes it extremely flexible, it also simplifies cleaning and maintaining the console.

Another not-so-obvious benefit of a modular console is that you can configure it in such a way that you're not paying for features you're never going to use. Don't need VU meters? Don't add them! Just need sweet Rupert Neve pres and then do your processing outboard? Not a problem. Load your 5088 with the musical magic that is the Rupert Neve preamp and off you go. It really is your console, put together just the way you want it.
VU Meterbridge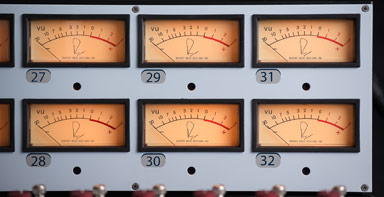 As an option, any 5088 configuration may be outfitted with a VU meterbridge at an additional cost. The meterbridge features finely calibrated and extremely precise meters for all input and group channels. The meterbridge can be secured to either the top of a standard 5088 frame or the top of a penthouse rack.
Penthouse
Portico Modules for the Penthouse:

5012-V
Duo Mic Preamp
A 2-channel microphone preamp with Rupert Neve's custom input and output transformer designs. Each channel is equipped with individually selectable phase, mute, phantom power, and a fully sweepable highpass filter, along with a "Silk" circuit, which enhances the sound, adding warmth and presence.

5015-V
Mic Pre/Compressor
The same stellar transformer-coupled mic preamp and compressor/limiter featured separately in the 5012 and 5043 modules in a single unit, with all-analog, low-noise performance with flexible signal routing.

5032-V
Mic Pre EQ
Has The same preamp design as the 5012 module and adds a premium Rupert Neve-tailored equalizer. It's full of "sweet" and "musical" Rupert Neve-signature sonic character, and you can engage the 5032's unique Silk mode for even more vintage-console flavor.

5033-V
5 Band EQ
This 5-band EQ/high-performance line driver is based on Rupert Neve's traditional curves and features a -/+12dB input level adjustment and five frequency bypasses. Built for recording or mixing.

5042-V
True Tape Emulator
Uses a custom transformer to create a remarkable simulation of tape saturation. If the tape circuit is disengaged, the 5042 becomes a transformer-coupled line amplifier with a gain range of +/-12dB. Drop this all-analog processor on a drum bus or master bus and enjoy the warmth and natural compression that can only be achieved with tape.

5043-V
Compressor Duo
The perfect companion to the 5012 or 5033. Built to handle either tracking or mixing, the 5043 boasts two channels of compression/limiting, which can be used independently or linked in sequence for two decidedly different compression sounds. Rupert Neve input and output transformers are onboard to give your tracks that distinctly British sound.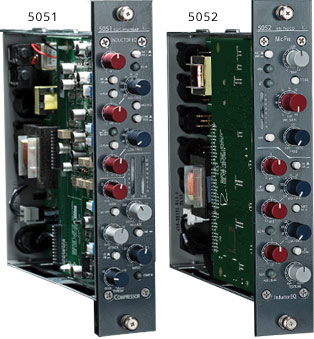 Shelford Modules for the Penthouse:
The Shelford modules (the 5051 and 5052) require an additional power supply, with both 5-way and 25-way PSU configurations available.

5051 Inductor EQ/Compressor
Combines a classic 3-band EQ based on Rupert Neve's vintage designs with the power and flexibility of the Portico II compressor, a fully discrete Class A signal path, and beefy input and output transformers.

5052 Mic Pre/Inductor EQ
The definitive 1073 feature set, complete with mic pre, highpass filter, and 3-band inductor EQ. You also get updated capabilities such as Rupert Neve's variable Silk and Texture control and simultaneous pre/post "tape" operation.
Master Section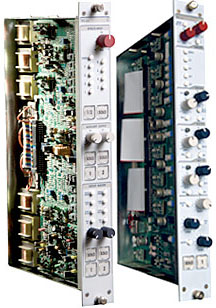 Where It All Begins — Input Channels
The input section of the 5088 is where your signal enters the storied Rupert Neve circuitry. Pushbuttons let you choose between the transformer-coupled line input, the Portico bus, and tape inputs. This gives you the flexibility to easily bounce between tracking, overdubs, and mixing. A trim pot gives you +/-10dB of adjustment of the input channel.

Moving down the strip, there are nine pushbuttons that handle bus assignments for the channel input. You'd assign the signal to specific buses depending on what you're trying to accomplish. If you're setting up headphone mixes for the artists, Aux 1–4 are perfect for this. Pressing the SFP (Send Follows Pan) button makes the signal automatically mimic the channel's pan setting. This is also handy when setting up stereo processing such as reverbs. You can save space in the input section by making your inputs stereo channels. The basic functionality of the stereo channel is to mimic the mono channel, but in pairs. Stereo channels do have a width control, which adds or subtracts from the difference of the stereo sum and difference signal. This is a nice and easy way to increase or decrease the amount of out-of-center content — usually ambience — in the stereo signal.
Mono + Stereo Input Modules
Group Section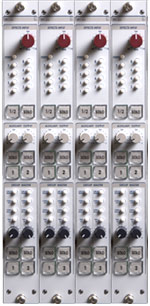 Shaping the Sound
Each of the four dual-group modules is endowed with a stereo effects return. Each of these channels gives you a level control and a switch to assign the signal to the eight group buses and stereo bus. If you run out of channels, you can use these stereo FX inputs as transformer-coupled pairs. Each group output has an insert switch, which when depressed brings the transformer-coupled insert's send (always active) and return into the group signal path for processing.
Monitor Section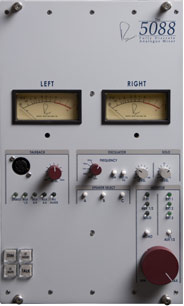 The Final Stage
The master section gives you everything you need to keep an eye on the end result. A stereo VU meter watches your levels, and a talkback input lets you communicate with the live room. You can switch between three different pairs of monitors, with a high-quality monitor output level pot and a 20dB dim switch. In a nod to consoles of yore, there's even an oscillator with 20Hz, 100Hz, 440Hz, 1kHz, 10kHz, and 20kHz settings.
Faders

DAW Integration
The 5088 is built to give a modern studio vintage flavor, which means that it needs to seamlessly fit into a digital environment at all stages of the production. Using the proprietary SwiftMix system, you get to mix with VCA-less 100mm motorized faders connected to your DAW via Ethernet. This gives you the conveniences of DAWs within the framework of the 5088 environment.
Each channel sports five light-up tact switches and a motorized fader. The switches control DAW channel selection, DAW solo, DAW mute, channel record enable, and automation mode. The automation mode switch toggles between off, read, touch, latch, and write, which are indicated with LEDs on the fader panel. The fader cap is touch responsive thanks to a carbon-impregnated fader cap. All of this control is handled via 9-bit HUI over Ethernet, allowing for compatibility with most major DAWs, with no drivers necessary.
Customization
Build the 5088
of Your Dreams!
One of the beautiful things about the 5088 is that it's truly your 5088. Want your penthouse setup to handle standard 19" rack gear? Not a problem! Rely on your 500 Series modules? Get your penthouse built specifically to house your favorites. There have even been 5088 consoles built with other consoles' modules in the penthouse. There's virtually nothing you can't do with the penthouse, so build your own personal "ultimate 5088" today.
Every 5088 is handbuilt in the U.S. over the span of four weeks and incorporates a universal switching power supply, meaning you can use it on both sides of the pond.