Smart Speaker Modes
give you optimized sound in any application
StageSource series speakers deliver the best sound no matter what the application is. Smart Speaker Modes adjust the frequency response curve and sound dispersion angles that are optimized for different uses. You can use your StageSource speaker as a main PA speaker, a floor monitor, a keyboard amplifier, an acoustic guitar amplifier, or even as an electric guitar amplifier.
Even the StageSource L3s subwoofer gives you four different modes to choose from. You can fine-tune your system's bass response for a tighter or looser sound, depending on what the music calls for. StageSource speakers give you the ability to precisely manage almost every aspect of their operation. Call your Sweetwater Sales Engineer to learn more about Smart Speaker Modes.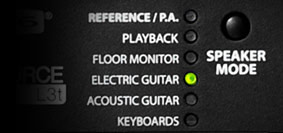 Take Your Studio Tone To The Stage!
Whether you own a POD HD Pro, an Eleven Rack, a Mustang Floor — any multi-effects unit — you can team it up with the StageSource L2t. It's the perfect way to make sure your carefully crafted studio sound becomes an integral part of your live performance rig.