Intelligent Speakers
Give You Better Live Sound
Studio-quality sound
Powerful DSP
Feedback supression
Integrated mixer (L2t & L3t)
L6 LINK networkable
Pole-mountable
Road-ready Construction
Suspension points for flying
Hitting the stage with Line 6 StageSource active loudspeakers is like having a pro audio engineer managing your speakers for you. StageSource loudspeakers use incredibly powerful DSP to optimize their sound for any application, and the result is exceptionally clear and detailed audio. Powerful features such as built-in feedback suppression and integrated multichannel mixing are just the start. Smart Speaker modes let you use StageSource speakers in any orientation, and networking via L6 LINK lets you set up faster and sound better than ever before. From small coffee shops to large clubs, you can easily create an optimum sound system with Line 6 StageSource active loudspeakers.

Line 6's Sean Halley demonstrates StageSource
Hey Guitarists... Your amplifier can't do this! Why the L2t is Ideal for Performing Players
Whether you play acoustic or electric guitar, the Line 6 StageSource L2t active loudspeaker will have you sounding your best at every gig thanks to Smart Speaker modes!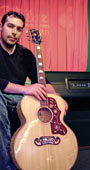 As an acoustic guitarist, you can use the L2t's built-in Acoustic Modeling where a guitar's natural body resonance is applied to the piezo signal to simulate the sound of a miked acoustic guitar in the studio. Add built-in reverb and modulation effects for even richer studio-quality sound! The pristine sound of the L2t means you'll reproduce every nuance of your performance, and all you'll need for your gig is your guitar, a vocal mic, and your L2t!
The L2t is also perfect if you're using amp modeling to achieve your electric guitar tone. With just your modeler, your guitar, and your L2t or L2m Studio Quality FRFR (Full-Range Flat Response) Sound in Reference/PA Mode, the tones you've created in the studio will be there live! You can also select Electric Guitar Mode to emulate the sound of a 2 x 12" cabinet. And if you use a Line 6 modeler like the POD HD500X, you can connect digitally via L6 LINK and save Speaker Modes per patch!

The list of benefits for guitarists goes on. The StageSource L2t is compact and incredibly easy to transport, and it can easily double as a stage monitor too. With a sweet-sounding 3-band EQ and built-in feedback suppression, the StageSource L2t is a surprisingly versatile alternative to a combo amp!
Sound Great on Any Stage
with powerful feedback protection
Each StageSource speaker boasts integrated 12-band feedback suppression to prevent show-stopping feedback before it starts. It operates fast and transparently, so you won't even notice it's working behind the scenes. There are actually three different modes that let you tailor the feedback reduction to your program material. Especially if you don't have an engineer to mix and manage your sound system for you, StageSource speakers are like a dream come true.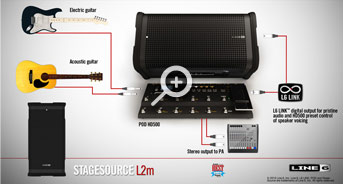 Full-range Guitar Rig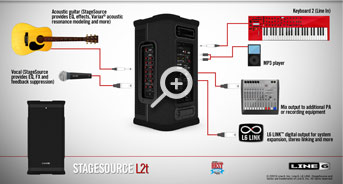 All-in-one PA for Singer/songwriters
Smart Speaker Modes
give you optimized sound in any application
StageSource series speakers deliver the best sound no matter what the application is. Smart Speaker Modes adjust the frequency response curve and sound dispersion angles that are optimized for different uses. You can use your StageSource speaker as a main PA speaker, a floor monitor, a keyboard amplifier, an acoustic guitar amplifier, or even as an electric guitar amplifier.
Even the StageSource L3s subwoofer gives you four different modes to choose from. You can fine-tune your system's bass response for a tighter or looser sound, depending on what the music calls for. StageSource speakers give you the ability to precisely manage almost every aspect of their operation. Call your Sweetwater Sales Engineer to learn more about Smart Speaker Modes.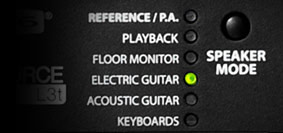 Take Your Studio Tone To The Stage!
Whether you own a POD HD Pro, an Eleven Rack, a Mustang Floor — any multi-effects unit — you can team it up with the StageSource L2t. It's the perfect way to make sure your carefully crafted studio sound becomes an integral part of your live performance rig.
Orientation and
Pole-mount Sensors
ensure great performance in any configuration
One of the most intelligent features of StageSource speakers is that they're aware of how you've positioned them, and optimize their sound accordingly. They do this using orientation and pole-mount sensors. For example, if you tilt a StageSource speaker on its side for use as a floor monitor, it will automatically reduce low-frequency content to reduce coupling with the stage. If one of the "backline" modes are selected, the speaker will "tilt" its sound upward when placed on the floor (to reach your ears better), but will not adjust the sound if you pole-mount the speaker. Basically, StageSource speakers understand how you intend to use them and adjust their characteristics accordingly.
Integrated Mixer with Effects
makes StageSource your perfect
single-speaker solution

A built-in mixer with effects makes any StageSource speaker a sweet solution for smaller gigs and speaking situations where you really only need one speaker. You can connect two instruments or microphones plus music players or external mixers, and use the built-in 3-band EQ to fine-tune your sound. You've got acoustic guitar modeling effects to make your instrument sound its best, plus Smart Reverb and Smart Mod effects for extra sweetening. You can get an amazing sound from a single StageSource speaker without any extra equipment or effects required.
Built for Life on the Road
and easy to transport
With so much technology to talk about, it's easy to overlook that StageSource speakers boast serious quality and craftsmanship. These rugged enclosures are built with heavy-duty plywood, so not only are they durable, the real-wood design helps reduce resonance for punchier, more focused sound. And a tour-grade steel grille with a protective screen backing helps protect the drivers from impacts. The best part is that these speakers are actually quite compact — even a full system of two L3t speakers, two L2m speakers, and a L3s sub can fit in most vehicles.
Scalable, Multifunction Design
is equally ideal for bands, schools, and churches
As you can see, StageSource speakers are fully equipped to handle everything from small coffee shop gigs to large clubs, and sound great doing it. Now consider that the adaptability of StageSource speakers means you can configure any number of them in any configuration you want. See the potential here? Any of these speakers could be used as a solo instrument amplifier one day, then serve as a main speaker in a full stage setup the next day, and sound fantastic in both settings. When you add another StageSource speaker to your system, you're getting a main speaker, a floor monitor, and backline amplifier all in one. By choosing StageSource speakers, you're investing in truly multipurpose equipment.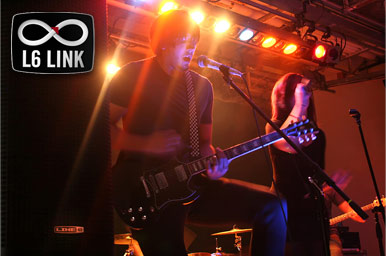 Create an Intelligent
Audio Ecosystem
with L6 LINK
You'll realize the full potential of StageSource speakers when you network them via L6 LINK. When your StageSource speakers are connected with L6 LINK, your speakers will automatically self-configure, pan stereo signals, adjust Smart Speaker Modes, and basically optimize the whole system for the best sound. If you add StageSource subwoofers to the system, L6 LINK will automatically send them summed signals and set the appropriate crossover points. L6 LINK helps you set up your system faster than ever, and you'll be amazed at how it sounds.
Combine with the StageScape
M20d Digital Mixer
for the stage setup of your dreams
While StageSource Series speakers sound amazing in any system, you'll realize their full potential when you use them with the Line 6 StageScape M20d mixer. Setup is easier than ever, as the StageScape M20d will automatically see which StageSource speakers are used for mains and monitors, and send each the appropriate audio mix. StageSource speakers will also automatically pan stereo signals, adjust Smart Speaker Modes, and basically optimize your entire system as one cohesive unit. Combined with the StageScape M20d digital mixer, StageSource Series speakers are more than intelligent — they're completely self-aware!