Portable Power and Inspiration from Vox
Your favorite Vox guitar tones can now live in your desk drawer thanks to the Vox amPlug 2 Cabinet. This 9-volt mini menace boasts a 3" speaker and 2 watts of Vox-laden output. Plug your guitar or bass straight in via the 1/4" jack, or even better, connect any amPlug headphone amp (not included) to create the cutest monster stack you've ever seen. Build chops at the office or entertain at the beach. You can even mic up the amPlug 2 Cabinet and feed your sought-after Vox modeled tones into a PA. Runs up to 12 hours on a single 9-volt battery.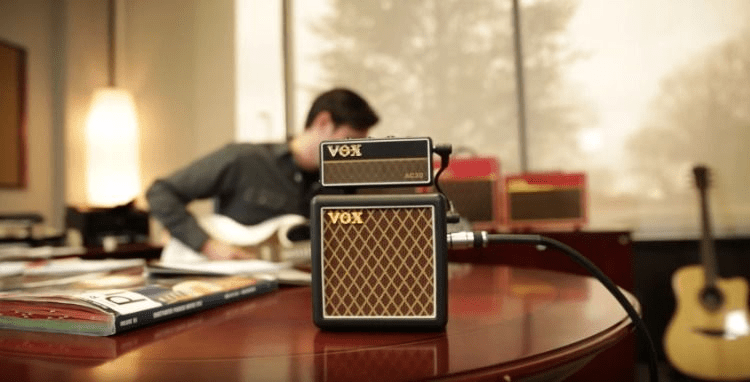 A fine fit for your amPlug amp collection
If you're one of the thousands of guitarists who have discovered the Vox amPlug headphone amps, you know how handy they are. Now, with the Vox amPlug 2 Cabinet, you have the option to throw down and mic up wherever inspiration strikes. This battery-powered cab delivers a mighty 2 watts into a Vox-original 3" speaker — more than enough to push some major air. You can also plug in your phone or tablet via the 3.5mm jack and use the amPlug 2 Cabinet as a conventional speaker.
Vox amPlug 2 Cabinet Features:
The perfect match for your amPlug headphone amp collection
Classic Vox looks
Inspiring Vox tones to go
Pushes 2 watts of glorious Vox output through 3" Vox-designed speaker
Stores easily in a case or gig bag
Loud enough to mic up and gig with
Create interesting tones in the studio
1/4" input accepts a direct guitar or bass signal
3.5mm input lets you use the amPlug 2 Cabinet as a portable music speaker
Boasts up to 12 hours of run time on a 9-volt alkaline battery
Optional power supply (not included) creates permanent installation possibilities