High-end D/A Conversion with Unbelievable Value!
While the Zodiac is definitely a high-definition 192kHz D/A converter that's well at home in professional studios, Antelope Audio managed to make this one affordable enough for your personal studio. Packed with Antelope Audio's renowned oven-controlled clock, borrowed right from their supreme Trinity unit, the Zodiac 192kHz digital-to-analog converter offers 129dB dynamic range. Use it onstage to get pristine sound from your digital synth — or put it before your monitors in the studio — whatever you do, phenomenal D/A conversion is the sign of this Zodiac.
Outstanding AFC clocking, taken from the Antelope Audio Trinity
The Antelope Audio Zodiac's integrated 64-bit timing engine — taken directly from the Trinity — promises outstanding performance from the custom converter chips. The 4th generation of Acoustically Focused Clocking (AFC) is already used in the most demanding professional environments and now is integrated into Zodiac at an unbelievably affordable price.
Cutting-edge design for the personal studio
With a classy look and supreme design elements inside, the Zodiac is a standout choice for the home or project studio or for audiophiles wanting to make sure their high-grade digital gear sounds the way it's meant to sound.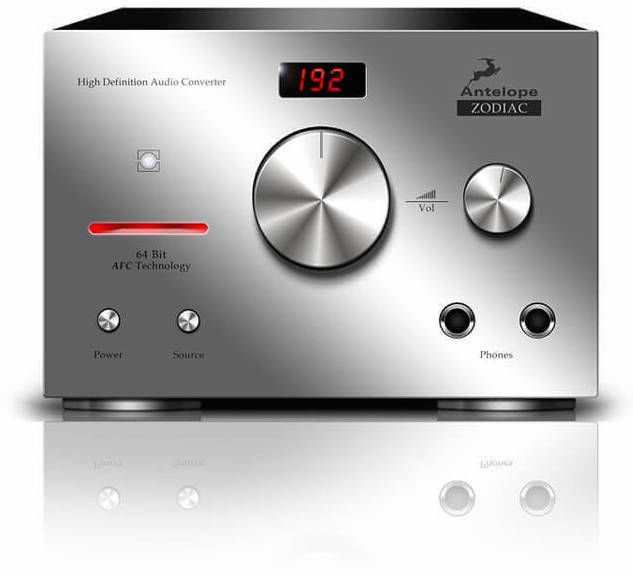 Antelope Audio Zodiac Features:
High-definition 192kHz digital-to-analog converter
Antelope oven-controlled clock with ultra-low jitter
64-bit Acoustically Focused Clocking, as used in the Antelope Audio Trinity
129dB dynamic range
2 x S/PDIF digital inputs
2 x Optical TOSlink
B-type Mini USB provides computer connectivity
High-grade headphone outputs with impedance matching
Balanced and unbalanced analog outputs
Accurate level display for main volume