Total 4-channel Workhorse Mixer
Allen & Heath's 4-channel Xone:PX5 is a rock-solid and fully loaded mixer that's perfect for any DJ looking to run a hybrid analog/digital rig. Its four stereo input channels come with all the bread-and-butter processing and effect routing seasoned DJs expect from A&H, including 3-band EQs with -infinity kills, amazing filters, and beautiful LED metering. There are tons of cool onboard effects, while adjustable fader curves are essential if you want to scratch. Speaking or scratching, the Xone:PX5 features a studio-quality 24-bit/96kHz USB 2.0 audio interface, and it's fully compatible with Traktor Scratch Pro. Whether you're spinning control vinyl or going with a complete in-the-box DJ rig, the A&H Xone:PX5 will serve you beautifully.
Related Videos: Xone:PX5 4+1 DJ Mixer with Soundcard
Optimal analog I/O for any setup
Four-channel DJ rigs have pretty much become the standard among serious DJs, and the Xone:PX5 is more than up to the challenge. Each channel features A&H's famous 3-band EQs, which range from +6dB to total kills on each band. They're just what you need if you want to isolate elements and combine tracks. Extensive routing options make adding outboard effects and other elaborate setups easy. You also get an XLR/TRL microphone input with its own 3-band EQ, making it a great aux input if you aren't going to use a mic.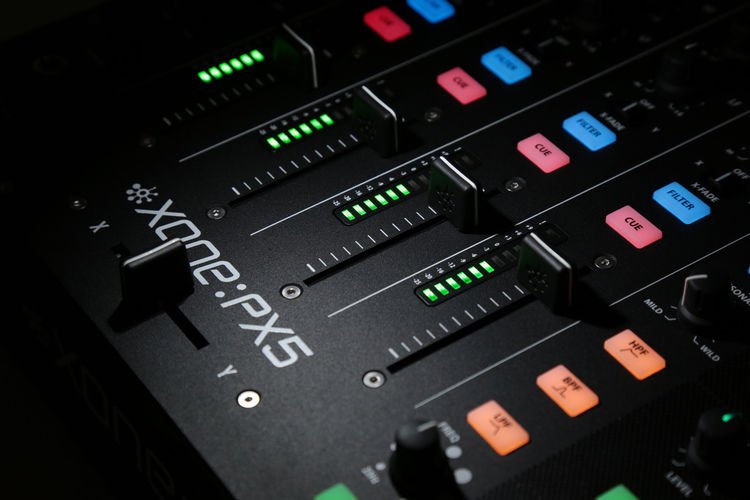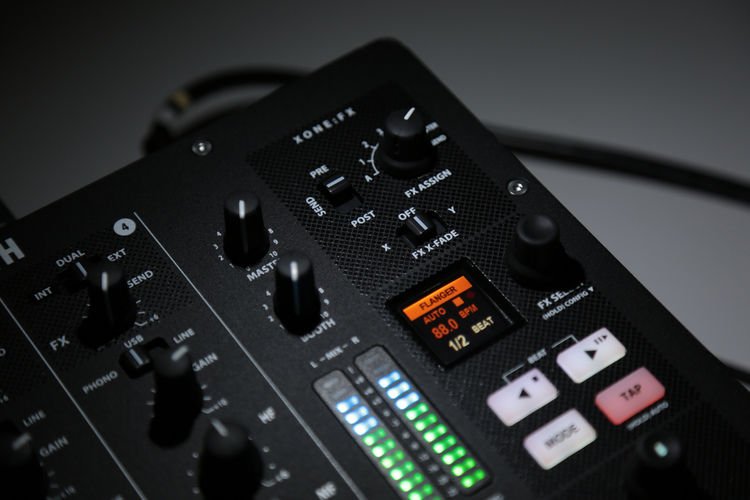 Funky effects and filtering onboard
If you love onboard effects, the Xone:PX5 is your kind of DJ mixer. There's an impressive array of spectral delays, resonators, reverbs, and other sonic textures onboard. But the thing that makes these effects especially cool is that they're extremely easy to access. Forget about digging through menus on tiny screens — pulling up the perfect effect is almost effortless, and dedicated controls make dialing them in and assigning them a piece of cake. What's more, the acclaimed 3-mode Xone Filter System lets you add resonant frequency molding to your channels. Just like the effects bus, you can set up sophisticated hybrid processing paths via the Xone:PX5's aux send or the send/return loop.
Built in studio-grade USB 2.0 sound card
Allen & Heath has a long history of delivering just what modern DJs need, and with the high-demand standard of today's software-based systems, that means killer digital audio with a rock-solid sound card and more than enough channels for any routing scheme. That's just what you get with the Xone:PX5 mixer. Its integrated USB 2.0 audio interface delivers 24-bit/96kHz digital resolution across 20 ultra-low-latency channels, taking care of all your audio-streaming needs.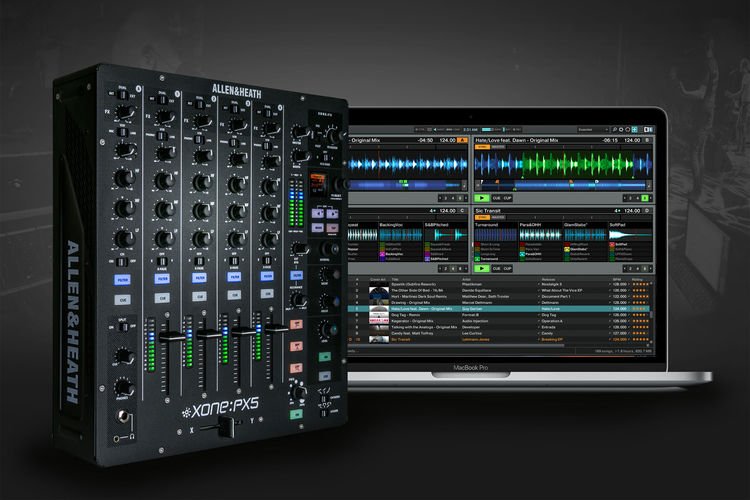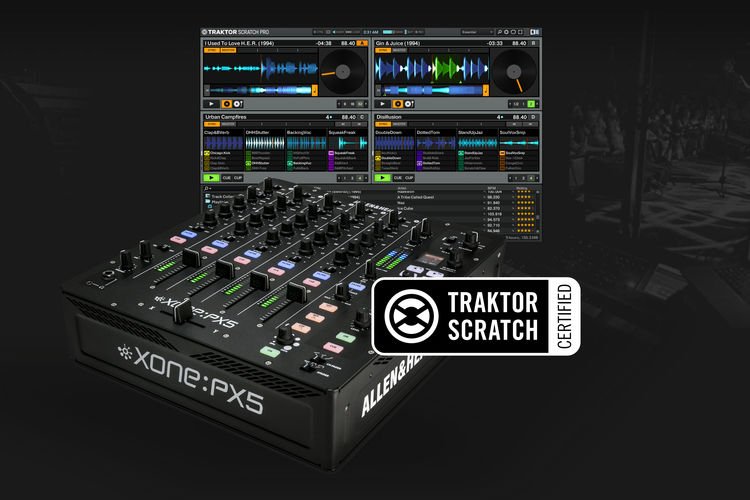 Perfect for your Traktor Scratch rig
Beyond its astonishing sound quality, the Xone:PX5 is an ideal fit for Native Instruments Traktor Scratch Pro. It's fully Traktor Scratch DVS compatible, allowing you to DJ with real vinyl under your fingertips and still take full advantage of cutting-edge digital DJ software. It's a combination many of us at Sweetwater prefer.
On top of that, Allen & Heath outfitted the Xone:PX5 with a 5-pin MIDI out/clock generator and USB MIDI I/O, making it the perfect centerpiece for the most elaborate hybrid DJ/electronic music rigs. Finally, there's X:Link compatibility onboard, which makes it easy to create amazing software controller rigs by hooking up other compatible gear.
Allen & Heath Xone:PX5 Digital DJ Mixer Features:
Flexible 4-channel mixing plus an additional mic/aux input
Each input channel features 3-band EQs with -infinity kills
All faders include 3-mode adjustable curves for ideal performance
Crossfader connection supports an optional Innofader Pro 2 upgrade
Extensive effects with simple controls let you spice up your sound
Integrated 20-channel 24-bit/96kHz USB 2.0 audio interface onboard
Fully compatible with Native Instruments Traktor Scratch Pro (not included)
5-pin MIDI clock/out and MIDI over USB offer control over synths and other gear