SSL Quality for a New Era of Recording
If you love your outboard gear, the Solid State Logic XL-Desk may be the perfect console for you. At Sweetwater, we've seen how the role of the large-format recording console has shifted over the past few years. With the abundance of top-level rack gear and the popularity of 500 Series preamps and processors, the XL-Desk is geared perfectly toward this new balance. It gives you the SuperAnalogue sound you expect, breathtaking VHD preamps, incredible routing flexibility, and the signature SSL monitoring and talkback options you need. At the same time, built-in 500 Series racks and a wealth of I/O make it easy to integrate your external hardware and DAW rig effortlessly.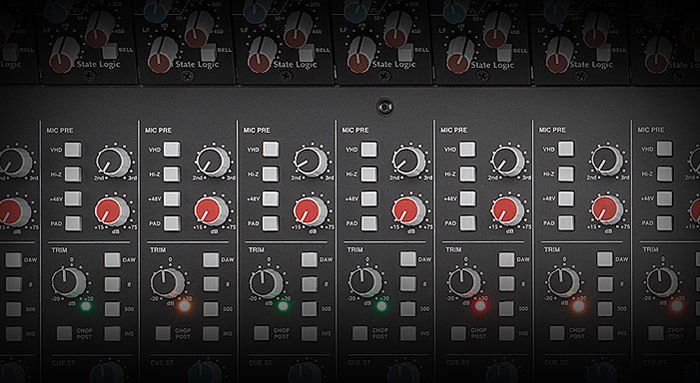 Sculpt your harmonics with SSL's VHD preamps
Pioneered by the flagship Duality console, and further popularized by the rackmountable Alpha Channel, SSL's Variable Harmonic Drive preamps are revered throughout the recording industry for their tonal versatility and performance. When you engage the VHD circuit on each of the XL-Desk's eight preamps, you instantly go from a pristine, uncolored sound to the volume-responsive warmth you'd expect from a vintage console. What's more, there's a knob that lets you dial in the proportion of second-order harmonics to third-order harmonics, allowing you to seamlessly transition between tube warmth and aggressive transistor bite.
SuperAnalogue signal path delivers pristine audio
Audio systems are defined by their bottlenecks, such as dynamic range, noise floor, and true frequency response. In most systems, this occurs well before the digital stage, which offers 144dB of dynamic range (at 24-bit) and supports frequencies up to 96kHz (a full 76kHz above the threshold of human hearing). That isn't the case with SSL's SuperAnalogue DC-coupled circuitry design. Using top-of-the-line surface-mount manufacturing techniques, the signal path from any point to another in the XL-Desk offers an extremely wide frequency range with a flat response, next to no distortion, and an almost unmeasurable noise floor. Even if you're recording at 24-bit/192kHz, this console will never be your sonic bottleneck.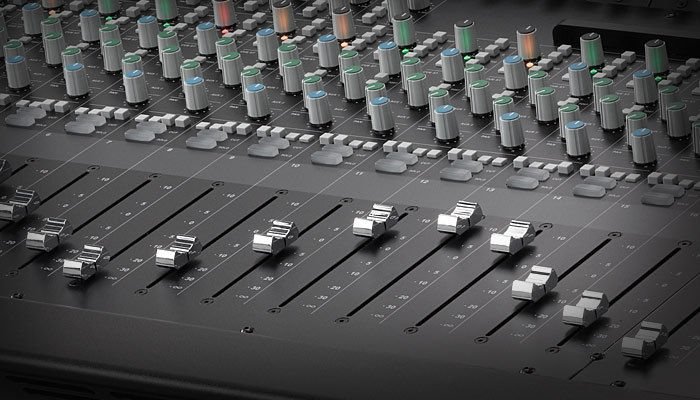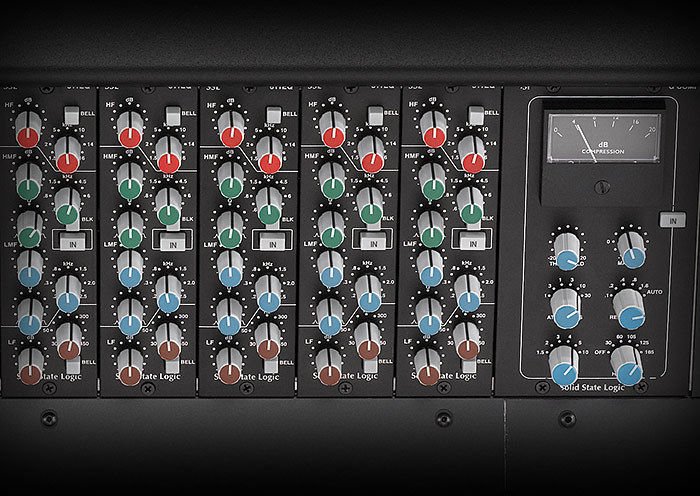 Customize your console with 500 Series modules
The XL-Desk is an ideal choice for engineers who love their outboard gear, and nothing embodies this more than its integrated 500 Series racks. All 16 of the XL-Desk's mono channels have access to their own 500 Series slot, and depending on which XL-Desk configuration you go with, they either come loaded with SSL 611EQ E series equalizer modules, or they're all free for you to customize. The last two slots come preloaded with the legendary SSL G Comp bus compressor. Rather than run them in line, you can insert any of the modules from slots 9–16 into the path of the four stereo mix buses. What's more, you can access all 16 of the mono slots I/O via dedicated DB-25, allowing you even greater routing flexibility. And thanks to the over-specified power supply onboard, all 18 of the 500 Series slots are virtually future proof.
All the buses and routing options you need
The purpose of any mixer is pretty basic: get signals from multiple sources, blend them together, and send them to one or more destinations. The magic happens at the mix bus, where audio signals come together and interact in a way that's greater than the sum of the parts, and SSL's mix buses are second to none. The XL-Desk gives you four of these amazing mix buses along with a pair of aux sends and a ton of I/O options that let you set up your studio exactly how you like it. Each input channel features a direct output (pre or post fader) and an insert point with a continuously active send. There are also 16 additional ALT line inputs, which provide an easy in-line mixing workflow for your DAW complete with analog summing. Add a patch bay to your XL-Desk, and the mixing configurations are nearly endless.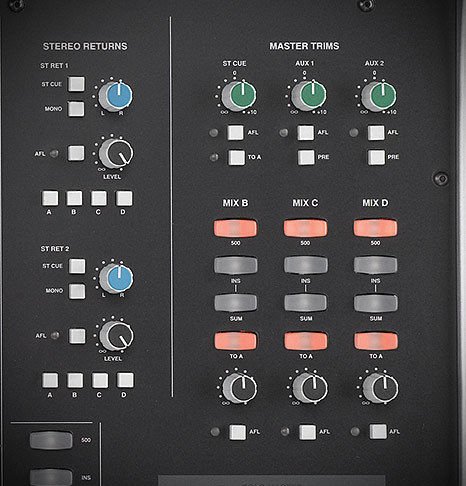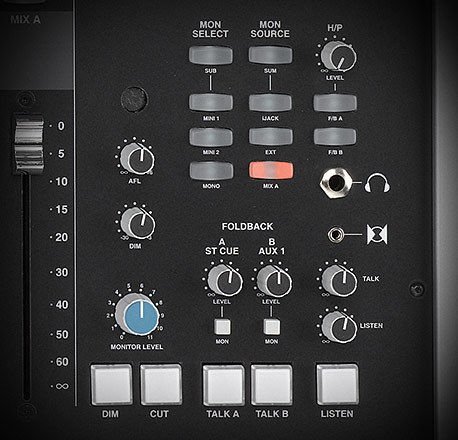 Superior monitor control and communications
When it comes to monitoring and communications, few console manufacturers can hold a candle to Solid State Logic, and the XL-Desk only builds on their solid reputation. On the monitoring side, the XL-Desk lets you hook up three sets of speakers, allowing you to work on your main monitors, check your mix on your full-range nearfields, and then dazzle the client on your Hi-Fi rig, all without touching a cable. You can even hook up a subwoofer and assign it on or off with each monitor set. Mono fold down, dim volume attenuation, and two solo modes (solo-in-place or after-fader listen) are just a button push away. On the talkback side, there's a mic built into the XL-Desk that lets you effortlessly talk back to two of the three headphone mixes. What's more, there's a Listen Mic input onboard with the legendary SSL listen compressor, which you can split to a recording channel if you want to pull off the classic Genesis room mic trick.
Solid State Logic XL-Desk Features:
8 SSL preamps deliver 75dB of pristine gain
Switchable Variable Harmonic Drive on every pre
Blend between tube and transistor distortion styles
Phantom power and -20dB pad on every preamp
Trim knob and hi-Z switch accommodate most levels
Same DC-coupled circuit design found in SSL's top gear
Transparent signal path exceeds 24-bit/192kHz resolution
Extremely wide frequency range with flat response
Ultra-low distortion performance won't color your sound
Virtually non-existent noise floor offers extended dynamics
Integrated 500 Series slots on all 16 mono channels
XL-Desk can come preloaded with 16 x 611EQ modules
Mix Bus A includes SSL G Comp bus compressor
Slots 9–16 can be assigned to any stereo mix bus
Slots 1–16 are also accessible via DB-25 connectors
4 mix buses provide legendary SSL summing
Insert points and direct outputs offer additional routing
ALT inputs on first 16 channels provide playback summing
Stereo Cue and both Aux sends can be pre or post fader
Uniform DB-25 I/O makes it easy to add a patch bay
Effortlessly switch between 3 sets of monitors
Assign a subwoofer in or out with each monitor set
Mono fold down, dim, and 2 solo modes onboard
Talkback mic feeds 2 of 3 headphone mixes
Recordable Listen Mic input with classic compression