X32 Rack, Digital Snake, and Accessories Bundle
This Behringer X32 Rack Expansion Pack equips you for a streamlined live sound experience. This rig is based around the X32 Rack digital mixer with 40 input channels, 25 mix buses, and 16 world-class Midas preamps. Use the included S16 digital snake to place your inputs on stage where you need them, connected to your mix position with a single Ethercon cable. This bundle also includes two rugged rack cases (one for your mixer and one for your stage box), a Furman M-8x2 power conditioner, a Sweetwater tote bag, and AstroGrip cable wrap.
Massive mixing flexibility in three rack spaces
With 16 Midas-designed, fully gain-programmable mic preamps and 40-bit floating-point DSP that delivers virtually unlimited dynamic range with no internal overload and vanishingly low latency, the X32 Rack delivers impeccable sound quality. Behringer didn't stop there — this digital mixer has smart features to make you a sound-mixing hero. Main LCR, six matrix buses, and all mix buses feature inserts, 6-band parametric EQs, and full dynamics processing, plus eight DCA and six mute groups. The virtual FX Rack boasts eight stereo FX slots that include high-end simulations such as Lexicon 480L and PCM70, EMT250 and Quantec QRS. You also have robust scene management for effortless handling of complex productions.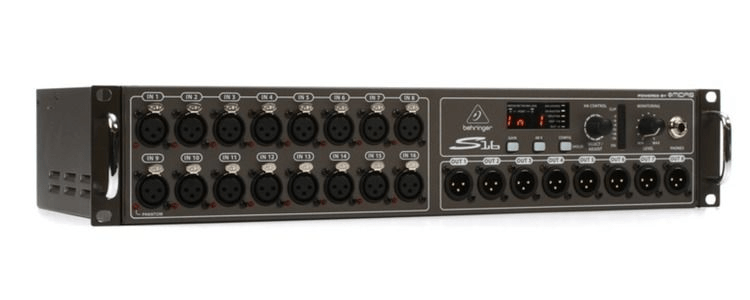 Remote-controllable preamps make setup faster
Even if you try to get a jog in every day, no one likes having to run up to the stage every time you have to make an adjustment to your stage box. Thanks to the Behringer S16 digital snake system's remote-controllable preamp design, those back-and-forth cross-venue dashes are a thing of the past. Using the Klark Teknik SuperMAC protocol, your S16 will show up in your digital mixer's OS, giving you the control you need over your pres, right from the front of house position. And by the way, these preamps are the exact same high-quality Midas-designed preamps found in the X32 console, so you know you're getting quality sound with low noise and tons of headroom.
Rack cases, power, and other essentials included
This Behringer X32 Rack Expansion Pack is a fully-equipped mixing solution with essential extras included. You get two Gator G-Pro rack cases, one to protect for your X32 Rack and one for the S16 stage box. A Furman M-8x2 power conditioner is included to provide clean power in any venue. You'll also receive a Sweetwater tote bag, a 150' Pro Co Ethercon cable to connect the S16 and X32 Rack, and AstroGrip cable wrap.
Behringer X32 Rack Expansion Pack Features:
Bundle with X32 Rack digital mixer, S16 digital snake, and essential extras
40-input channel, 25-bus, 3U rack-mountable digital mixer for live and installed sound application
16 x fully programmable and remote-controllable Midas-designed mic preamps give you exceptional sound, right from the stage
2-space and 4-space Gator G-Pro rack cases, with virtually indestructible roto-molded polyethylene design
8-outlet power conditioner to provide your gear with clean and reliable power
150' Pro Co Ethercon cable with solid conductor cable for better signal transfer and long signal runs
Includes Sweetwater Tote Bag and AstroGrip cable wrap