Essential Percussion
Vienna Symphonic Library Drums & Toms, meticulously recorded in the immaculate acoustics of VSL's Silent Stage, is a sample collection consisting of snare drum, piccolo snare, field drum, bass drum, concert toms, taiko drum, and tambourine. Whether you're orchestrating film scores or producing jazz, rock, or pop music, Vienna Symphonic Library Drums & Toms provides a powerful rhythmic foundation.
Snare drum, piccolo snare, and field drum
The snare drum is an essential ingredient in every type of contemporary western music. It provides the backbeat in jazz, rock, and pop and is an important instrument in military and marching bands, where it is also known as a side drum, worn at the drummer's left hip and struck from the side. The snare is also a staple in orchestras, where it occupies the treble register in the percussion section. The snare drum's slim, higher-pitched cousin is called a piccolo drum (or piccolo snare). The big drum of the family is the field (tenor) drum, which sports a larger shell and a deeper tone.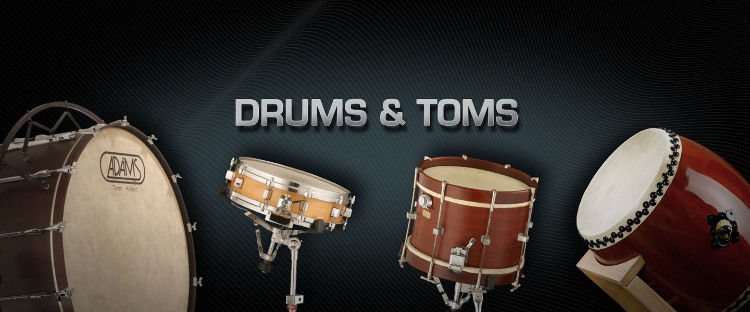 The bass drum
The bass drum supplies the low register within orchestra percussion sections, delivering the all-important pulse in virtually all contemporary music, and provides the structure-critical accents intrinsic to jazz. Military and marching band drummers play the bass drum with mallets, while in rock, pop, and jazz the "kick" drum is played with a foot pedal as part of the drum kit.
Concert toms, taiko drum, and tambourine
Concert toms, commonly set up in batteries of four, six, or eight, have no resonant head, while roto toms have no shell at all; their heads are affixed to metal hoops you can turn to change their tension, and hence, their pitch. The Taiko drum is a general term for an assortment of barrel-shaped drums that claim origin in Japanese folklore. A tambourine, essentially, is a frame drum supplemented with small metal disks suspended in slots around the frame; it is typically played with the palm or fingers.
First-call musicians, first-class samples
At Sweetwater, we hold the Vienna Symphonic Library in high regard; that's because we're very particular about our orchestral samples. It all starts with the musicians. Since VSL's inception, first-call musicians have been providing the sound and character of these instruments as soloists and ensemble leaders. This approach is largely responsible for the impressive sonic authority and authenticity we have come to expect from VSL virtual instruments.
A superior way to orchestrate
The Vienna Instruments series expands on previous libraries and offers embedded, intelligent Performance Algorithms in an easy-to-use plug-in that lets you orchestrate with an inconceivably vast array of samples. For the first time, hundreds of articulations can be combined in one preset and on a single MIDI track. Vienna's proprietary Performance Detection analyzes intervals, repeated notes, patterns, and even speed in real time and automatically summons the appropriate articulation or nuance.
Vienna Symphonic Library Drums & Toms (Full Library) Features:
Contains 7,273 samples
Download file size: 1.4GB; installed file size: 4.9GB
Embedded Intelligent Performance Algorithms
Multiple articulations in each preset
Includes the free Vienna Instruments Player
Requires ViennaKey USB eLicenser Key

(not included)