A Titanic Collection of Vintage and Modern Synth Sounds
UVI Synth Anthology 2 is a massive collection of expertly programmed vintage and modern hardware synth sounds. The sounds were multi-sampled fastidiously after being sculpted by world-class outboard gear. And there's a lot of hardware to choose from. Maybe you're searching for classic analog sounds à la the Oberheim Xpander or Jupiter 4. Perhaps your composition requires a healthy digital infusion from a Synclavier or FS1R. Or reach for a modern classic like the Prophet 6 or monologue. With this virtual instrument in your arsenal, you've got it all. UVI Synth Anthology 2 delivers the authentic and unmistakable sound of hardware with the convenience of an easy-to-use software interface. This product requires that you have an iLok account for authorization, although it does not require a physical iLok key. Please call your Sweetwater Sales Engineer if you have questions.
Enhance your compositions with 77 of the most popular hardware synthesizers of all time
Hardware synths aren't a one-size-fits-all affair. Each model has its own sonic personality. With 77 synthesizers on tap, you can rest assured that UVI Synth Anthology 2 has the perfect sound for your music. Just about every major synth is accounted for. Every major manufacturer, every type of synthesis, every era — it's all there. Load up multi-sampled patches and craft new sounds. Tweak and layer them to suit your imagination. With this many sounds available, there's no end to what you can create.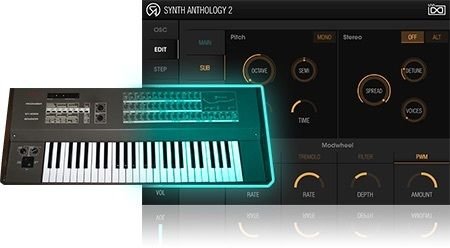 Processed with top-shelf analog gear for the ultimate in sonic perfection
UVI Synth Anthology 2 is packed with an endless assortment of sounds, but it isn't one of those quantity-over-quality situations. UVI put a lot of effort into capturing the sound of the actual hardware. Each sound was meticulously programmed. The sounds were then run through a world-class processing chain that included EQs, compressors, and effects from Manley, Langevin, Lexicon, Publison, Focusrite, SPL, and more. Then the sounds were multi-sampled with expert precision. When we heard Synth Anthology 2 here at Sweetwater, we could perceive the subtle differences between analog voices. The virtual filters biting into the sounds elicited an emotional response. It's clear that each sound in this collection was carefully crafted.
The unmistakable sound of hardware with the convenience of an easy-to-use software interface
With this many sounds at your disposal, you'd think that UVI Synth Anthology 2 would be a difficult virtual instrument to wrap your head around. Luckily, that isn't the case. Its easy-to-use interface makes editing a snap. Pick any synth. Then browse, tweak, edit, effect, modulate, and layer sounds any way you'd like. Everything is laid out in a clear, intuitive fashion. In fact, Synth Anthology 2 is a lot easier to learn than the complicated front-panel controls and menu systems on most hardware synthesizers!
What's new in version 2:
25 new hardware synthesizers, including Oberheim OB6, Dave Smith Prophet 6, Korg Minilogue, Novation Basstation 2, Novation Ultranova, Ensoniq ESQ-M, Siel DK80, Akai AX80, Alesis Fusion, Korg Triton, Roland Juno 60, Roland Juno 106, Emu Emax, ARP Odyssey, ARP Quadra, Formanta Polivoks, Vermona Tiracon 6V, Studio Electronics Boomstar 5089, Roland JX8P, ARP Chroma Polaris, Yamaha CS20m, Elka EK44, and 3 popular analog synths
500 new presets
Updated interface
New effects including Sparkverb, Thorus, Phasor, Dual Delay, and Redux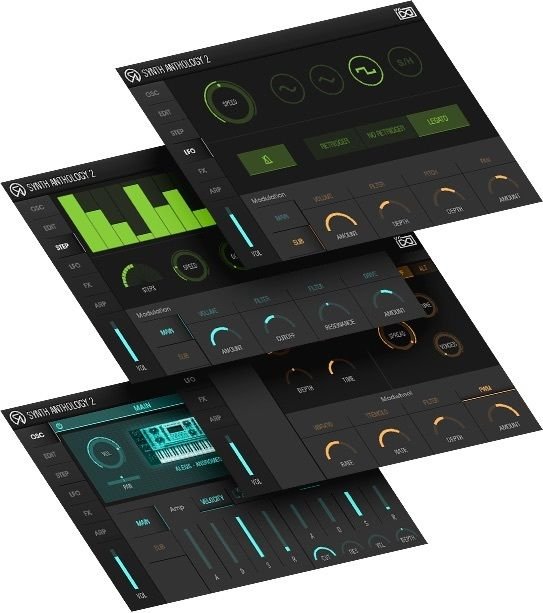 UVI Synth Anthology 2 Includes:
Access Virus C
Akai AX80
Alesis Andromeda
Alesis Fusion
ARP Chroma Polaris
ARP Odyssey
ARP Quadra
Casio CZ-1
Casio VZ-1
Clavia NordLead
Dave Smith Prophet 6
Elka EK44
Elka Synthex
Emu Emax
E-MU Emulator 2
Ensoniq ESQ-M
Ensoniq Fizmo
Ensoniq SQ80
Ensoniq VFX
Fairlight CMI IIx
Formanta Polivoks
Kawai K3
Kawai K4R
Kawai K5000
Korg DS8
Korg DSS1
Korg DW8000
Korg Minilogue
Korg MS20
Korg M1
Korg PS-3200
Korg Triton
Korg Wavestation
Mellotron M400
NED Synclavier 2
Novation Basstation 2
Novation Nova
Novation Ultranova
Oberheim Matrix 6
Oberheim OB6
Oberheim OB-X
Oberheim Xpander
OSC OSCar
PPG Wave 2.3
Roland D-50
Roland JD-800
Roland Juno 60
Roland Juno 106
Roland Jupiter 4
Roland Jupiter 8
Roland JX8P
Roland TB-303
Roland VP-330
RSF Kobol
SCI Prophet 5
SCI Prophet VS
Seiko DS301
Siel DK80
Studio Electronics ATC
Studio Electronics Boomstar 5089
Yamaha AN1X
Yamaha CS-80
Yamaha CS20m
Yamaha DX7
Yamaha DX100
Yamaha FS1R
Yamaha SY77
Yamaha SY22
Vermona Tiracon 6V
Waldorf MicrowaveXT
Waldorf Pulse
Waldorf Q
Plus 5 popular analog synths
UVI Synth Anthology 2 Features:
Massive collection of expertly programmed vintage and modern hardware synth sounds
77 hardware synths, 2,500 presets, and 20,000 samples
Every sound was carefully multi-sampled after being processed with top-shelf analog gear
Easy-to-use interface makes editing a snap
Runs in UVI Workstation 2.6.8+ and Falcon 1.2.0+
Compatible with Digital Performer 8+, Pro Tools 11+, Logic 9+, Cubase 7+, Nuendo 6+, Ableton Live 8+, Studio One 2+, Garage Band 6, Maschine 1 & 2, Tracktion 4+, Vienna Ensemble 5, Reaper 4+, Sonar X3, Main Stage 3, and MuLab 5.5+