Multiple Personalities in a Wicked 1 x 12" Combo
The Bogner Telos 112 harnesses the smallest amplifier in Reinhold Bogner's handwired series, but there is plenty of clean headroom thanks to the GZ34 rectifier-powered duet of 6L6 vacuum tubes. The cabinet's Celestion 12" Creamback 65 speaker will crank out both rich cleans and gorgeous grit at either the 20-watt or 40-watt setting. The 6-position Schizo rotary selector, gain knob, 4-band EQ, power boost, 3-button footswitch with volume switching, and effects loop truly give the Telos 112 multiple personalities so you can express yours!
Rectified power for rarefied tone
The Bogner Telos's GZ34 rectifier tube lights up a pair of 6L6s for clean, consistent power at either the 20-watt or 40-watt setting, opening up bountiful headroom to play with. Further dB options are delivered via the A/B volume selector and boost latch on the footswitch. All of this results in classic, clear, and lofty tones that sing out beautifully through the Celestion 12" Creamback 65 speaker.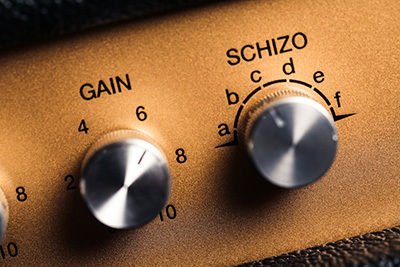 10-parameter madness in one convenient control
A fascinating feature on the Telos is the 6-position Schizo rotary selector. Rather than adjusting only one or two aspects of gain or EQ, the Telos Schizo controls a matrix of up to 10 parameters in the pre- and power amp. The six presets involve various combinations of tweaks, gain settings, and variations in EQ architecture that produce what Reinhold calls "a wickedly cool sonic prism."
A rugged footswitch worth its footprint
Bogner packed a lot of functionality into the footswitch for the Telos. The left-side latch lets you select between master volume A or B, and a center latch with a small toggle gives you the choice of a fixed low-gain boost or a high gain that is modified with a trim pot behind the first preamp tube. On the right, you have the effects loop on/off switch, for hands-free control over your killer 'verb. All of these controls are firmly mounted in the footswitch's tour-worthy all-metal housing.
Bogner Telos 112 Features:
GZ34 rectified power for clean power with significant headroom

Vintage sound of a Celestion 12" Creamback 65 speaker

Ultimate versatility with 6 Schizo presets and 2 power settings

Conveniently located 4-band EQ with A/B volume knobs

Multifunction footswitch gives you hands-free volume, boost, and effects control