Make Your Device a Mini Confidence Monitor
There's something about the stage that can turn a performer's brain to mush. All the time you spent memorizing lyrics or that tough chord progression goes out the window. The Peavey Tablet Mounting System II keeps you from getting caught with egg on your face. It mounts your phone or tablet to a microphone stand so you'll always have music and lyrics accessible in your time of need. Don't worry — even the top performers use them. With its small footprint adjustable frame, the Peavey Tablet Mounting System II may be the last phone/tablet mount you ever buy.
Fits Smartphones, Phablets, and Tablets
Devices 4.7" to 12.9" are all compatible with Peavey Tablet Mounting System II's adjustable cradle. An appliance this versatile saves you from having to buy different mounts between devices or as you upgrade. And that's something Sweetwater knows all of our customers can appreciate.
Clamps or screws onto your mic stand
The Peavey Tablet Mounting System II pairs your device to a mic stand in one of two ways. Its clamp secures to the same stand you're performing from (up to 28mm). Or, if you prefer flexibility, its stand adapter threads directly onto a standard mic stand.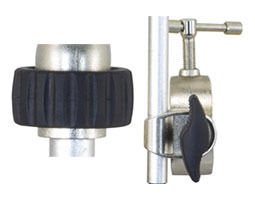 Peavey Tablet Mounting System II Features:
Turns your phone or tablet into a mini confidence monitor
Keeps lyrics and chords at eye level
For stage and studio performers
Adjustable frame fits devices 4.7" – 12.9"
Won't damage your device
Clamps onto mic stands up to 28mm in diameter
Stand adapter threads directly onto a mic stand