Everything You Want from the Latest V-Drums
Take hold of the hottest new features of the Roland TD-50 V-Drums with this exclusive Sweetwater bundle! Adding this module and these real-sized digital triggers to your existing e-drums will make your entire kit play like new. That's because Roland's TD-50 with Prismatic Sound Modeling engine is the most sophisticated, most expressive V-Drums brain to date. The same can be said of the multi-zoned digital 14" snare pad and 18" ride pad. Give your kit a complete makeover and bring your performances into the modern age with this Sweetwater Roland TD-50 bundle!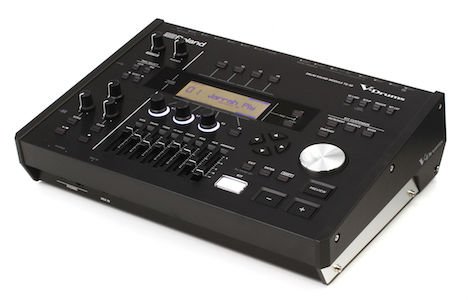 Build your dream kit with Roland's Prismatic Sound Modeling engine
V-Drums are the undisputed kings of digital drum shaping. And with the TD-50's Prismatic Sound Modeling engine, you can expect nuance and realism like never before. Every onboard kit is crafted to sound great without tweaks. But for those times when you need a custom kit for a particular performance, Prismatic Sound Modeling has you covered. You have control over each drum shell's thickness and overtones. Each cymbal's size and thickness. You can even control virtual mic placement to dial in the right amount of natural ambience. Once you've found your sound, sweeten your kick, snare, or toms with 30 types of built-in FX, including smooth multiband compression and saturation.
14" digital snare plays like the real thing
The heart of any modern drum kit, acoustic or electronic, is the snare drum. So it makes sense that the TD-50 should include a snare pad that's as sophisticated as its sound module: the 14" Roland PD-140DS. Eight sensors across the head and rim accurately translate your performance to your V-Drums brain. This means fat backbeats, cutting rimshots, delicate ghost notes & brush sweeps, and cross-sticks that connect every time. And because of its 14" diameter, the Roland PD-140DS transitions seamlessly between your acoustic kit and back. Particular about your tuning? So are we at Sweetwater. Fortunately, the PD-140DS's 8-lug design and 3-ply mesh head make it easy to dial in whatever level of tightness or sponginess you desire.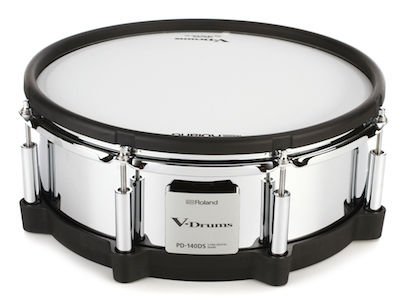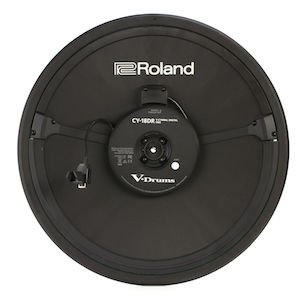 18" digital ride is Roland's most convincing V-Cymbal yet
Electronic cymbals have a reputation for being utilitarian — a means to end. But the Roland CY-18DR invites players to bring their acoustic touch back to their e-kit. This 18" V-Cymbal sways and plays like a real cymbal. Multiple sensors across the playing surface eliminate the feeling of zones as distinct edge, bow, and bell tones melt into one another seamlessly. The Roland CY-18DR's multi-touch technology not only lets you choke crash attacks with your hand, but also soften cymbal attacks with a finger's touch. If you have trouble getting the full emotion of a performance to translate through traditional electronic cymbals, Sweetwater recommends putting the Roland CY-18DR V-Cymbal digital ride through its paces. You won't be disappointed.
Roland TD50 Module & Digital Snare/Ride Trigger Pack Features:
The hottest features of the latest V-Drums in an exclusive Sweetwater bundle
Treat your kit to a virtual makeover
Includes the latest Roland digital triggers
8-sensor PD-140DS snare trigger picks up meaty backbeats, delicate grace notes, and accurate buzzes and flams
5-sensor CY-18DR ride trigger offers distinct edge, bow, and bell tones without the feeling of zones
Prismatic Sound Modeling engine is the new standard in electronic kit shaping
All-new kit sounds to inspire great performances
Adjust each drum's shell depth and overtones virtually
Control each cymbal's size and thickness
Tailor room response with adjustable virtual overhead mics
Send any of 30 onboard FX to individual drums and cymbal — EQ, reverb, saturation, multiband compression, EQ, delay, etc.
Import custom drum libraries with SDHC cards
Practice along to loops or click tracks, then save sessions via SDHC
USB multitracking — record 10 channels of multitrack audio to Mac or PC at 96kHz
Snapshot lets you A/B kit changes before you commit to them
MIDI in/out captures performances and lets you changes kits later
1/4" and 1/8" headphone outputs
1/8" aux input lets you jam along to your phone or laptop
3 digital trigger inputs
16 analog trigger inputs: 6 drums, 6 cymbals, 4 aux
8 balanced 1/4" direct outs for individual treatment and level control
Send pre-mixed audio via balanced stereo XLR or unbalanced stereo 1/4"