A Limited-edition Stratocaster
for Serious Strat Lovers!
Picture this: it's late October 1954. A package arrives for you, and as you open the hand-stitched tweed-covered case, there inside — nestled in crushed red velvet — is one of the very first production model Fender Stratocasters ever to see the light of day. It's the beginning of a new era of electric guitar, and you're a part of it. That's the feeling you get to experience when you pick up one of these fantastic Fender 60th Anniversary American Vintage 1954 Stratocasters.
Over the years, there have been many unforgettable Stratocasters: David Gilmour's The Black Strat, Stevie Ray Vaughan's Number One, Dick Dale's The Beast, Eric Clapton's Blackie — but none of them would exist without the 1954 production model that started it all.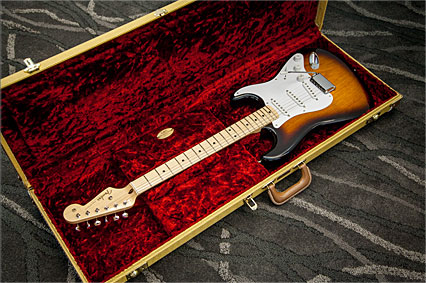 This 60th Anniversary American Vintage 1954 Stratocaster re-creates that inaugural Strat in all of its glory in every possible detail, from its round string tree and bone nut down to its "patent pending" saddles. And when you plug into your favorite tube amp, a set of three never-before-released 1954 Single-coil Stratocaster pickups reward you by taking you on a journey back through six glorious decades of American electric guitar history.
A diamond jubilee celebration for
Fender's most popular guitar
After 60 years of continuous production, undergoing countless revisions, tweaks, and improvements, the Fender Stratocaster is still one of the most sought-after and constantly imitated solidbody electric guitars on the market. This limited-edition run of just 1,954 guitars celebrates the instrument once heralded as an "exciting new instrument" with a tone "as new and different as tomorrow." Between its immaculate details and full set of vintage re-creation case candy, there's no closer experience to owning the real thing than this!
Production model body finished in
Fender's original sunburst
Although introduced in March of 1954, the actual production model Strat didn't hit the street until October of that year. In that time, the Stratocaster underwent many small changes, including the color and carve of the body. By May or June of '54, Fender had arrived at the heavily contoured 2-piece ash body that went into production. The finish had also gone from a sort of brown edge burst to the canary yellow to amber brown 2-color sunburst found on Strats ever since. Other original details you'll discover on the 60th Anniversary American Vintage 1954 Strat include a visible side seam and a flash-coat lacquer finish.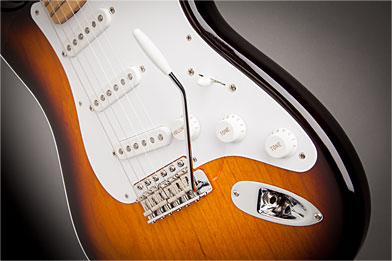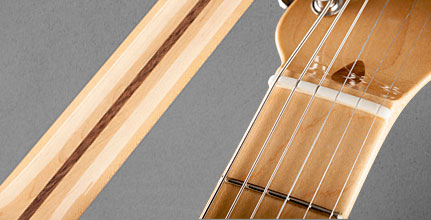 Original '54 maple neck delivers a
vintage playing experience
Over the past half century and some change, one of the things that's changed the most about the Fender Stratocaster is the neck. In 1954, the Stratocaster came exclusively with a 25.5"-scale, 1-piece maple neck that featured a chunky carve that would later become Fender's rounded D profile. On the fretboard side, rolled edges and smoothly finished fret ends offered the kind of comfort you'd expect from a modern binding. And true to the original production model, the 60th Anniversary American Vintage 1954 Stratocaster features a date stamp just below the truss rod adjustment nut at the base of the neck.
1954 Single-coil Stratocaster pickups provide classic Strat tone
Bell-like, jangly, smooth, and bluesy — ask any seasoned Strat player at Sweetwater, and you'll get slightly different descriptions of what this iconic guitar is supposed to sound like. Words alone can't capture the sound, but the new 1954 Single-coil Stratocaster pickups Fender designed for this guitar certainly can. In fact, the only place Fender went off-book was the 5-way blade pickup selector they installed to give you access to those in-between tones early Strat players discovered by accident. And if you really want authentic 3-way switching, Fender includes a 3-way switch that Sweetwater's world-class guitar shop can easily install for you.
Vintage Synchronized Tremolo bridge
offers classic Fender vibe
One of the things that made the original 1954 Stratocaster a truly revolutionary instrument was the introduction of the Fender Tremolo Action bridge. Initially offered as an option, this unique string-bending system soon became the de-facto standard. Beneath its vintage "ashtray" bridge cover, the 60th Anniversary American Vintage 1954 Stratocaster sports six re-creation '54 saddles complete with "patent pending" stamps. Adjustable from the start and as stable as ever, you can't pick up one of these amazing guitars without experiencing the wonder the first Strat players must have felt.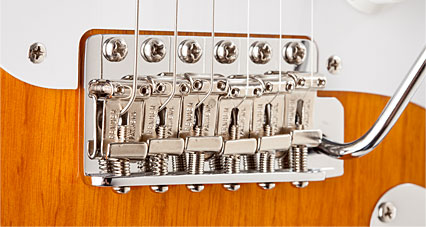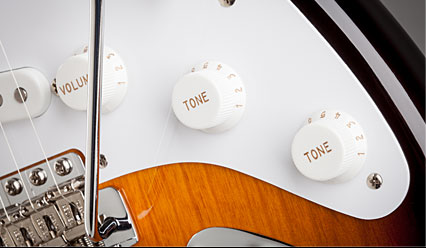 Loaded with period-correct
appointments for a truly authentic feel
It wouldn't be a genuine 1954 Strat re-creation if the 60th Anniversary American Vintage 1954 Stratocaster didn't come loaded with all the right appointments. Nonetheless, it's nothing short of inspiring what lengths Fender went to to ensure you'd get the most authentic experience possible. From the white, single-ply pickguard made of .06" ABS to the white polystyrene (advertised as Bakelite) control knobs that Fender settled on in September of 1954, all of the plastics are as true to the original as it gets. Other details you're sure to love include an original round string tree, vintage tuners that perfectly imitate the original unmarked "No Line" Kluson Deluxe tuners, and nickel-chrome hardware.
A special set of case candy completes
the vintage Strat experience
When you bought a Stratocaster in 1954, you didn't just get the most amazing electric guitar on the market, you also got a case full of premium accessories and a full set of documentation. Fender made it a point to re-create this package as perfectly as they could. It starts off with a replica single-stitch center-pocked tweed case. Inside, you'll find replicas of the original polishing cloth, cable, and bridge cover that came with the '54 Strat, plus a set of extra tremolo springs. On top of that, Fender reproduced the original 1954 paperwork and literature, collectable items any lifelong Fender player will appreciate.