Revolution in the World of Bluetooth Speakers
It's finally here — a portable speaker with Bluetooth connectivity that actually produces great sound at party volume levels. The Bose SoundLink Revolve+ pumps out massive amplitude in a 360-degree pattern, thanks to its cylindrical shape. Its aluminum body is both impact- and water-resistant, so you can take it wherever the music takes you, worry-free. With a built-in speakerphone for calls, a USB charging port, and access to the Bose Connect app for pairing additional units, the SoundLink Revolve+ sets a new standard in the world of portable Bluetooth-enabled music playback.
Superior portability, sound quality, and volume
Want great sound without lugging around a whole PA system? The Bose SoundLink Revolve+ weighs in at 2 lb., has a seamless aluminum body, and connects wirelessly to your smartphone, tablet, or other device for music playback and enjoyment. It even has a built-in soft carry handle for easy transport. Designed with Bose's omnidirectional acoustic architecture, the Revolve+ generates exceptional sound quality at volumes so loud the neighbors will either complain or come join the party!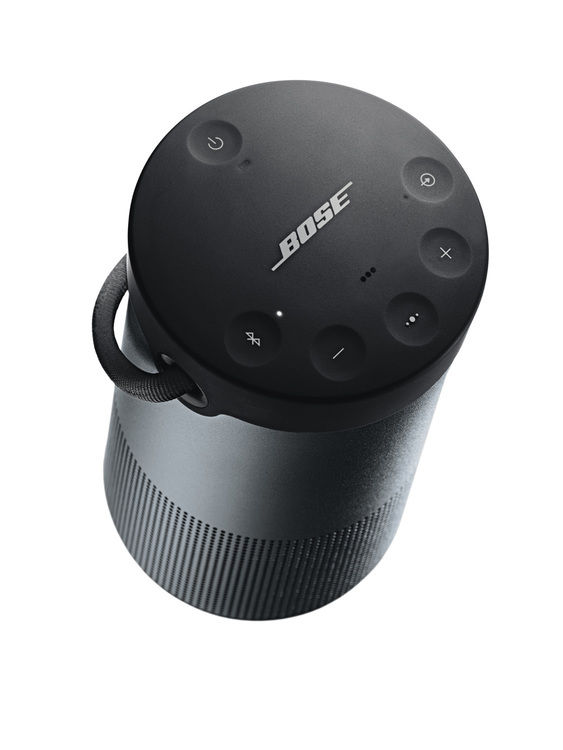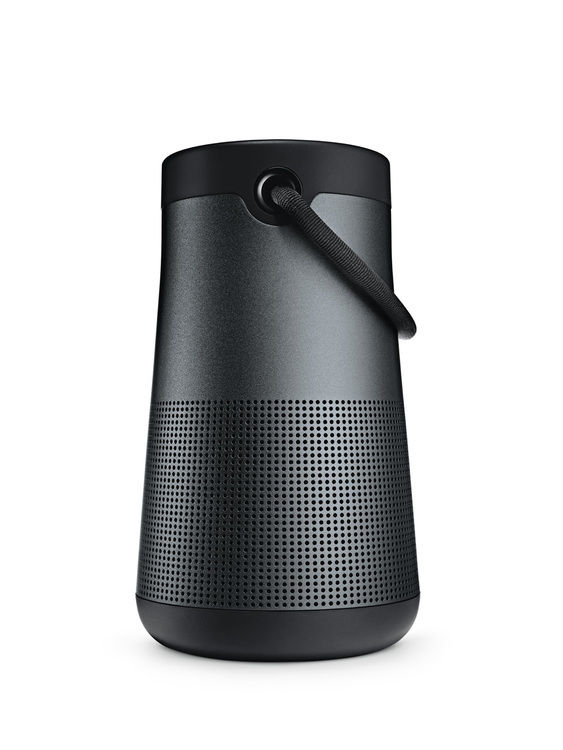 Engineered for life and all its messy goodness
Let's face it: life is messy, and gear that can't handle active lifestyles gets left behind. The Bose SoundLink Revolve+ is ready for whatever your life throws at you, thanks to its level 4 International Protection Rating. Its aluminum body is corrosion-, impact-, dust-, and water-resistant to an extreme degree. Take it camping, use it at the pool or the beach, bring it with you in the boat — whatever — just don't submerge it (hey, even you can't breathe underwater).
When it comes to connectivity, the Revolve+ rules
The Revolve+ offers you myriad ways to connect. You get the standard Bluetooth range of up to 30 feet for the eight devices most recently paired with it, but you also get a 3.5mm aux input, as well as something that approaches tech wizardry. The units employ a short-range wireless technology called Near Field Communication to allow buttonless pairing and unpairing of your playback device with the speaker. Just place your NFC-enabled device, such as a smartphone, near the Bose logo on the Revolve+, and the NFC will pair the two without so much as the wave of a magic wand. You can also listen to music from your computer or tablet by connecting via the Micro-USB port.
Pair up with Bose Connect or built-in Party Mode
Want to add another Bose SoundLink unit and keep the party going? The Revolve+ has you covered with its stereo pairing feature. By using the downloadable Bose Connect app on your device or placing the units in Party Mode, you can link two SoundLink units (Color II, Revolve, or Revolve+) for enhanced stereo sound. With their lithium-ion rechargeable batteries that provide up to 16 hours of playback, the Revolve+ units will still be going strong long after the last guest calls it a night!
Receive and make phone calls conveniently
Want to answer that follow-up call from your Sweetwater Sales Engineer or dial up a friend while you're listening to music? You can! When a call comes in, playback will pause and you will hear the ringer through the speaker; simply press the multifunction button to answer and conduct your call as with any hands-free phone system. The Revolve+ even facilitates voice-control dialing through the multifunction button. After you've finished your request for extra candy in your next order, just hang up and playback will continue from where it was paused.
Bose SoundLink Revolve+ Portable Bluetooth Speaker Features:
Easy-to-use and easy-to-carry 2-pound speaker puts out great sound wherever you take it
Cylindrical design creates an enjoyable listening experience in a 360-degree pattern
Aluminum body has an IPX4 rating for exceptional resistance to impact, dust, and water spray
Built-in soft carry handle makes it even more convenient to take the Revolve+ with you
Near Field Communication allows buttonless Bluetooth pairing with your NFC-enabled device
USB charging port keeps your smartphone or tablet juiced up while you're listening to music
Bose Connect app or Party Mode lets you link a second SoundLink unit for even better sound
Rechargeable lithium-ion battery provides up to 16 hours of playback