The Future of Drum Triggering
Forget anything you know about conventional MIDI drum triggers — the Sensory Percussion drum sensor system absolutely takes drum triggering to a whole new level. This sensor system lets you capture the vibrations of any drum and turn it into a 10-zone multipad. But even that's an understatement since this 10-zone pad offers a range of dynamic expression — including the capability to blend between zones — that absolutely blows standard multipads out of the water. What's more, Sensory Percussion software includes an amazing onboard sampler and stunning effects, all of which respond naturally to the way you play. Top it off with tight multi-sensor interaction, including amazing crosstalk elimination, and you have the most expressive hybrid/drum trigger system you'll ever find.
Ten playing zones for a single sensor
When Sensory Percussion came to Sweetwater to demonstrate their technology, we were impressed. When we tried it for ourselves, we were totally floored. Each drum sensor comes with a set of disposable steel pickups. You only need one per head/drum, and if you run out, just give us a call to receive more. Together, these elements provide you with ten trigger zones — that's more than almost any standalone multipad at this price. What's more, once you calibrate the system, the trigger zones are incredibly accurate.
Ten trigger zones turn your drums into full multipad instruments
Offers more trigger zones than virtually any standalone multipad at this price point
System includes multiple stick-on pickup elements for when you need to swap heads
Additional disposable steel pickups available (call you Sweetwater Sales Engineer)
Combine multiple drum sensors to create the ultimate acoustic/electric hybrid drum kit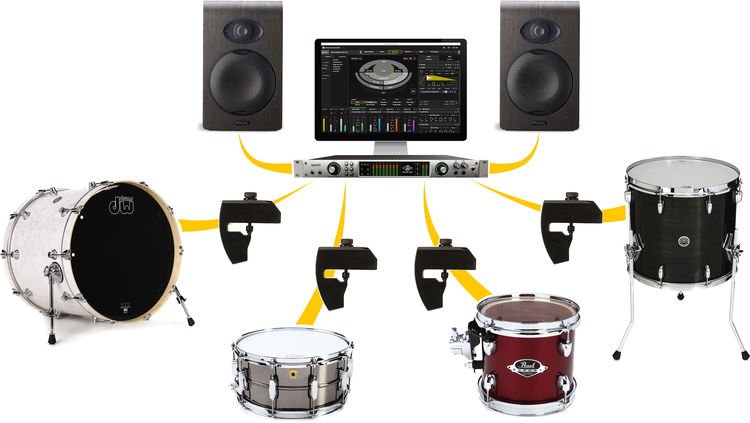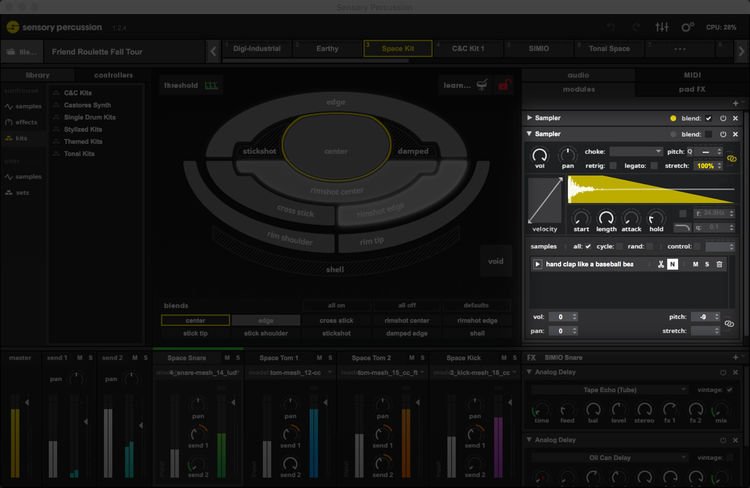 Fully dynamic sample triggering
The integration between the drum sensor hardware and the companion software is what sets Sensory Percussion systems far beyond conventional triggers, and it all starts with how it handles sounds. The software itself integrates a sampler that's so powerful it more than rivals most virtual instrument samplers
For starters, you can easily assign different samples across the drum, not just by where you strike it but by how you strike it. One great example of this is if you use a drum sensor on your kick drum. With a fixed kick pedal, you're unlikely to strike the center and the edge of the head. Instead, you can use the edge zone to respond to a different kind of playing dynamic, such as digging into the head. This opens up a ton of extra triggering possibilities.
Assign samples to 10 different zones across the head, rim, and shell
Choose from the huge library of included sounds or load your own
Use different drum strokes and playing dynamics to produce dynamic expression
Stack as many samples as you want on a single trigger for complex sound creation
Advanced playback modes include cycle, random, stack, and more
Powerful sample editor features trim, pan, pitch shifting, and envelope controls
Blending delivers seamless transitions
When you play acoustically, there are few hard lines between where and how hard you strike your drums. Sensory Percussion lets you tap into this same kind of natural dynamic transition with sample blending. Sample blending allows you to shift seamlessly between zones, removing the hard line between samples. You can even adjust the curve between sample blends, effectively broadening one zone and shrinking its neighbor. Incidentally, if you want harder divisions between samples, there are choke settings to allow zones to cut each other off. You can even set up global chokes, which work across multiple sensors.
Set up sample blends to seamlessly transition between zones
Eliminates hard lines between samples for natural-sounding expression
Define sample input/output curves to balance sounds between zones
Combine blending with effects and dynamics for totally dynamic sounds
Choke groups also let you use zones to cut each other off, even between sensors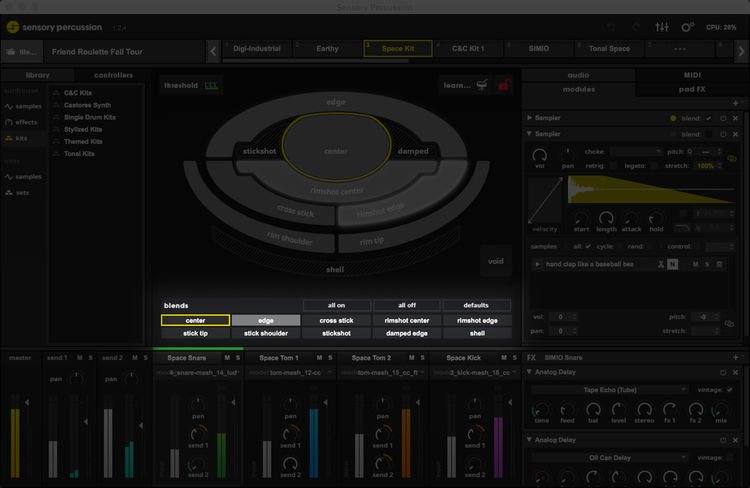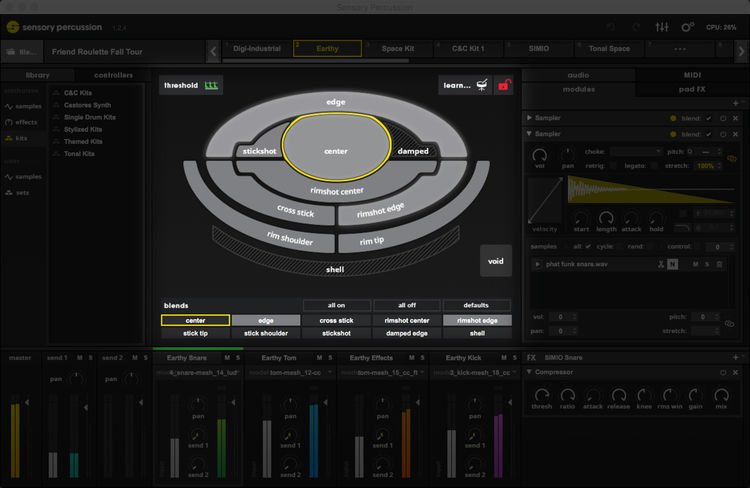 Train sensors for total control
No other drum trigger system offers the level of detail, expression, or control Sensory Percussion delivers. This approach to calibration is both incredibly detailed and remarkably easy to set up. For individual sample sounds, all you do is set the zone to training mode and then strike the drum in that zone at varying levels a dozen times or so. Even if you mess up a time or two, the system is sophisticated enough to reject the mistakes, so it doesn't take long to train all 10 zones.
Training provides extremely accurate expression and control
A dozen or two strokes is all it takes to calibrate each zone
Sophisticated analysis will reject mistakes for faster setup
Train zones based on location or other playing dynamics
Trainable controllers include timbre, volume, and speed
Never worry about trigger crosstalk
If you've used conventional triggers before, then you know how bad crosstalk can be. The same way that laying into your kick drum can cause your snare drum to buzz acoustically, hitting your kick drum hard can trigger false notes from your snare. The software does include the conventional threshold method of reducing crosstalk, which limits dynamic expression, but that's just the beginning.
Sensory Percussion's training system extends beyond single drums, allowing you to calibrate the system to recognize the association between striking one and the sympathetic vibration of another. Once you've set this up (again, a painless process), you'll find you can play naturally and never have to worry about crosstalk.
Crosstalk elimination prevents vibrations between drums triggering false notes
Multiple ways to eliminate crosstalk between sensors improve accuracy
Threshold control for each zone cuts off notes that are too quiet
System recognizes potential multiple-sensor crosstalk automatically
Advanced crosstalk calibration makes crosstalk elimination totally natural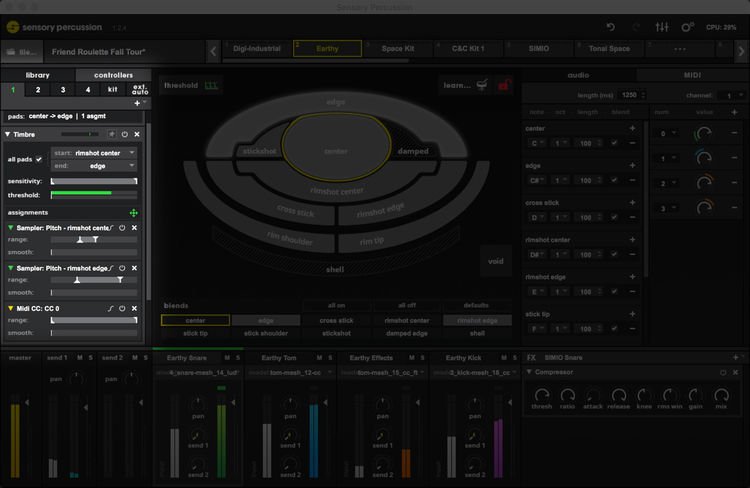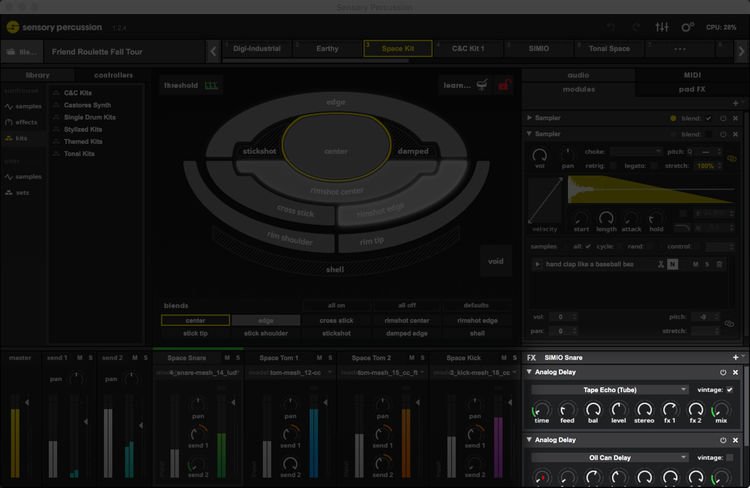 Effects you can apply in inspiring ways
The way Sensory Percussion's drum sensor system handles effects is just plain cool. As you might expect by now, you can assign and calibrate effects to individual zones. For example, you could apply more compression to your kick drum the harder you hit it. You can also assign the same effect across multiple zones and blend the settings dynamically, so you could put the same sound on both the center and rim zones of your snare and apply more reverb as you play further away from the middle of the head.
It gets even better. you can apply all of this to your entire kit, using a single drum to control the amount of any given effect to any other drum-sensor-equipped drums in your kit. What's more, you can use additional playing elements to control parameters, such as your playing speed or how hard you strike the drum. The result is non-static effects that you can work into your phrasing in an entirely natural way.
Sampler includes impressive effects with full parameter controls
Multi-band EQ, tube amp simulation, clipper, delay, filter, modulation effects, reverb, and compression onboard
Effects expression responds to zone blending, playing dynamics, and more
Global effects control lets you use one sensor or zone to add and adjust effects for all samples
Combines with other dynamic sample triggering options (pitch, LFO, etc) for powerful sound shaping
Complete MIDI routing onboard
So far, we've covered how these drum triggers can control elements of the Sensory Percussion software's internal sampler and effects, but the software itself can control other instruments as well. We're not just talking about simple velocity-sensitive triggering either — most of the Sensory Percussion software's variable controls translate into CC messages. And MIDI out isn't the only option, you can also control many elements of the software via MIDI input. It's incredibly easy to totally change up your settings between songs — just add a simple MIDI control surface to your rig.
Built-in advanced MIDI routing provides flexible instrument integration
Control virtual instruments or MIDI-controlled hardware from your drums
Each pad can send as many MIDI notes over MIDI channels as you want
Variable software parameters translate into MIDI continuous controller messages
MIDI input allows you to control settings easily via external MIDI control surfaces