The Saturn V Gets a Retro Facelift
The Mapex Saturn V Tour Edition shell pack celebrates the look and tone of vintage drums, with a classic shell configuration and a dapper set of wraps. The shells and features are identical to those found on the standard Saturn V: you get the warmth and cut of 6-ply maple/walnut shells, the tuning ease of SONIClear bearing edges, and sustain-enhancing bass hardware, all at a cost that's tour accessible. If you're after modern performance with a classic look, Sweetwater drummers urge you to get your hands on the Mapex Saturn V Tour Edition shell pack.
Why the Saturn V Tour?
Maple/walnut shells blend the best of two worlds
The secret to the classic Saturn sound is its thin maple and walnut shells. In concert, these two tonewoods boast a strong attack and rich, lingering sustain.
Throwback shells teem with vintage vibe
Your Saturn V Tour kit blends modern performance with a classic look. Vintage-sized shells — a shorter bass drum and fuller toms in a one-up/one-down configuration — make this kit a joy to play. And thanks to its retro wraps, your Saturn V Tour makes a strong impression before you ever take the stage.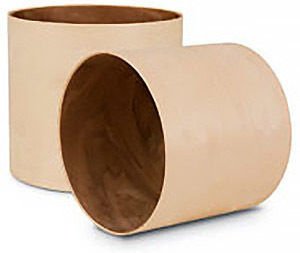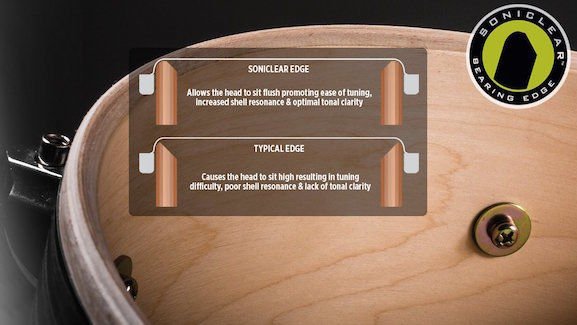 SONIClear bearing edges make tuning a breeze
Do your heads wobble when you install them? Do they drag when you spin them? That's evidence that your current edges are robbing your drums of tone and tuning capability. Mapex's SONIClear bearing edges seat heads so well they can be hand-tightened and still produce a pure tone. This widens the tuning range for players who like deeper toms and kick drums while producing a purer musical pitch in all registers.
Innovative bass drum hardware is handsome and practical
Visually striking, low-contact counterhoop claws and Memory-Mark bass drum spurs are highlights on the Mapex Saturn V Tour kick drum. Respectively, these reduce shell weight for a fuller tone and allow players to recall height settings quickly between setups.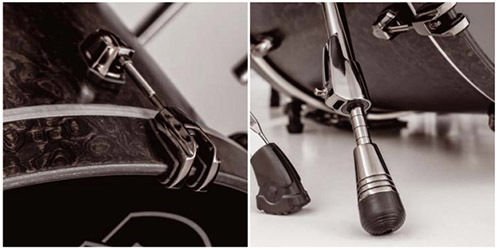 Shells come ready to rock with Remo USA heads
Your Mapex Saturn V Tour includes a full set of US Remo heads for an accurate representation of the tones that lie within. Sweetwater drum experts couldn't have picked a better pairing themselves. Toms come crowned with two-ply Emperor Clear batter heads for a time-honored studio tone. The bass drum gets a Powerstroke P3 batter head for a modern attack and lasting durability.
Mapex Saturn V Tour Edition 3-piece Shell Pack Features:
Retro shell sizes and wraps inspired by vintage drums
One-up, one-down configuration is a joy to tour with
9x13" tom, 16x16" floor tom, and 14x24" kick drum (depth x diameter)
North American maple/walnut shells boast a strong attack and rich sustain
SONIClear bearing edges maximize tone and tuning range
Low-contact bass drum claws reduce weight and provide a visual punch
Memory-Mark bass drum spurs allow for recallable height settings
Toms include Remo Emperor Clears for a time-honored studio tone
Kick drum includes a Remo Powerstroke P3 for a modern attack
Includes tom holder and clamp — all other hardware sold separately