Muddy Tone Got You Down? Keep Reading...
Drop the BBE mini Sonic Stomp MS-92 onto your pedalboard, and prepare for a serious tonal upgrade. This compact Sonic Maximizer slices through muddy tone like a hot knife through butter. Cut through the densest of mixes without sounding harsh or buzzy. Inject your chords and solos with incredible note definition and clarity. Instill every harmonic element with dramatic impact. And if you're in need of a low-end infusion, the Lo Contour control churns out the kind of meaty chunk that really kicks you in the chest. Lift the blanket off your tone and reveal its true potential. Plug in to the BBE mini Sonic Stomp MS-92.
BBE Sonic Maximizer technology packed into a compact pedal
Sonic Maximizers coax out the authentic sonic brilliance of a performance, giving you clean sound unhampered by the deviations that occur any time music is played through a sound system. The highs in your sound are bright and articulate, the lows are tight and rich. Your instruments take on a whole new level of realism — the level they lost when they were first recorded or played through a sound system. And the final result is pure and musical. You hear the great performance; you don't hear the machine at work. The BBE mini Sonic Stomp MS-92 performs just like its larger siblings, but instead of residing in a rack, the MS-92 fits comfortably on your pedalboard.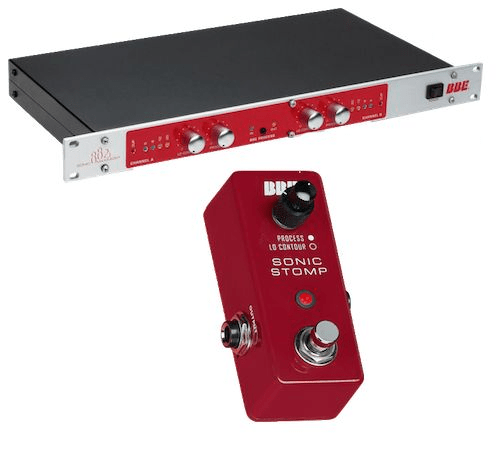 BBE Mini Sonic Stomp MS-92 Pedal Features:
Sonic Maximizer circuitry injects your tone with incredible note definition and clarity
Lo Contour control adds meaty chunk to your low end
1-Mohm input impedance ensures proper pickup loading
Delivers 1-kohm output impedance when engaged
1% metal-film resistors provide consistency
Top-notch tone from high-voltage poly caps
Reliable military-spec circuit board
True hardwire bypass preserves your tone