Elegant 16-channel Network Solution with Redundancy
Focusrite's RedNet A16R audio network interface connects to your studio's network with a single Ethernet cable. And it sounds superb, thanks to top-shelf AD/DA conversion, premium analog circuitry, and jitter-eliminating JetPLL technology. Experience non-existent latency. Benefit from 119dB of dynamic range at 24-bit/192kHz. Enjoy the robust connectivity supplied by 16 channels of analog I/O and the expandable power of Dante audio networking. The Focusrite RedNet A16R audio network interface also boasts network and power supply redundancy for maximum reliability.
RedNet delivers superb audio quality over Ethernet
RedNet is ideal in any environment where pristine audio and extremely low latency over a network are required. Scalable and versatile, RedNet harnesses the simplicity of Ethernet to build audio network systems that range from a small facility with one or two recording spaces to moderate-sized facilities to large studios with multiple recording spaces and control rooms. RedNet is also great for live performance venues such as concert halls, houses of worship, or large spaces like arenas and stadiums.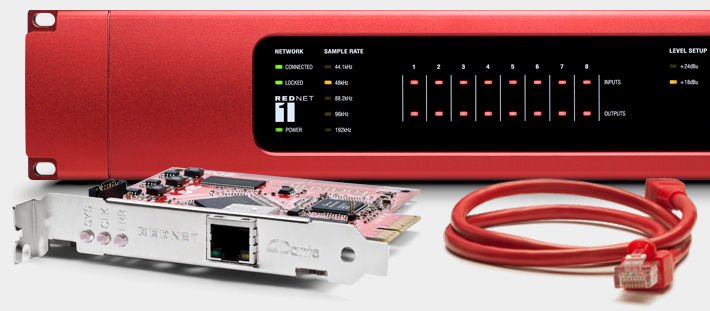 Dante provides an easy way to deliver digital audio
RedNet uses the Dante protocol to connect to your studio network. Dante (Digital Audio Network Through Ethernet) transmits uncompressed, multichannel digital audio over a standard Ethernet with incredibly low latency. Using Dante is incredibly convenient. Instead of dealing with a bunch of cumbersome analog cables, you use a single Cat 5e or Cat 6 cable. Rather than running analog cable throughout a studio or concert venue, you can utilize the structure's existing Ethernet network. And your interface can be anywhere in the facility. As long as it's connected to the network, you're good to go. Patching and routing are handled by a simple software panel.
RedNet Control software is flexible and easy to use
Ideal for larger studios or facilities, RedNet's Control software makes simple work of routing, controlling, and configuring interfaces. Numerous functions of a RedNet system can be set including preamp gain, reference level, clock source, preferred master clock, sample rate, and much more. Run it on your main control room computer or your laptop to move around the facility. Anywhere there is an Ethernet connection, you can be in control of the network.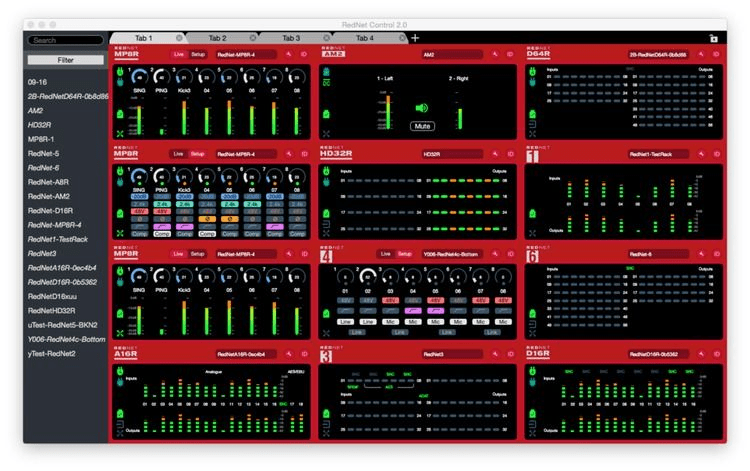 Focusrite RedNet A16R Ethernet Audio Network Interface Features:
Reliable, robust digital audio networking for the studio
16 channels of analog I/O provides robust connectivity
24-bit operation at up to 192kHz sampling rate
Superb audio quality with a dynamic range of 119dB
Proven Dante networking technology uses standard networking components
JetPLL technology provides ultra-low-jitter in all I/O units
Units are hot-swappable, detected and configured automatically upon plugging into power
Redundant power supply and network connectivity