A Reason to Celebrate!
Propellerhead Reason 9 is an all-in-one music-production studio that streamlines the creative and collaborative process with an interface that's quicker, sleeker, and more intuitive then ever. Record audio on unlimited tracks, create beats, play virtual instruments from a powerful and expandable rack, and mix down on a superb SSL-modeled console. Spark your creativity with Reason 9's new Player devices — Scales and Chords, Note Echo, and Dual Arpeggio. Build your compositions with 1,000 new patches from top sound designers. Nail vocal perfection with Pitch Editing. Supercharge your workflow with the Bounce in Place feature. With a mouse click, change Themes to match the interface to your moods. Propellerhead Reason 9: it's everything you love about your favorite DAW software, and more. Note: This is an offer from Propellerhead allowing approved educational facilities to purchase a Reason 9 10-pack at a special discounted price. Proof of eligibility is required to qualify for this offer. Please call your Sweetwater Sales Engineer for more information.
Command a massive sonic arsenal
Packing a massive arsenal of synths, drum machines, loop players, samplers and a fully stocked effects section, Reason comes loaded with everything you'll need for superior music productions. The built-in instruments and FX cover the gamut from organic acoustic to synthetic electronic sounds and everything in between.

Find your sound
Sweetwater knows nailing the right sound is vital to your creative process. Brimming with thousands of meticulously sculpted synths, samples, drum kits, loops, and FX for any musical style, Reason's onboard sound bank delivers everything you need right from the get-go. Whether you're a techno artist in search of the perfect kick, or a singer-songwriter looking to enhance an arrangement with organic-sounding strings, Reason has you covered with over 5,000 instrument patches, 1,000+ mixing and mastering effects, and over 3,000 loops.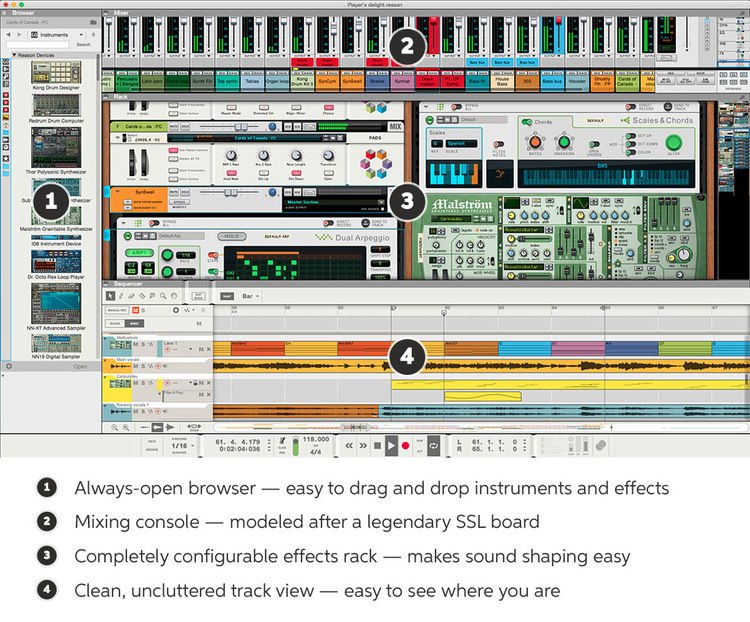 Reason's Virtual Rack
At the core of Reason is its famous virtual rack, which builds itself as you build your composition. Pack your rack with as many instruments and effects as your music needs. As you add a device, your rack connects and routes everything for you. Want to roll up your sleeves and dive in? Flip Reason's rack around and patch audio and control voltages freely between devices. Feel free to explore and don't worry — nothing will ever break and you're always one undo away from fixing any sonic malfeasance you may have introduced.
Live Sampling made easy
In Reason 9, all sample players are now samplers. Plug any sound source into Reason rack's sampling input and you're ready to sample an instrument, mic, a turntable — or even your entire Reason mix! Sampling in Reason is simply part of the creative music-making process. Simply hit the sample button to start sampling. Reason detects the sample start automatically. You can even sample while Reason is running; there's no need to stop the music. You can also set start and end points, loop points, and more in Reason's onboard sample editor. Reason's Live Sampling, together with root-key pitch detection and automatic zone mapping makes it easy to sample a source and map the samples across your keyboard.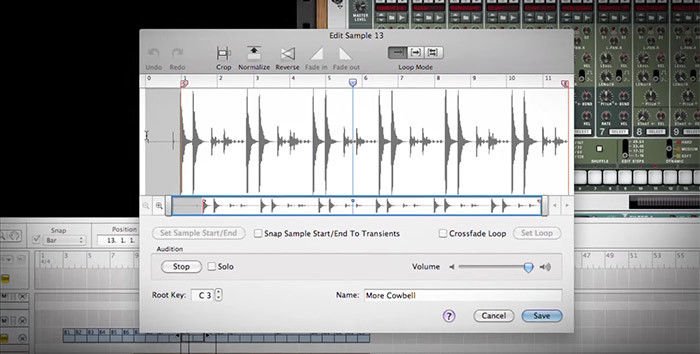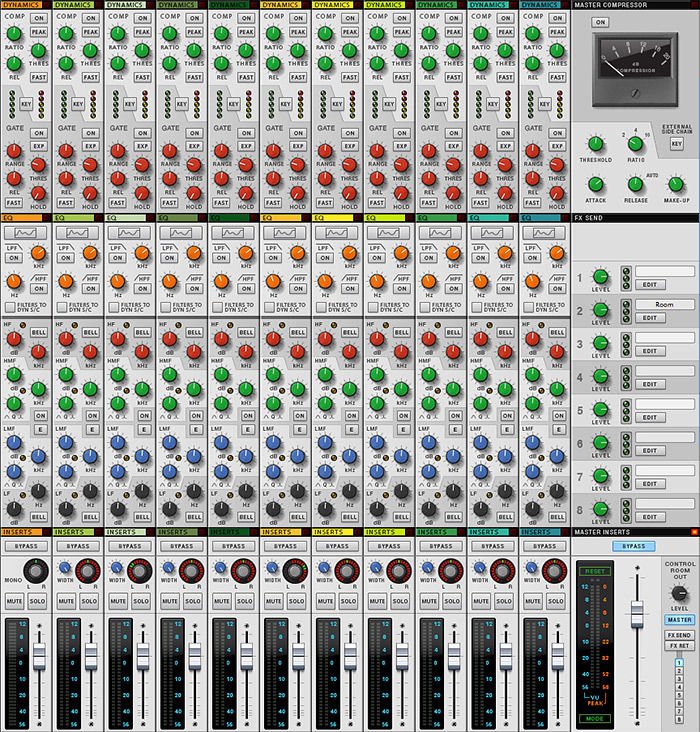 State-of-the-art recording and mixing
Capture your creative inspirations in Reason's powerful sequencer. Record and edit your audio, MIDI, and automation with robust recording and editing tools. Quantize audio or MIDI to correct timing issues, or add swing with ReGroove to inject excitement into your sequences. The Reason sequencer is always in sync with your creative process, adapting to you and your workflow. Capture your ideas first, and choose your tempo later with Reason's amazing Time Stretch feature. With Audio Transpose, you can even change keys after the fact. Tweak your vocals to perfection with Pitch Edit. Change pitch non-destructively and correct audio timing with Slice Edit. When it's time to mix, Reason gives you access to a meticulous model of a legendary console: the SSL 9000k — complete with flexible routing, full dynamics, EQ, total-recall automation, grouping, parallel channels, and its renowned master-bus compressor.
Creative flow
Propellerhead designed Reason to feel like a responsive, inspiring musical instrument that keeps you focused on making music. The clutter-free interface has no hidden sub-menus to interrupt your creative flow. Everything is integrated; the sequencer and instruments are tightly linked, without the need for connections or configuration. You can drag-and-drop instruments, patches, and audio from the always-open browser to the rack or to the sequencer. Reason takes care of the housekeeping and lets you concentrate on your music.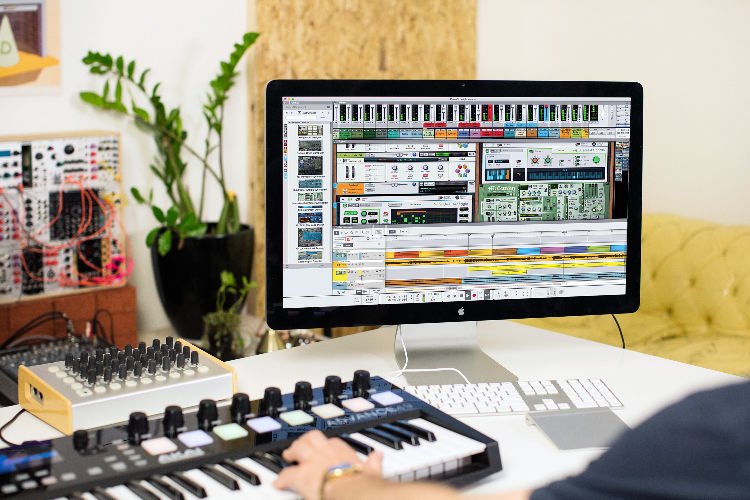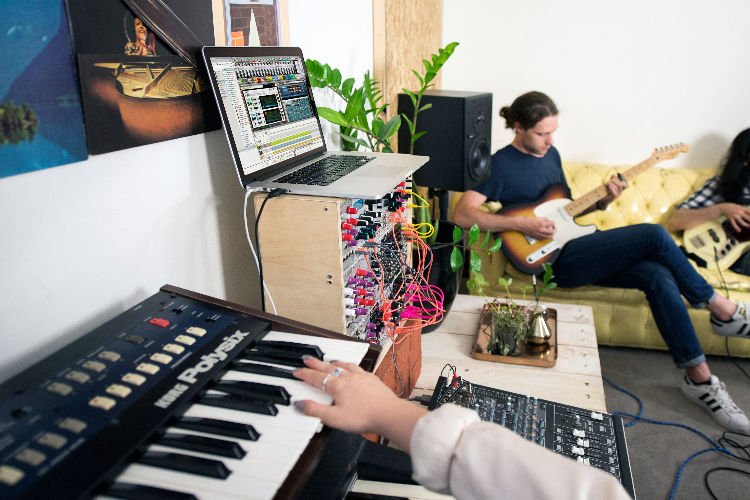 Extending, expanding, and collaborating
Reason comes loaded with everything you need to make music, but when you're in the mood for even more creative options, Propellerhead's Reason Rack Extensions give you the flexibility of plug-ins, without the headaches, letting you expand your rack with new, inspiring instruments and effects created by Propellerhead and top third-party developers. Reason seamlessly integrates with other music production software. Use Reason as your studio's instrument rack and mix your tracks in your favorite DAW. Reason's ReWire technology takes care of inter-app sync and audio streaming.
If your music-making process involves collaboration, you'll love Reason's tight integration with Allihoopa, the online creative hub that lets you create, share, collaborate, and remix with other musicians. Just want to jam with friends? With full Ableton Link technology support, Reason wireslessly syncs to any Link-capable iOS app or desktop software such as Ableton Live, Max/MSP, or Serato DJ.
Instruments included with Reason 9:
Subtractor Synthesizer
ID-8 Songwriter's Toolbox
Malstrm Graintable Synthesizer
Thor Polysonic Synthesizer
Neptune Pitch/Voice Synth
NN-XT Advanced Sampler
NN-19 Sampler
Redrum Drum Computer
Dr. Octo Rex Loop Player
Kong Drum Designer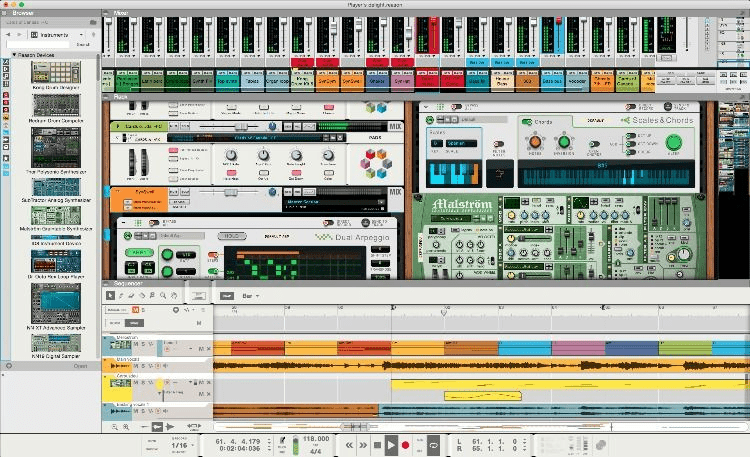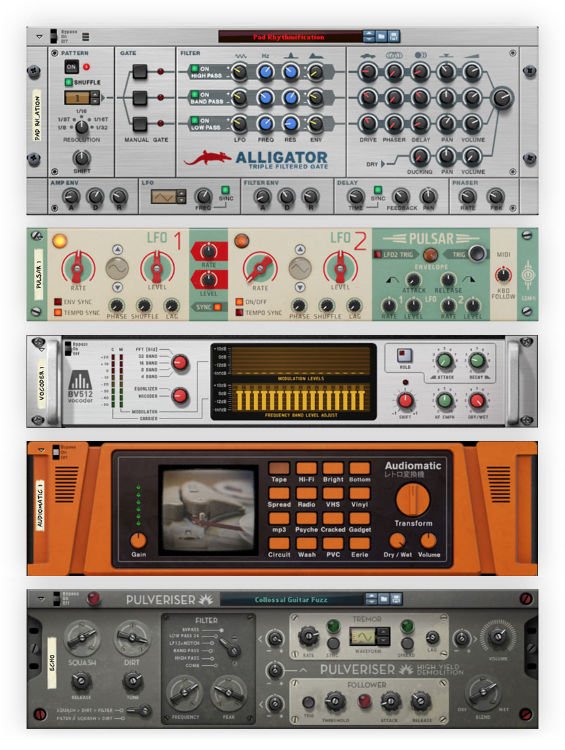 Included effects:
RV7000 MkII Reverb
MClass Mastering Suite
Scream 4 Distortion
Softube Guitar/Bass Amps
CF-101 Chorus/Flanger
DDL-1 Digital Delay
Audiomatic Retro Transformer
Pulveriser Demolition Unit
Alligator Triple Filtered Gate
The Echo delay unit
RV-7 Digital Reverb
D-11 Foldback Distortion
ECF-42 Envelope Controlled Filter
PH-90 Phaser
UN-16 Unison
COMP-01 Compressor/Limiter
PEQ-2 Two Band Parametric EQ
Propellerhead Reason 9 DAW Software Features:
Unlimited audio and instrument channels
Rack Extensions let you expand your arsenal of instruments and FX
Massive factory sound bank with patches, samples, and loops for all Reason devices
Full-featured multitrack sequencer with audio comping tools and Blocks mode
High-quality real-time time stretch and audio transpose
Pitch Edit mode for perfecting your vocal recordings
Audio slicing and audio quantize for correcting the timing of your audio
Player devices: Scales & Chords, Note Echo and Dual Arpeggio
Conversion of recorded or imported audio to REX loops for further manipulation
MIDI instrument output lets you control external gear from the Reason sequencer
MIDI clock output for syncing hardware to Reason
Export mixer channels as individual audio stems, including FX and tempo track
Live sampling on all Reason sampler devices
Supports the Allihoopa online music-making and collaboration service, featuring user-created music, backing tracks, and performances
RPG-8 monophonic arpeggiator
Matrix pattern-based sequencer
ReGroove Mixer real-time groove console
Pulsar Dual LFO
14:2 mixer with EQ and effects send/return
6:2 stereo line mixer
Spider Audio merger and splitter
Spider Control Voltage merger and splitter
Remote mapping to external MIDI controllers and hardware control surfaces
ReWire support for slaving Reason to another ReWire-compatible DAW
Supports all major file formats (Wave, AIFF, MP3, and more)
Real-time sample-rate and bit-depth conversion let you import any audio into Reason
Multicore support and 64-bit compatibility
Self-contained song files make moving projects between computers a breeze