Capture Stunning HD Video and Audio
It's never been this convenient!
You'll be amazed at what you can produce with the Zoom Q2HD Handy Video Recorder. Never before has high-definition 1080p video recording been combined with professional stereo recording capabilities – let alone at this affordable price. Factor in the enhanced user interface and increased battery life, and you'll see why the Q2HD is Zoom's best handy recorder yet!
What Makes the Q2HD Handy Video Recorder So Amazing?
It puts HD video and studio-quality audio in the palm of your hand.
Capture incredibly spacious stereo sound via Mid-side recording.
It's very easy to use, with an intuitive interface and large color display.
You can use it to stream HD video and audio to the Web in real time.
You can capture ultra-fluid video at 60 frames per second (up to 720p).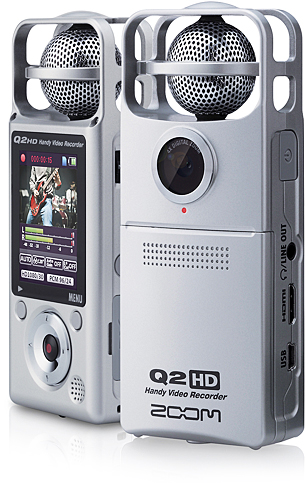 Hover over each box below to read a detailed description.
Produce Broadcast-quality Media!
Delightfully affordable and deceptively portable, the Zoom Q2HD lets you keep a high-quality video recorder in your gig bag or pocket. It's perfect for producing your band's music video, capturing amazing live audio recordings, or even streaming your band live on the Web. And the Q2HD comes loaded with Zoom's amazing Mid-side stereo microphone setup, so you'll get wonderfully realistic stereo imaging and fantastic audio quality too. A host of other excellent functions and accessories all add up to make the Zoom Q2HD handy video recorder one of Sweetwater's top values.
Zoom Q2HD Handy Video Recorder
at a Glance
Capture HD video anywhere
Create your band's next music video
Perform for the world with high-quality streaming
Mid-side recording for incredibly lifelike sound
Enhanced low-light performance
SDXC card support for hours of top-quality recording
Capture HD Video Anywhere
It's true what they say: the best camera is the one you have on you when you need it. With the sleek and slim Zoom Q2HD handy video recorder in your gig bag or pocket, you'll never be without an excellent high-quality video recorder again. And the Q2HD will let you record HD video at up to 1080p in broadcast-standard 30fps, or at 720p at up to 60fps – talk about the perfect camera for recording YouTube videos for your band's website, or for capturing events at your school or church!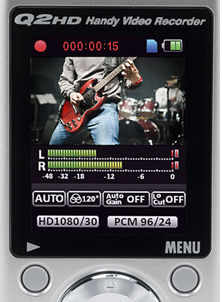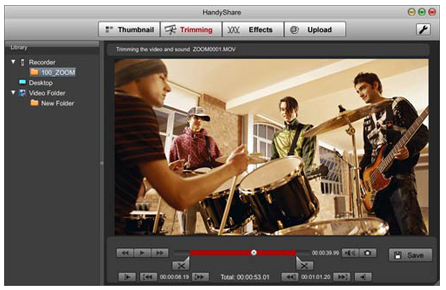 Create Your Band's Next Music Video
Hey, your fans really dig your band – why not give them more of what they love? Within minutes of first using the Q2HD Handy Video Recorder, you'll see how easy and fun it is to capture top-notch video and audio. Your band's website will be a lot more fun for your fans, with music videos, concert excerpts, and anything else you'd like to share. And simply recording your band's practices and song ideas for review later will help you tighten up your performances more than you can imagine.
Perform with High-quality Web Streaming
Whether you want to stream your band's next gig on your website, or simply add high-quality video to your Skype or other online chat system, the Zoom Q2HD Handy Video Recorder has you covered. All you need to do is hook your Q2HD up to your computer via USB (there's a USB-A-to-mini-USB cable in the optional accessory pack, if you need one), and you're good to go. The Q2HD's streaming capabilities are compatible with virtually any streaming software.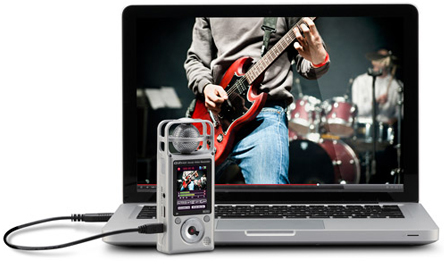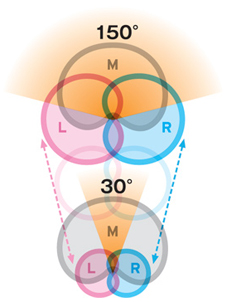 Mid-side Recording for Incredibly Lifelike Sound
The Mid-side stereo microphone system onboard the Q2HD takes advantage of a recording technique engineers have used in the studio for decades,to get perfect stereo imaging with incredible depth. By using three of Zoom's top-of-the-line condenser capsules, Mid-side recording makes it possible for you to adjust the width of the stereo field after you've recorded, so you have complete control over the soundstage. And you don't have to be a studio engineer to appreciate the incredible depth and realism you'll hear in the Q2HD's recordings.
SDXC Card Support for Hours of High-quality Streaming
In addition to stunning audio quality and incredible high-definition video, the Q2HD Handy Video Recorder supports high-capacity data storage. Though it comes with a 2GB SD card to get you going, the Q2HD accepts up to 64GB SDXC cards for hours of recording time, even with 1080p video and 24-bit/96kHz audio. That means you'll never have to compromise video or audio quality when you're recording your band's gig, even for long sets!
Shop SD Cards Now »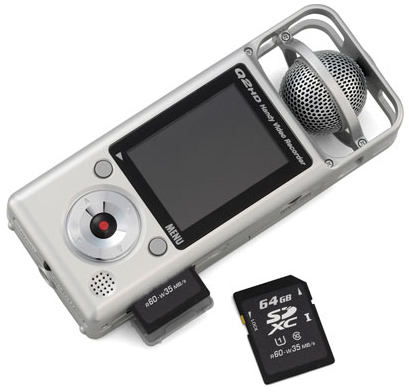 Enhanced Low-light Performance
No matter where you're recording with the Q2HD, the enhanced lighting modes will always ensure you get the best video quality possible – even in less-than-great lighting conditions. Auto mode is your best bet for all-purpose, on-the-fly recording in most situations. Concert mode is designed to automatically adjust for rapid stage-lighting changes, and it compensates when the stage goes dark. And when you're shooting in other low-light conditions, Night mode will help make the best of the dark conditions.
Zoom Q2HD Handy Video Recorder Features:
The perfect way to capture high-definition video and audio anywhere
Record up to 1080p, 30fps (or up to 720p, 60fps) HD-quality video in MPEG-4 AVC/H.264 (MOV format)
Supports recording in standard definition WVGA format at up to 60fps
2GB SD card included, with support for up to 64GB SDXC card media, for hours of continuous recording
Large 2", 320 x 240 color display makes monitoring and reviewing video easy
Onboard Mid-side microphone system lets you record super-realistic stereo audio in up to 24-bit/96kHz linear PCM WAV format or 320kbps AAC
Mid-side stereo audio allows you to adjust the stereo spread of your audio after you've recorded
Built-in speaker and tripod mount make setup convenient
Onboard highpass filter prevents low-end rumble from ruining your audio
Mini HDMI (Type C) and 1/8" stereo Line/Phones connectors let you hook up your Q2HD to many standard televisions or video equipment
Compatible with virtually any web-streaming software, including Ustream Producer, Flash Media LiveEncoder, Skype, and others
Auto Gain keeps your audio levels continually in check to prevent clipping
Powered by two standard AA batteries, AC adapter (not included), or USB bus power
Includes HandyShare editing and YouTube uploader software, Apple QuickTime, 2GB SD card, and two AA batteries