Big Power and Incredible Sound-shaping Capabilities
The QSC PLD series power amps merge two essential pieces of gear into a single, lightweight unit. Not only do you get up to 5,000 watts of power spread across four channels, you also get advanced onboard DSP to shape the sound. These amps are primed to be the new centerpiece of your live sound rig.
QSC equipped the PLD amps with everything you need for the show, namely plenty of power and the ability to shape the sound to the room. This is accomplished through high-efficiency Class D amplifiers and an intricate series of DSP-powered processors. There's an impressive amount of features packed into just two rack spaces. And best of all, QSC set the PLD series up to be extremely user friendly. Plug it in and the front panel display leads you through the rest. No hassles, just awesome sound every time.
Watch this quick overview of the PLD series and its key features.
Complete Array of Built-in DSP and PA Management Tools
The PLD series equips you with everything you need for virtually any live sound gig or installation. On top of standard features such as peak and RMS limiting, you also get crossover filters, parametric EQ, and alignment delay — basically everything you used to need an external piece of rack gear to accomplish. Plus, this DSP can be applied to each output individually. Now, with the PLD power amps, you get it all, in a single 2U box.
All of this sonic firepower doesn't just simplify your setup, it makes it sound better too. The processing side and the amplification side work in conjunction to allow the DSP to monitor and respond to the amp, giving you more output without distortion. And if you're using QSC speakers, you get the added bonus of using the PLD's "Intrinsic Correction." That's a fancy way to say that the PLD amps use complex filtering and processing to analyze and compensate for non-linearities in the speaker design. Why? So your QSC speakers sound even better.
The PLD series gives you an additional level of control that will really change how you manage your PA system. Within the control panel, you can set the impedance of the individual outputs, letting you use just about any combination of speakers — regardless of the impedance — together in your rig.
Got a pair of speakers running at 4 ohms and your sub is 8 ohms? Not a problem. Just go into the control panel and set the impedance of the individual output to accommodate. This level of control is unprecedented in the world of power amps, and it gives you an incredible amount of flexibility to use whichever speakers you choose in the same rig regardless of the impedance.
Take a peek inside the PLD amplifiers and what makes them
different from a typical power amp.

Hover over features below to learn more


Screen Types
There are three screen types: Informational, Navigational, and
Parameter Editing.
Informational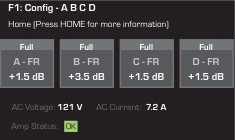 The Informational screen gives you crucial pieces of information at a glance, such as the amplifier status, preset number, voltage, channel configuration, and more. You want this screen up during normal operation, so you can keep an eye on what's going on.
Navigational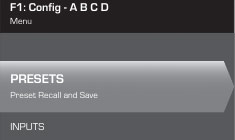 The Navigational screen does just that: it's the place where you move around and select items. The Control knob along with the Enter and Exit buttons are the keys to navigating this screen.
Parameter Editing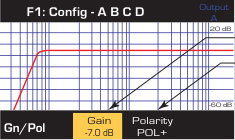 The self-explanatory Parameter Editing screen is where you set the values for virtually everything. This is the heart and soul of the PLD amp, and what you use to dial in the sound.
A walkthrough of the significant features of the PLD amplifiers.
Set Up the Output Configuration
After you've selected the type of speakers connected to the PLD amp, you can configure how the outputs are configured. You can run all four outputs parallel, bridge them in pairs, go 2-channel bridged, run 1 and 2 parallel and bridge 3 and 4, etc. These are just a few examples of how you can route the outputs. You can configure the PLD amp to meet just about any speaker and load configuration.

2-channel Configurations

3-channel Configurations

4-channel Configurations

Managing Presets
You can choose a premade preset based on your speakers and application, or you can enter the Preset Wizard and create your own presets. You can spread the output power across the four outputs any way you want, as long as the total power equals 100%. Inside the Preset Wizard, you can set up and save everything from input sensitivity for each input, output impedance, output power, and every other adjustable parameter the PLD offers. These are examples of how the Wizard presents the settings that are available for adjustment.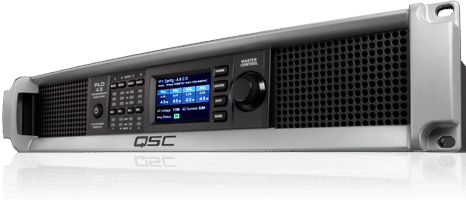 Preset Wizard
Step 1 —
Adjust Impedance and Power

Scroll to select (Imped or Power)

To edit, press ENTER

Turn to adjust parameter

To confirm, press ENTER

Repeat for remaining
output channels
Possible Output Mode Combinations uUsing the Preset Wizard*







Modes: AB = Separate Channels / A+B = Bridge Mode / AB = Parallel Mode
* Percentages are used to represent the power for different amplifier models.
Step 2 —
Select Output Channel for Speaker Assignment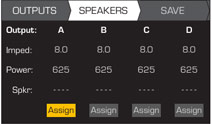 When you are finished setting the Impedance and Power for each output, continue to scroll to access the SPEAKERS tab.

Loudspeaker assignment is optional. You can assign a loudspeaker to one or more channels, or none at all.
Step 3 —
Select Speaker Type for Channel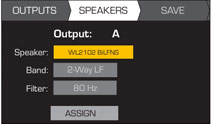 Band and Filter selections are based on the Speaker you select. You must select a loudspeaker before selecting Band and Filter.
Step 4 —
Select User Preset Number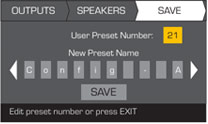 When you have finished selecting loudspeakers, continue to scroll to access the SAVE tab.
Step 5 —
Assign New User Preset Name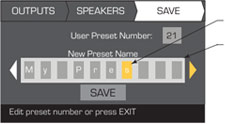 Indicates editing

Indicates "New Preset Name" selection

Up to 21 Characters
A-Z / a-z / 0-9 / _ / - / space
Set Up the Inputs
Step 1 —
Select Input Sensitivity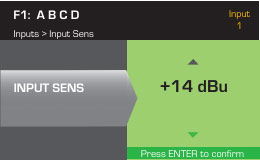 Step 2 —
Set Input Gain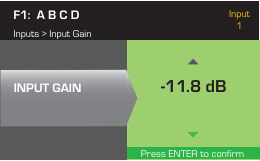 Set Up the Outputs
Select Input Source for Each Output Channel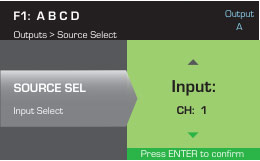 Flexible Amplifier Summing Technology (FAST) for Power Distribution
QSC loaded the PLD amps with Flexible Amplifier Summing Technology, or FAST for short. So what does that really mean? It means that the PLD actively distributes the total power of the amplifier in numerous combinations across one, two, three, or all four outputs. What does that mean for you? You can drive anything from four speakers to four subs to multiple subs in mono. There's almost nothing the PLD can't do for you!
User and Factory Presets to Simplify Setup
Take the pain out of setup with cleverly crafted presets. QSC loaded the PLD amps with 20 factory presets that cover the most commonly encountered setups. Along with that, the Preset Wizard takes it a step further, letting you choose your speakers from a list of common speakers for even faster setup times. Once you have your rig tweaked and dialed in, save it for blazing fast setup every time you get to the gig.
These presets can store anything from the individual output impedances to crossover frequencies to speaker profiles. If it's configurable within the PLD amplifier, you can store it for instant recall with a custom preset.
A guided tour through the FAST power distribution technology.

Click here to download the
QSC PLD series PDF manual

9.1mb
rrrabuyvsvsveytfazersurdwarubawvev
This chart shows examples of how the power can be distributed depending on how the load is distributed across the outputs.*
PLD 4.5 — Total Power: 5000W
8Ω Load
4Ω Load
2Ω Load
Configuration
A
B
C
D
A
B
C
D
A
B
C
D
4 CH (A B C D)
1150
1150
1150
1150
1250
1250
1250
1250
625
625
625
625
3 CH (AB C D)
1200
1150
1150
2250
1250
1250
2100
625
625
3 CH (A+B C D)
2250
1150
1150
1150
1250
1250
625
625
625
2 CH (AB CD)
1200
1200
2250
2250
2100
2100
2 CH (AB C+D)
1200
2250
2250
1150
2100
625
2 CH (A+B C+D)
2250
2250
1150
1150
625
625
2 CH (ABC D)
1150
1150
2400
1250
4100
625
1 CH (ABCD)
1150
2300
4200
1 CH (AB+CD)
4200
4250
2250
* Total wattage and distribution shown is for the PLD 4.5 only. Wattages vary by model.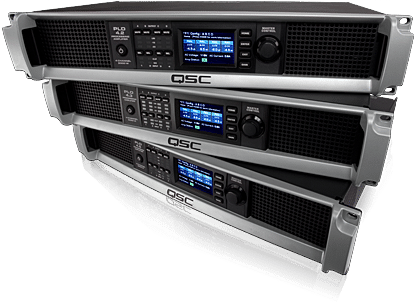 Up to 5,000 Watts Available, Spread Across Four Channels
Power is all about headroom, and headroom is all about sound. Luckily with up to 5,000 watts available on the heftiest model, the PLD series has headroom in spades. Spread that power across four possible outputs, and you have a ton of applications your PLD amp will be a perfect fit for.
Space-efficient Design
So, with up to 5,000 available watts and PA management packed inside a single box, you must need a whole new rack to hold all of this, right? Nope. A single 2U box can actually replace a rack full of gear. Next time you're heading out to the gig, would you rather drag racks of gear with you or just your PLD power amp? With the largest unit weighing in at just 22 lbs., your back will thank you!
Replace a rack full of gear with the high-power punch of the QSC PLD series power amps!