Your Ticket to a Classic Kick Drum Sound
The Remo Powerstroke P3 Felt Tone bass drum head is your ticket to the classic jazz, swing, and rock 'n' roll sound you've been searching for. The Felt Tone's felt strip is built directly into the drumhead, without adhesive, for noiseless resonance control. True to the Powerstroke name, the Felt Tone also features an outer control ring to tighten up decay and dry out overring. These systems work together to produce the large tone and short sustain that we drummers love in our classic kick drums. If you're in the market for a more timeless tone, Sweetwater recommends the Remo Powerstroke P3 Felt Tone bass drum resonant head.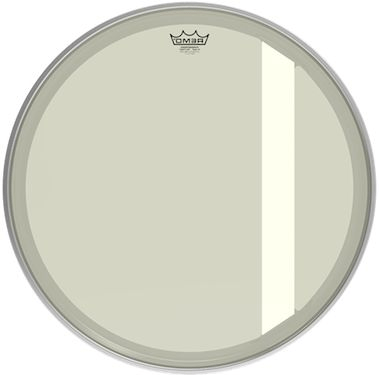 Floating felt strip adjusts to your tuning
The felt strip is as iconic as it is practical. Only problem is, felt strips are a pain to install properly. In the old days, you had to worry about getting them on straight, then hope that the glue would hold through your performance. The Remo Powerstroke P3 Felt Tone series solves these problems once and for all. Its felt is perfectly sized for a professional look — one that won't interfere with head seating — and built into a Mylar flap, without adhesive, for dynamic damping. Tuning your bass drum tight presses the strip into the head for greater control, while tuning it loose causes the strip to brush the head after the attack for a gated sound.
Remo Powerstroke P3 Felt Tone 22" Bass Drum Head Features:
Resonant head with free-floating felt strip
Produces the right blend of decay and control
Perfect for vintage kick drums
No flapping, no noise
Tighter tunings:

presses felt into drumhead for more control

Looser tunings:

allows strip to float for gating effects

Developed by Remo and Ronn Dunnett
Endorsed by jazz-fusion legend Peter Erskine
Hazy finish