Killer 32-channel Antelope Bundle
The Antelope Audio Orion32+ and MP32 Bundle saves you serious cash while providing high-end cornerstones for your studio. Antelope's Orion32+ 32-channel AD/DA converter and the MP32 32-channel mic/line preamp are two Sweetwater best-sellers, and it's no surprise why. If you purchased them separately, you'd still be getting outstanding value. But at this price, the Orion32+ and MP32 Bundle is a complete no-brainer.

Orion32+ 32-channel AD/DA converter
The Antelope Audio Orion32+ packs all the punch of the original Orion32 — plus improved dynamic range and a bevy of new features. Antelope's Thunderbolt circuit for the Orion32+ delivers vanishingly low latency without defeating Mac OS power management, which keeps your computer fan noise quieter for recording sessions. There's also onboard DSP that powers an arsenal of effects such as AuraVerb, the killer hardware-grade reverb. Fitted with mastering-grade monitor outputs and 32 outputs on D-Subs, the Orion32+ is easy to integrate into your studio. You also get the latest generation of Antelope's software control panel.
Orion32+ Features:
Most Line Channels

Multiple line/DI inputs equip the Orion 32+ for many real-world recording applications: drums, full bands/orchestras, etc.

Lowest Latency

Thunderbolt's unmatched round-trip speed reduces latency to imperceptible amounts. The result is a near-analog recording experience for both the producer and the artist.

Advanced Remote Apps

Apps for Mac, Windows, iOS, and Android control Antelope Audio interfaces remotely from any device on your network.

World-class Clocking

Any product worthy of the Antelope Audio name must have exceptional clocking. Extremely low jitter gives this unit Antelope's vivid depth and three-dimensionality.

Realistic Vintage Effects

Hardware-based Pultec-style EQ and AuraVerb reverb are just some of the effects that come standard in Antelope's included FPGA suite.
MP32 32-channel mic/line preamp
Packing 32 console-grade mic/line pres into only two rack spaces, Antelope Audio's MP32 lets you do full tracking sessions and sizable live shows with exemplary sonic clarity, transparency, and dynamics, courtesy of Antelope's superior analog circuit design. The MP32 features phantom power on all channels, and the inputs are on convenient combi connectors — four of them also functioning as hi-Z instrument inputs to accommodate your DIs. Integrated software remote control gives you quick setups and comprehensive tweakability of all parameters. To maintain complete signal-chain integrity from preamp through conversion, recording, and playback, match the MP32 with Antelope's Orion32+ audio interface, a Sweetwater best-seller.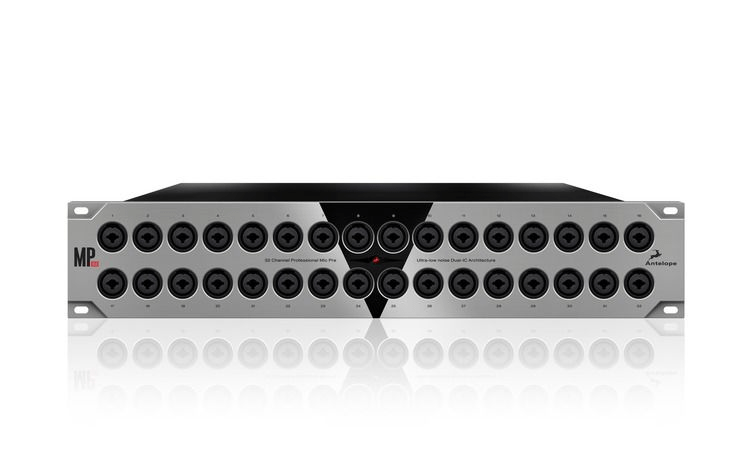 Antelope Audio Orion32+ and MP32 Bundle Includes:
Antelope Audio Orion32+ 32-channel AD/DA converter
Antelope Audio MP32 32-channel mic/line preamp
MP32 Features:
Independently Assignable Phantom Power

Send +48V phantom power to the mics you want, and not to the ones you don't.

Combi Connectors Input jacks accommodate both 1/4" and XLR cables.
hi-Z Inputs

Channels 1-4 also function as hi-Z inputs for your guitar and other high impedance sources.

Ample Outputs

4

DSUB-25 connectors squeeze 32 channel outputs into a 2U chassis.

Digital Remote Control

Take command with

the intuitive software control panel for Mac and Windows.