Analog Synthesis On Steroids
Studio Electronics' Omega 8 is a beastly analog polysynth. This 4-rackspace, 8-voice stereo multitimbral module rocks all-discrete circuitry, two punchy oscillators, and classic Oberheim- and Moog-style filters. Omega 8's ingenious filter slot system lets you load in two more optional SE filters from a selection of coveted vintage Roland, Arp, and Yamaha models. Also onboard the Omega 8 are three envelopes, three LFOs, flexible glide control, unison mode, and an advanced arpeggiator. This is a serious synthesizer with serious connectivity, including eight external inputs and eight individual outs - one for each voice. Whip up killer soundscapes quickly in program mode or create splits and up to 8-layer patches in multitimbral mode. Packed with exhaustive MIDI control, dynamic signal processing, and expressive modulation, the Studio Electronics' Omega 8 will blow you away.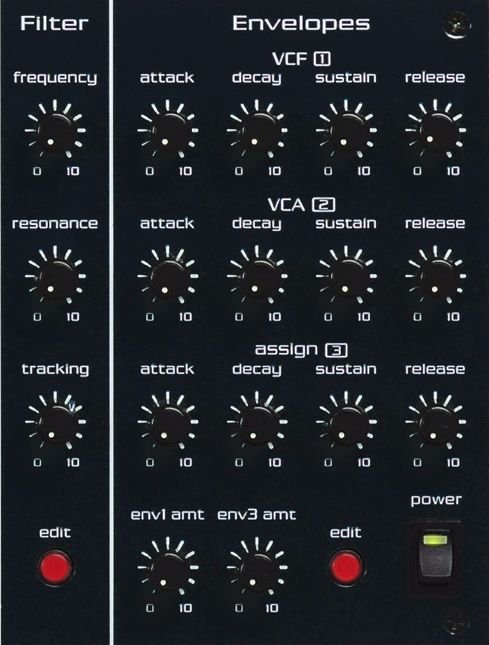 Up to four classic filters
The Omega 8 ships with with two classic voltage-controlled analog filters: a 12dB Oberheim-style is hardwired into voice board; a 24dB Moog-style filter occupies the first docking slot. The remaining two slots can host optional Studio Electronics hardware filters modeled on the classic Roland 303, Arp 2600, and dual-resonant Yamaha CS-80 filters. Each voice can access all loaded filters.
Three multistage ADSR envelope generators
Studio Electronics spec'd the Omega 8 with three multistage ADSR envelope generators with inverting and multi-triggering. Envelope 1 acts on the VCF; envelope 2 on the VCA; the 3rd envelope envelope is assignable with up to three destinations and depths. Envelopes 1 and 2 also feature additional delay, decay 2, and breakpoint parameters.
Sound-shaping and modulation capabilities
The Omega 8 is endowed with masterful sound-shaping and modulation capabilities befitting your dream synth. Three low-frequency oscillators with four waveform choices (triangle, sawtooth, reverse sawtooth, and square), plus noise and a random mode that creates delightful sonic havoc. You have your choice of three destinations and depths for LFOs 1 and 2, with range, key trigger, delay, polarity, mode (mono, poly), quantize, and MIDI sync. LFO3 is hardwired to voice panning.
Analog synthesis - as good as it gets
The Studio Electronics Omega 8 is one of the more serious analog synth modules we've seen here at Sweetwater. Powered by Studio Electronics' proprietary discrete analog sound engine, the Omega 8 generates wall-rattling basses, iconic searing leads, dreamy celestial pads, punchy electronic drums, ethereal effects, and pulsing, hypnotic soundscapes. In analog synthesis, this is as good as it gets.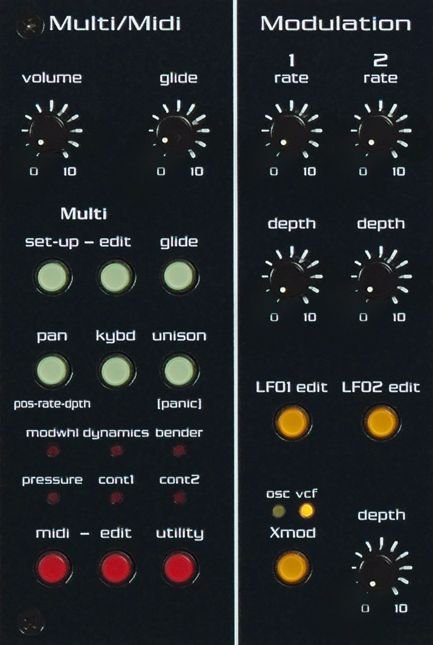 Studio Electronics Omega 8 Features:
4-rackspace, 8-voice synth module

8-part multitimbral

Powered by SE's proprietary discrete analog sound engine

2 voltage controlled discrete analog oscillators

Ships with 2 classic voltage-controlled analog filters

12dB Oberheim-style, hardwired into voice board

24dB Moog-style, in first filter slot

2 additional expansion filter slots; each voice can access all loaded filters

3 multistage ADSR envelope generators with inverting and multi-triggering

3 LFOs with four waveform choices plus noise and random mode

Multiple modulation destinations

8 auto-triggering external inputs

8 individual outs (one per voice); stereo and mono output

Exhaustive MIDI control

Handcrafted in SE's El Segundo, CA factory