High Power, Low Cost PC DAW
Acoustica's Mixcraft 8 Pro Studio demonstrates perfectly that DAW software doesn't have to be expensive to be powerful, flexible, or easy to use. It starts off with a user interface that's so sophisticated, you'll hardly ever notice it. You get unlimited tracks, tons of built-in processing, great virtual instruments, and much more. Version eight also adds video editing, sophisticated sequencing, and composing tools to the mix. Better still, full VST plug-in support means you can always build on to your system with third-party processors and virtual instruments. Note: This is a specially priced version of Mixcraft 8 Pro Studio for qualifying educational facilities. For more information, please call your Sales Engineer.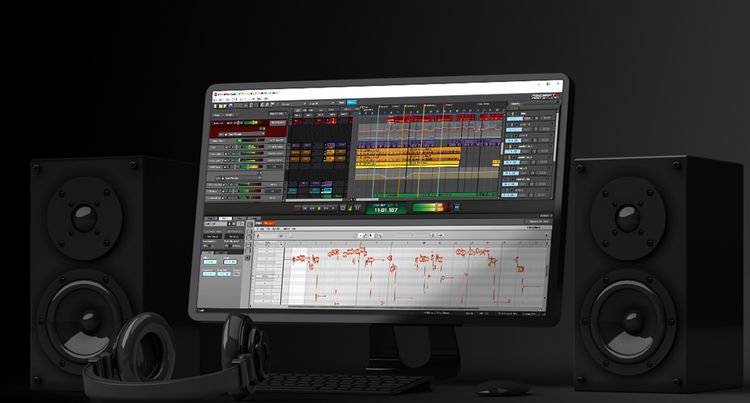 Freakishly flexible workflow
Are you looking for a traditional multitrack, "tape style" DAW loaded with plug-in processors for polishing up audio? Mixcraft 8 Pro Studio's a great choice. Or perhaps you'd rather go with something geared toward songwriting and sequencing — a DAW that lets you dive in deep with virtual instruments and music notation. That's in there too. What if you're really looking for a DAW that deals with looping and live performance? No worries, Acoustica's Mixcraft 8 Pro Studio has that covered too. Any way you want to work, this DAW delivers.
Loaded with high-end content
We deal with the best content on the planet here at Sweetwater, so when Acoustica made the claim that they include over $1,200 worth of bonus content, we had to check it out. They weren't kidding. For starters, there's Melodyne tuning software integrated right into Mixcraft 8 Pro Studio, which makes it remarkably easy to massage off-key vocals and instruments into shape.
But that's just the beginning — Mixcraft 8 Pro Studio comes loaded with stunning synth models of Moog, Yamaha, and other top manufacturers' gear. There's also a fine acoustic piano virtual instrument onboard, Pianissimo Virtual Grand Piano. Top it off with amazing processor plug-ins, such as iZotope Mastering Essentials, and the value is simply staggering.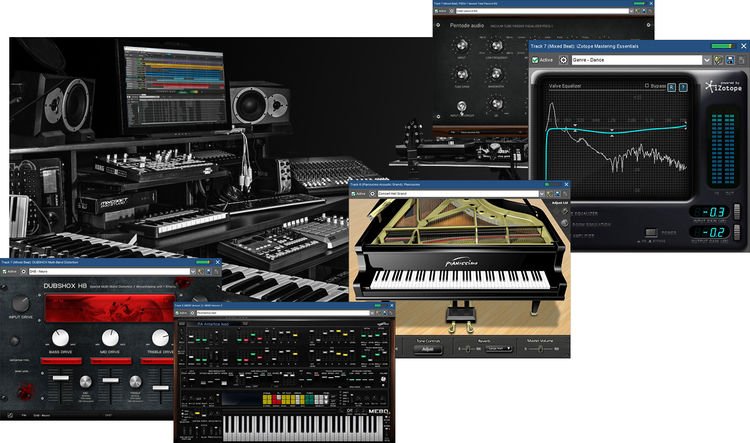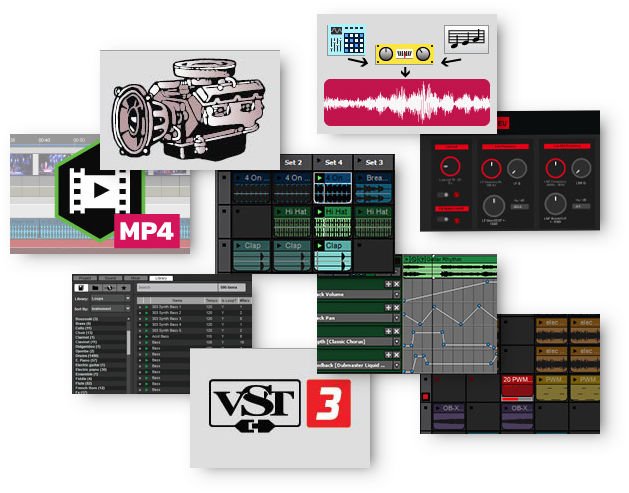 Killer new features in version 8
Sweetwater has been happy to recommend Acoustica's Mixcraft for years, but version eight makes it all the easier, thanks to a wealth of new capabilities introduced in this latest version. First off, Acoustica totally redesigned the sound engine, and while it sounded good before, it sounds even better now. With the introduction of VST3 plug-ins, not only can you expand your processor collection, but your processors can also take advantage of side-chaining. MP4 support expands video integration too, and the addition of global automation opens up new mixing possibilities.
Acoustica Mixcraft 8 Pro Studio DAW Software Features:
Fully loaded multitrack DAW and sequencer with looping performance capabilities
MIDI sequencer includes real-time recording, Step sequencing, and both piano roll and notation editing
Live Performance Panel lets you trigger audio and MIDI loops for performance and composition
Support VST3 and VST2 plug-in formats for third-party content
Supports basic video editing and MP4 video
Audio Warping and Audio Quantization utilize improved time stretching and pitch shifting
Automation includes multiple automation lanes for single track
Performance panel lets you trigger audio and MIDI loops and clips live
Plug-and-play support for Novation Launchpad, Mackie Control, and Frontier Design Tranzport controllers
Includes a loop and sample library with thousands of audio loops
Virtual Instruments Include:
Pianissimo Piano (with pristine Steinway Model D piano samples and physical modeling)
Combo organs
Alpha and Omni Sampler 8 Out Samplers (for realistic strings and other sampled sounds)
Acoustica Studio Drums
Lounge Lizard Electric Piano (by Applied Acoustics Systems)
Kastelheimer Veldberg XD synth
QuikQuak's Glass Viper (a WaveForm Shaping synthesizer)
Journeys (a synthesizer for world music)
Virtual analog synthesizers including the Minimogue VA
Memorymoon (a modeled Moog Memorymoog)
Alien 303
ME80v2
Renegade (from G-Sonique)
Audio-processing Plug-ins Include:
Melodyne Essentials for pitch correction
SideKick6 Sidechain Compressor
Fusion Field Convolution Reverb
Treble Cream Transient Softener
TRW-1 Vacuum Tube Triode Warmer
VTC-1 Vacuum Tube Compressor
DUBSHOX Multi-Band Distortion
POD4500 Particle Delay
new VTD-42 Psychedelic Delay
PSEQ-1 Vacuum Tube Passive EQ
VBE-1 Vacuum Tube Bass Enhancer
FAT+ and the Ferox Tape Emulator
Mastering tools from iZotope, G-Sonique, and ToneBoosters