Thrilling Blue and Red Laser Effect
Sporting both red and blue lasers, the ADJ Micro Royal Galaxian II is a palm-sized laser effect fixture that unleashes huge energy on your dance floor. With just a single Micro Royal Galaxian II, you can cast an array of over 200 individual beams of moving laser light across your dance floor, walls, or ceiling. Setting up your Micro Royal Galaxian II couldn't be easier. It's got both auto (program mode) and sound-active mode, so you can set it, forget it, and let the laser beams dance to the music. Add to that dual hanging brackets and a wireless RF remote, and you just couldn't ask for more from your ADJ Micro Royal Galaxian II laser effect fixture.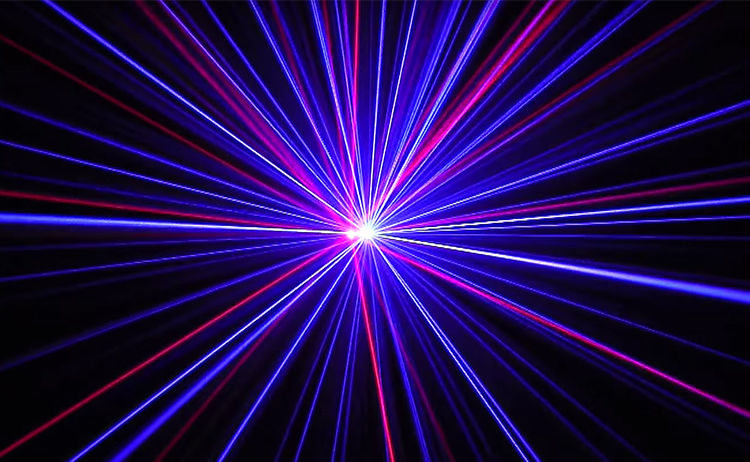 Dual operation modes let you set it and forget it
Talk about easy operation, the ADJ Micro Royal Galaxian II laser effect is about as low maintenance as it gets. Sweetwater DJs love that you can simply set it to sound-activated mode and let it automatically lock to the beat while you perform. A constantly changing set of patterns keeps the dance floor energized, and you never even have to touch the wireless remote.
2 operation modes provide set-and-forget convenience
Automatic mode maintains a continuous program speed
Sound-activated mode follows the beat of your music
Included RF remote gives you wireless control
Time to change things up? No problem! The included RF remote lets you take full control of your ADJ Micro Royal Galaxian II. Switch between automatic and sound-activated modes, change rotation modes, turn colors on and off, and even blackout the effect altogether with just a push of a button.
Includes RF remote for wireless effects parameter control
Instantly switch between patterns and pattern modes
Trigger blackouts and change colors, rotation, and speed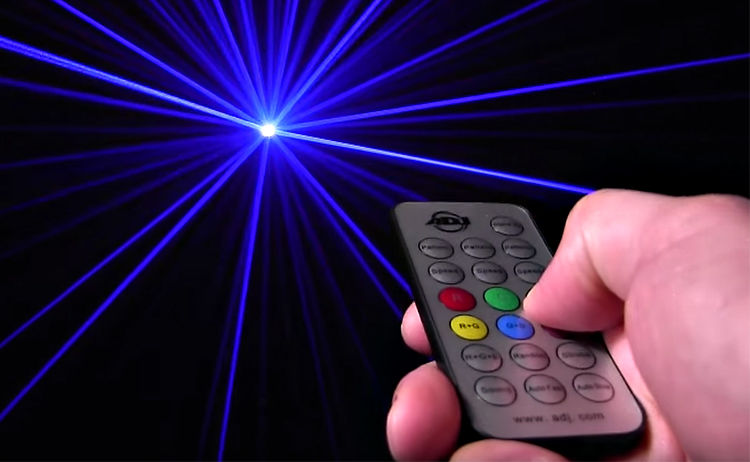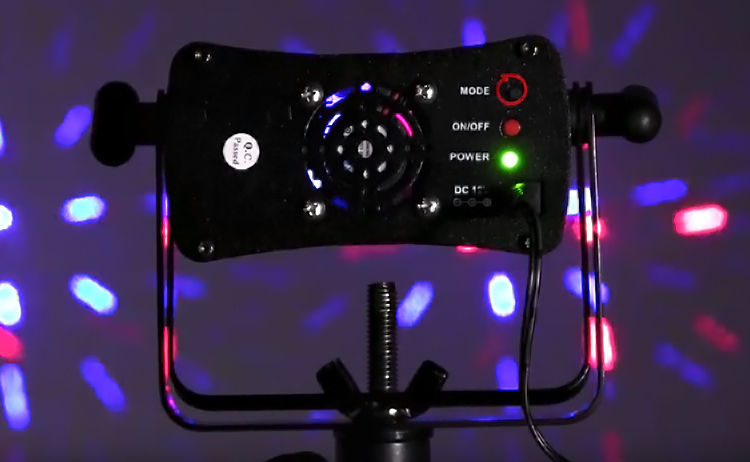 Split hanging bracket makes setup a breeze
ADJ's Micro Royal Galaxian II laser effect looks great, regardless of whether you've got it aimed at the floor, walls, or ceiling. By giving it a handy dual-mode hanging bracket, ADJ added the ability to mount your Micro Royal Galaxian II to your truss system or lighting stand via a standard lighting clamp. It also splits to form a pair of legs for easy floor mounting.
Versatile effect looks great on walls, ceilings, and floors
Includes hanging bracket for easy truss/stand mounting
Bracket splits into scissor legs for easy floor mounting
ADJ Micro Royal Galaxian II Blue/Red Laser Features:
Value-packed fun and easy-to-use mini laser projection lighting effect
The perfect way to add energy and excitement to your light show
Projects moving patterns with over 200 beams of both blue and red laser light
Laser beams project beautifully onto floors, ceilings, or walls, with or without fog
Included remote lets you switch between automatic and sound-activated programs
Wirelessly control color modes (blue, red, or both), rotation, and blackouts
Fan-cooled, compact design packs easily for total portability — only 1.5 lbs!
Dual hanging bracket allows for both stand/truss mounting and easy floor mounting