Master for Today's Digital Music Services
As yesterday's volume wars give way to today's loudness standards, the need for beefier dynamics processors has been largely supplanted by the need for detailed loudness meters. Nugen's MasterCheck Pro gives you the accurate loudness metering you need to prep your mixes and masters for a broad range of contemporary digital music services such as Apple, Spotify, DAB Radio, and more. It also lets you hear what your music will sound like when subjected to their standards. What's more, MasterCheck Pro lets you easily compare multiple processing chains to see what effect they'll have on your mix after compression, so you won't be surprised when your 24-bit master is reproduced as a streaming AAC file.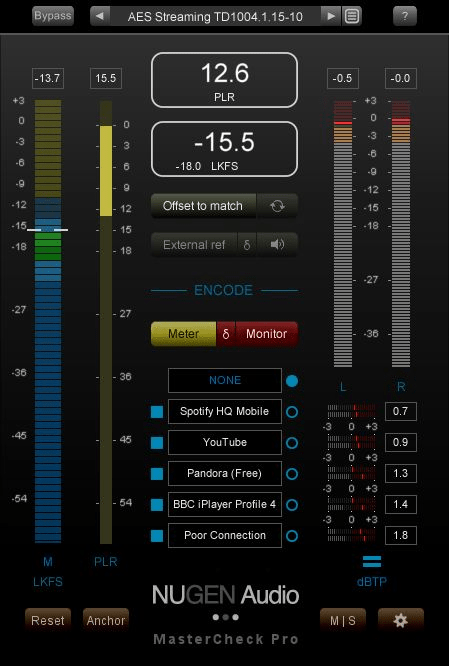 Standard loudness measurements go far beyond the volume of your material
Just as the era of the CD and tape are over, so is the standard of mixing to -3dB. On the plus side, this new age of mixing is finally putting to bed the practice of squashing the life out of every mix with brutal dynamics processing, but on the minus side, the serious mix engineer has to master a whole new scheme of loudness metering. Yesterday's -3dB is today's -16LKFS. Lucky for you, Nugen's MasterCheck Pro plug-in makes life easy. Strictly from a metering standpoint, every important metric for loudness, whether it's program loudness, PLR (Peak to Loudness Ratio), short-term loudness, or true peak, can be found in the MasterCheck Pro.
Loudness monitoring that lets you mix for today's streaming and compression codecs
MasterCheck Pro is far more than just a metering plug-in. While its metering is impressive in its own right, it's the ability to apply and monitor through the loudness schemes of various compression codecs to hear how your mix will sound that makes it a must-have mixing and mastering tool. Loudness presets for iTunes Radio, mobile streaming, and international standards such as EBU R128 and the ATSC A/85 Calm Act let you instantly check how your material will sound on most popular platforms, so there will be no ugly surprises down the road. And thanks to functions such as Offset to Match and color banded target zones for precise metering, checking your mix and tweaking it to meet your expectations is remarkably easy.
Easily A/B processing chains with matched loudness to provide accurate comparison
As we mentioned before, the coolest aspect of MasterCheck Pro is its Offset to Match function, which applies the reference loudness standard you've called up, to your material. But what really blew away the engineers here at Sweetwater is the way you can combine this function with MasterCheck Pro's Send plug-in. Insert the Send plug-in at the beginning of your processing chain, and you can effortlessly A/B your unaffected signal with your processing through the loudness standard of your choice, providing you with an instant comparison along with a loudness comparison meter. What's more, you can use this same external input function to check your mix against reference material.
Nugen MasterCheck Pro Loudness Monitoring Plug-in Features:
A fully-loaded loudness metering and comparison plug-in designed for modern streaming and compression standards
Service Presets include Spotify, Apple Music, YouTube, Pandora, BBC iPlayer, Tidal, TV Europe, TV USA, TV Japan, AES, and DAB+ Radio
Offset to match function lets you hear what your audience will hear, so you can to produce with confidence
Standards include ATSC A/85 (CALM ACT), EBU R128, EBU R128 S1, ARIB TR-B32, OP-59, AGCOM 219/9/CSP, Portaria 354, and DPP
Measurements include program loudness, PLR (peak to loudness ratio), short-term loudness, and ITU-compliant inter-sample peak
Industry Standard Metering includes Program Loudness, Short Term Loudness, PLR (Peak to Loudness Ratio) dynamic range, and ITU compliant inter-sample peak
Color banded target splits let you zero in on specific zones within the bar meters
Included Send plug-in and external reference function let you A/B processing chains for quick comparison
Check your mix compared to reference material to more easily achieve your loudness goal