Flexible Handheld Dual-pattern Condenser
Tailor-made for vocals, the Shure KSM9 brings both nuance and subtlety to your live performances. It captures vocals with incredible detail, exhibiting clear articulation and precise audio reproduction, while its dual-pattern design offers amazing flexibility in a myriad of applications. This premium handheld condenser microphone boasts dual gold-layered, low-mass Mylar diaphragms for superior transient response and proximity control, along with a transformerless preamplifier for super-transparent audio reproduction. The KSM9's advanced suspension shockmount system minimizes handling and stand noise, while a built-in subsonic filter eliminates unwanted low-frequency rumble. A plosive-eating 3-stage protection grille rounds out the KSM9's impressive features. If you want studio-quality sound in demanding live environments, the KSM9 is an excellent choice.
Related Videos: KSM9 Dual-pattern Condenser Handheld Vocal Microphone - Charcoal Gray
Superior build quality ensures top-shelf sound
Over 90 years of mic-building experience went into the KSM9's design, and it shows. Its dual 3/4-inch gold-layered, low-mass Mylar diaphragms exhibit superior transient response and proximity control, while its Class A, discrete, transformerless preamplifier yields incredible transparency, lightning-fast transient response, near-zero crossover distortion, and minimal harmonic and inter-modulation distortion. What's more, an integrated 3-stage pop filter stops breath noise in its tracks. Premium electronic components, including gold-plated internal and external connectors, add to the KSM9's superior build quality.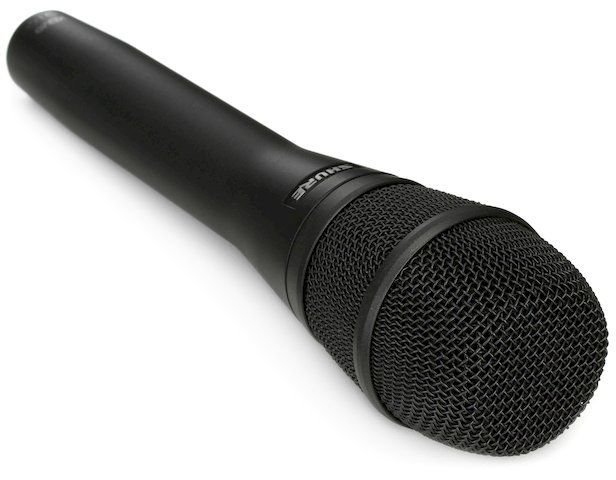 A top performer with pro-level features
The Shure KSM9 is jam-packed with the pro-level features you'd expect from a microphone of this caliber. Dual polar patterns enable you to toggle between cardioid and supercardioid polar patterns, providing you with endless flexibility. An advanced suspension shockmount system isolates the mic's cartridge from handling and stand noise. A built-in subsonic filter eliminates the sub-17Hz low-frequency rumble caused by mechanical vibration, while a 3-stage protection grille minimizes plosives, wind, and other breath noises. At Sweetwater, we've found the KSM9 to be a top performer — it's a surefire easy way to elevate your live vocal performances.
Shure KSM9 Handheld Condenser Microphone Features:
Extended high-frequency response brings studio-quality sound to live vocal performances

Dual-pattern design (cardioid and supercardioid) offers amazing flexibility

Dual 3/4" gold layered, low-mass Mylar diaphragms provide superior transient response and proximity control

Transformerless preamplifier yields transparency, fast transient response, and near-zero crossover, harmonic, and inter-modulation distortion

Premium electronic components, including gold-plated internal and external connectors

Advanced suspension shockmount system isolates the mic's cartridge from handling and stand noise

Subsonic filter eliminates the sub-17Hz low-frequency rumble caused by mechanical vibration

Integrated 3-stage pop filter stops breath noise in its tracks

Includes a mic clip and carrying case