One-of-a-kind Bass Topped with Redwood Burl
Have you ever seen redwood burl like this before? It's positively breathtaking! It's details like this that make Fodera basses among the most coveted instruments on the market, and it certainly makes this custom Imperial 5 Matthew Garrison model the exquisite instrument that it is. Stunning good looks are only the beginning. With its neck-through design and its Elite series heel, the Imperial 5 Matthew Garrison's 3-piece hard-rock maple neck delivers the perfect combination of punch, sustain, and playing comfort. Top it off with Fodera's legendary combination of custom Seymour Duncan dual-coil pickups and a Fodera/Pope custom 3-band EQ, and you have one of the finest basses Sweetwater has ever offered.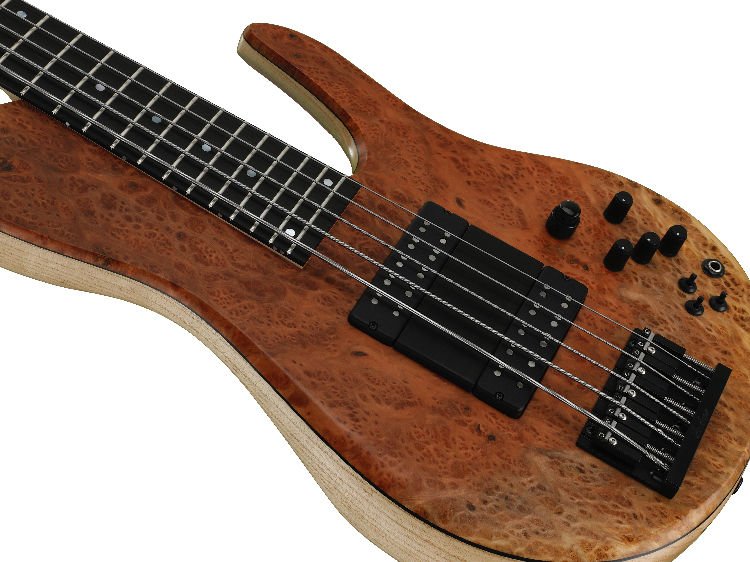 It simply doesn't get better than these tonewoods
When you think about it, Fodera's Imperial 5 Matthew Garrison bass seems a bit impossible. That has a lot to do with the composition and carve of this body, which offers everything you'd expect from a massively heavy instrument — yet feels perfect when you hold it. At the core, there's a finely contoured, medium-weight ash body, which forms the wings on either side of the substantial hard-rock maple neck running all the way through the body. Then there's the redwood burl top, which is as gorgeous as it is rare. Simply put, it's not every day you find a bass that looks this good and is built for such serious performance. Snap it up before it's gone!
3-piece maple neck includes Fodera's Elite carve
If you like to cover a lot of ground when you play, then you'll be blown away by this Imperial 5 Matthew Garrison model's neck. It features Fodera's phenomenal Elite series neck carve, which lets you effortlessly access upper frets. The neck itself is a gorgeous 3-piece hard-rock maple neck-through design, which delivers plenty of punch and ample sustain. There's also nothing quite like the smooth and forgiving feel of a fine ebony fingerboard. Clearly, Fodera built this neck for serious bass players.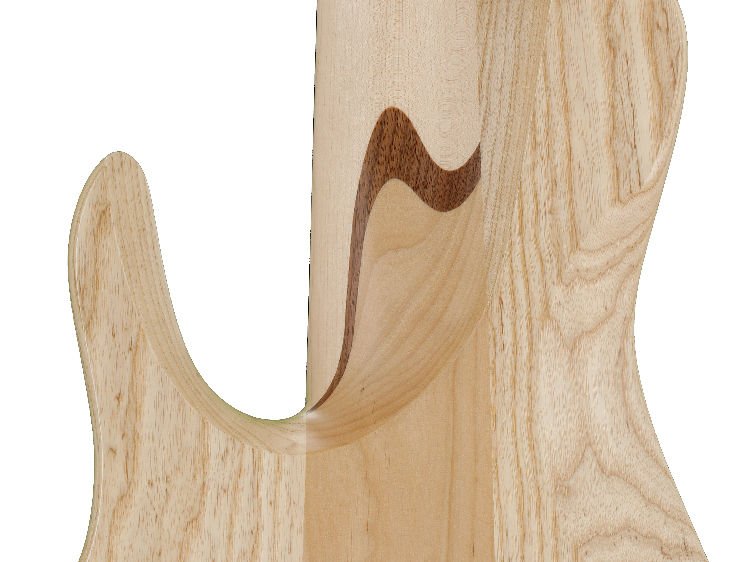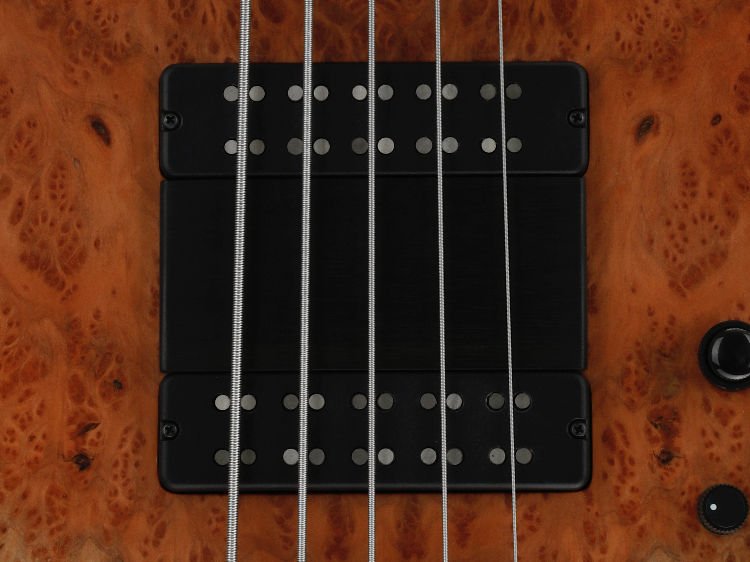 Top-shelf Duncan pickups deliver warm passive tone
The Imperial 5 Matthew Garrison contains a pair of dual-coil pickups designed via a collaboration with Fodera and Seymour Duncan. They're built with passive dual coils, which integrate with the natural qualities of the tonewoods to produce added punch on the low end, focused mids, and smooth highs. It's a beautifully warm and organic sound, and while the pickups are wired in parallel for noise-free performance, you'd swear the Imperial 5 Matthew Garrison was loaded with single coils.
Fodera/Pope 3-band preamp offers amazing flexibility
While the basic tone of the Imperial 5 Matthew Garrison is broad and warm, with powerful lows and clear highs, it features a Fodera/Pope preamp system that lets you craft the ideal tone for any live set or studio session. This preamp ensures a strong and clear signal, but also comes with an active 3-band EQ, which is astonishingly musical. Round out the treble and boost the bass, and you have an ideal R&B tone. Back off the lows and add a bit of a boost to the mids, and your ideal slap-and-pop tone awaits. What's more, you always have the option of bypassing the active electronics, allowing you to output the purest tone possible, direct from your pickups.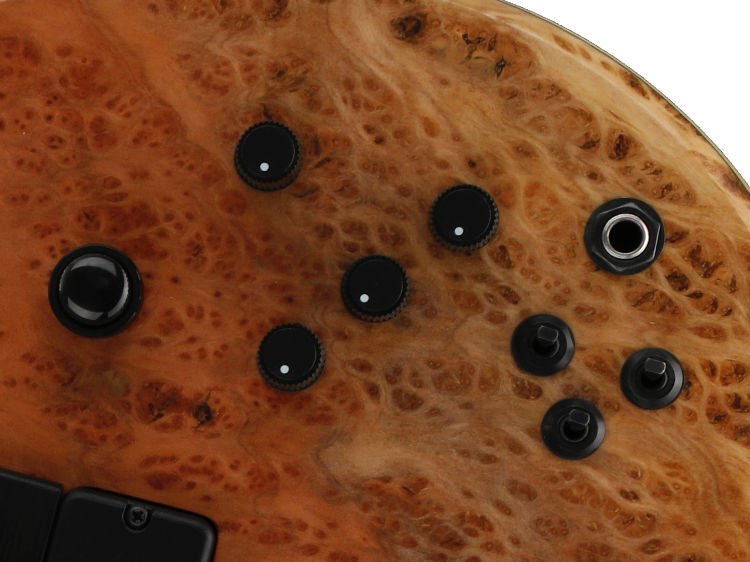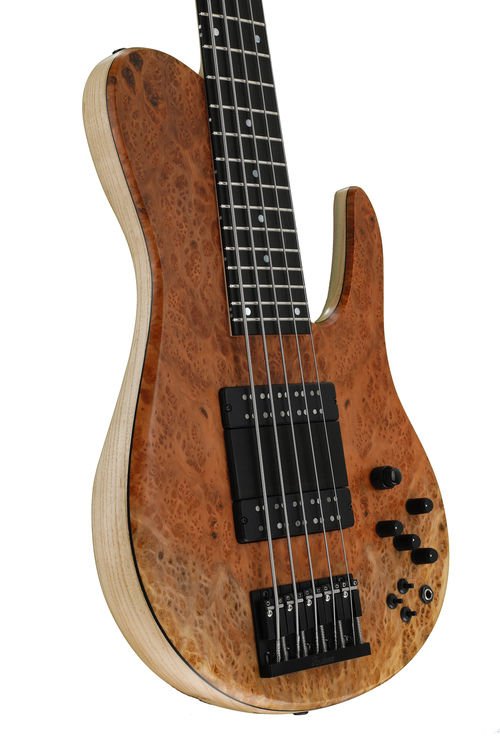 Fodera's Imperial — the FIRST single-cutaway bass
Marrying playability with a modern, forward-thinking aesthetic, the Imperial body shape's origins date back to the original Anthony Jackson Presentation. Built in 1989, this instrument was actually the industry's FIRST single-cutaway bass guitar, and it sparked a lot of interest. As the model was refined, it became more streamlined and compact. When the design was perfected, it was dubbed the Imperial. Today, players all around the world swear by the Imperial — its single-cut, neck-through-body design offers superior stability and sustain. The retention of the wood on the upper portion of its body allows the lower horn to be carved thinner and deeper. This deep cut allows for easy access to the upper register, while maintaining a balanced feel. Is it any wonder why the Imperial is Fodera's most popular body style? Ask anyone who's played one — these basses are incredible!
Fodera Imperial 5 Matthew Garrison 5-string Bass Features:
A handcrafted 5-string bass built to Fodera's top standards just for Sweetwater
Built by top luthiers using the same materials found in Fodera's custom models
Medium-weight ash body with redwood burl looks as amazing as it plays
3-piece hard rock maple neck balances punch and sustain perfectly
Elite neck heel delivers ideal access to the uppermost frets for dynamic playing
Smooth ebony fretboard tops a comfortable standard Fodera neck carve
Fodera/Seymour Duncan dual-coil passive pickups deliver warm, full-bodied tone
Fodera/Mike Pope active preamp includes a highly musical 3-band EQ