Achieve Jimi Hendrix's Iconic Tone
Armed with custom-wound pickups, Seymour Duncan's Jimi Hendrix Signature Loaded Pickguard is primed for serious sonic voodoo. Harness the bridge pickup's prominent attack and aggressive harmonics to craft stinging leads. Or ease into Jimi's signature hybrid lead/rhythm style using the neck pickup. At Sweetwater, we've also used the neck pickup for chords, bluesy licks, and double-stops with great results. Bringing the middle pickup into play yields plenty of classic Strat tone. These pickups strive for authenticity. Their magnets are even staggered in reverse to mimic the effect of playing your guitar upside down. If you've been chasing Jimi's iconic tone, your quest ends with the Seymour Duncan Jimi Hendrix Signature Loaded Pickguard. This preloaded pickguard only fits guitars with swimming pool or humbucker routing.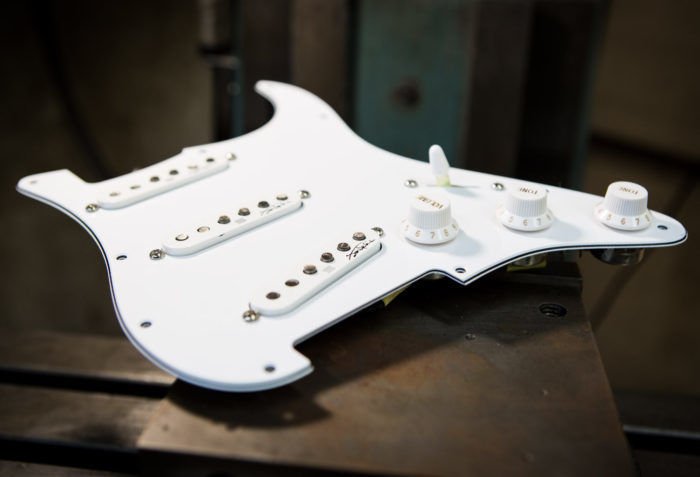 How Seymour Duncan helped craft Jimi's iconic guitar tone
On March 28, 1968, Seymour W. Duncan gave Jimi Hendrix a bag of early 1960s Strat pickups that he had rewound. Jimi's guitar tech, Roger Mayer, installed the custom-wound pickups in Jimi's famous white Stratocaster that very night. Jimi was so impressed with the pickups, he had Seymour carry the guitar up to the stage. That unforgettable night greatly inspired Seymour and set his future in motion. The accuracy of this Jimi Hendrix Signature Loaded Pickguard leaves no doubt as to Seymour Duncan's intimate insight into Jimi's tone. You don't have Jimi's fingers, of course, but this loaded pickguard gets you about as close as you can get to capturing his magical tone.
Seymour Duncan Jimi Hendrix Signature Loaded Pickguard Features:
Preloaded 3-ply white pickguard with reverse-angle bridge pickup routing
Custom-wound Strat pickups based on Seymour Duncan's original design
Features 250K potentiometers, 5-way pickup selector switch, and 0.047 capacitors
Bridge pickup's aggressive attack cuts through while staying true to Jimi's iconic lead tone
Neck pickup is great for chords, bluesy licks, double-stops, and Jimi's signature hybrid lead/rhythm style
In-between positions yield plenty of classic Strat tone
Magnets are staggered in reverse to mimic the effect of playing your guitar upside down
White pickup covers showcase Jimi's signature style
Includes a commemorative booklet and stickers