A Fully Loaded Workstation
The Argosy Halo Ultimate has everything you need for high-end studio looks, ergonomic ease of use, and sleek equipment organization. The streamlined look is inviting for long hours of work and will impress your clients. Touches like a sculpted, padded armrest make those long production hours fly by. The Halo Ultimate offers plenty of space for your gear, with 16 rack spaces, IsoAcoustics speaker platforms, and a monitor arm for easy positioning. You also get a CPU shelf for your computer and a handy accessory drawer for your notepads, pencils, and more. The Halo Ultimate gives you, your projects, and your studio the professional edge.
Get a professional edge
Clients expect to see a clean and well-ordered workstation when they enter your studio. The Argosy Halo Ultimate fits the bill perfectly. The streamlined look is easy on the eyes and will deliver a great first impression to your clients. Its ergonomic design keeps all of your equipment at an ideal location, ensuring your most efficient workflow. And a host of included Argosy accessories, like an included accessory pull-out drawer and a monitor mounting arm, removes clutter from the surface, freeing up desk space.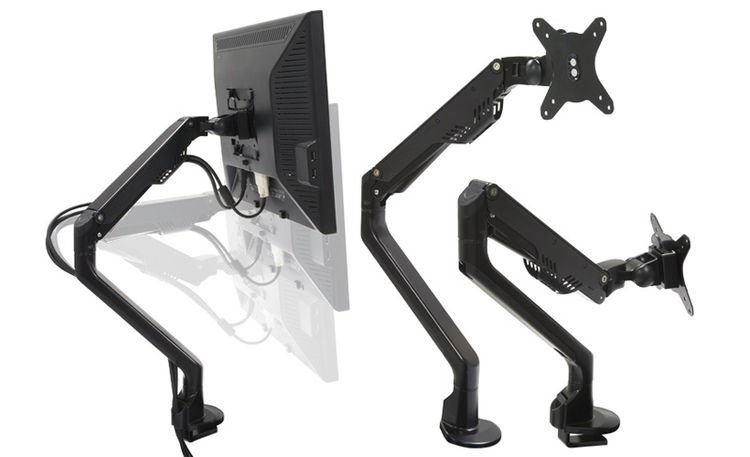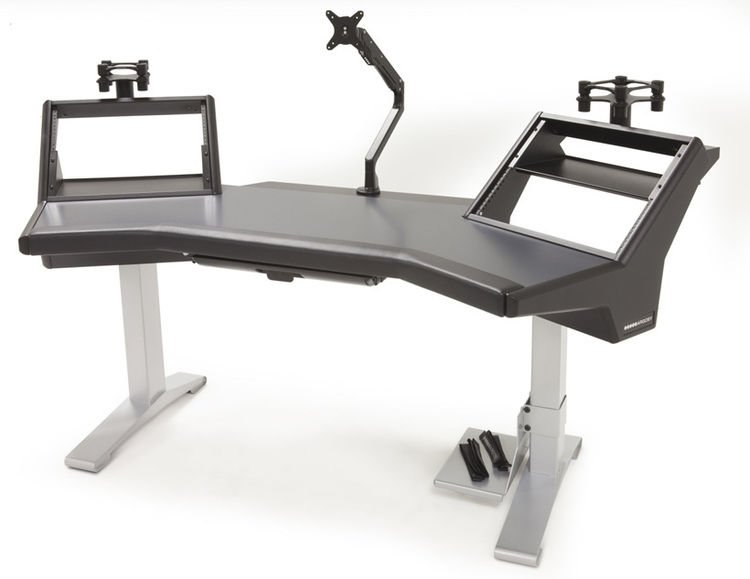 Ideal comfort for hours of use
Ergonomics and comfort are as important in a studio as sound quality. The Argosy Halo Ultimate addresses these needs with a sculptured padded armrest along the front edge of the desk, preventing arm pain after leaning on a hard desk corner. The wrap-around design keeps all of your equipment easily accessible. And the steel legs feature floor levelers that keep the workstation level.
Keeps your equipment organized
There are a deceptively large amount of storage and organizational touches available in the Argosy Halo Ultimate. There are two 8-unit racks, one on either side of the desk. A monitor arm provides perfect positioning for your computer screen and frees up valuable desk space. And you can eliminate even more desktop clutter by keeping your notepads, pencils, and other miscellaneous items in the handy accessory drawer. The Halo Ultimate features internal channels and access holes for cable management. This keeps your cables from becoming an unsightly spiderweb of chaos behind your desk. And the two included rack shelves and IsoAcoustics speaker platforms let you mount non-rack gear and your monitors right where you need them.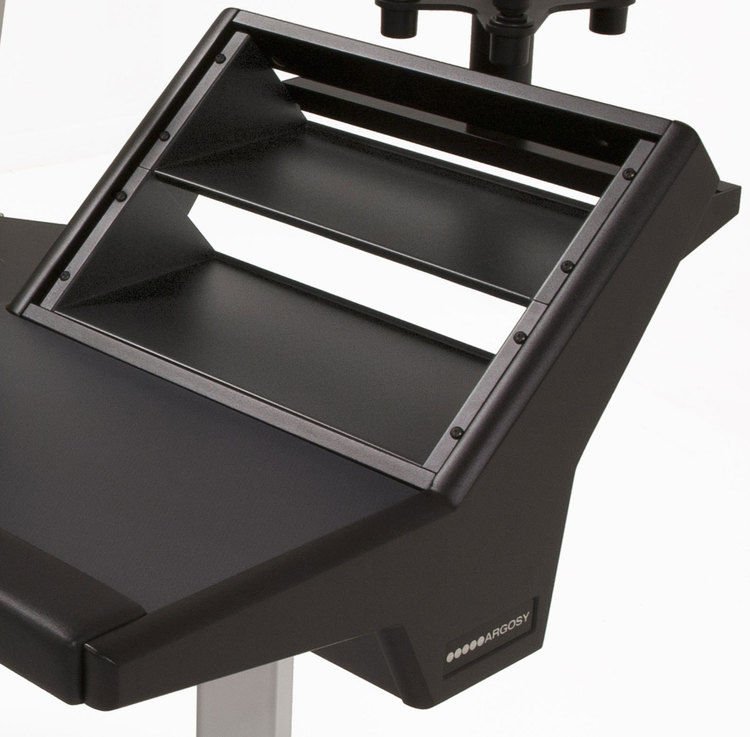 Argosy Halo Ultimate Features:
Sleek production desk for recording studios
2 8U rack bays
2 rack shelves for non-rackmount gear
2 IsoAcoustics speaker platforms hold your monitors
CPU shelf keeps your computer off the floor and protects vital connections
Pull-out accessory drawer for your notepads, pencils, and more
Monitor arm provides perfect positioning for your computer screen
Monitor mounting bracket included
Steel legs are durable
Floor levelers keep your desk flat and wobble free
Padded armrest adds comfort for long sessions
Internal cable pass-through makes cable management easy