Everything you need to capture true-sounding guitar tracks
This microphone package gives you the great tools you need to record wonderful electric guitar tones. It brings together the classic SM57 dynamic mic, an sE Electronics X1R ribbon mic, and an sE guitaRF microphone reflection filter, letting you combine the forward sound of a 57 with the warmth of a ribbon while minimizing unwanted room reflections. This bundle comes with everything you need for recording electric guitar including the cabling.
Vintage Ribbon Tone with Clear Highs
With the sE Electronics X1R ribbon mic in your studio, you'll find yourself reaching for it on a regular basis. The goal with the X1R is to bring you the rich, colorful sound of a vintage ribbon microphone, while meeting modern standards for low noise and SPL handling. The X1R's frequency range is balanced to give you more articulation and definition than some vintage ribbons, while retaining the darker character that ribbon mics are known for. The result is a flexible ribbon microphone any Sweetwater engineer would gladly use in the studio.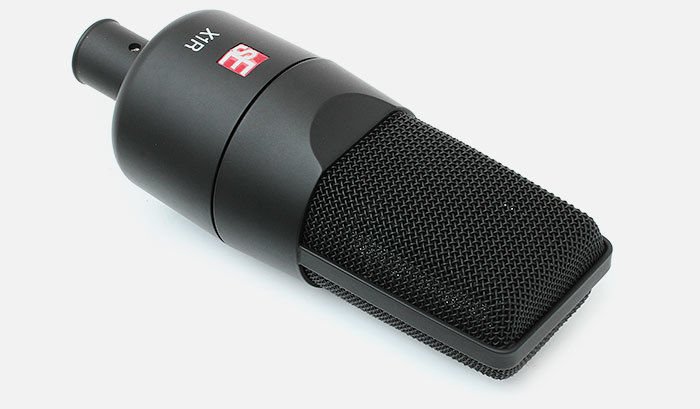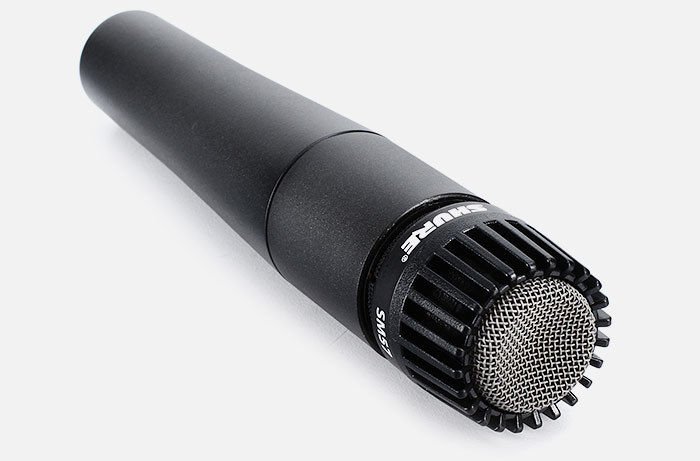 The Industry Standard for Decades
The SM57 is the Shure's renowned rugged, reliable dynamic microphone that will last a lifetime. Ask any live sound or studio engineer and you'll hear endless tales of the SM57 enduring years of use and abuse while still soldiering on. These microphones sound great on a wide variety of sources. The SM57 in this recording bundle will show you why more seasoned studio engineers swear by the Shure SM57 than any other microphone. In fact, it's a good bet that most of your favorite recordings have an SM57 on the snare and the guitar cabinets.
Get Great Guitar Tones in Any Room
The sE Electronics GuitaRF Reflexion Filter minimizes room reflections from affecting your guitar tone. You'll be able to achieve clear, focused guitar tracks in less-than-perfect acoustic environments. The mounting bracket lets you support or suspend your favorite condenser or ribbon mic, and there's a hole in the filter that's the perfect size for your SM57. This lets you have one mic on center and another off-axis while blocking out room reflections and keeping both mics aligned. And its flat base lets you slide the GuitaRF right up to your amp for extreme close miking.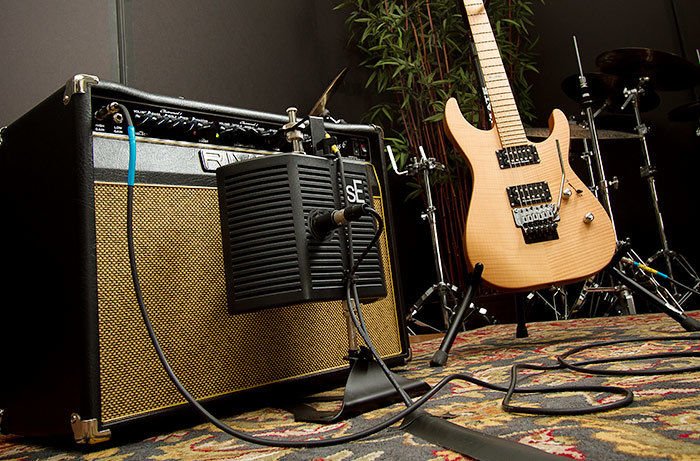 The Sweetwater Guitar Recording Bundle - All the gear you need for quality sound
The Sweetwater Guitar Recording Bundle has everything you need to send studio-quality guitar recordings to your tracks, from high-quality microphones and a reflection filter to all the cabling and mounting items as well. When you want to get your tracks down, grab this bundle and start recording quickly.
Sweetwater Guitar Recording Bundle Features:
Includes two high-quality microphones
GuitaRF fights unwanted room reflections
Cabling, mounting, and mic clips included
Offers iso booth acoustics when miking your cab
Acoustic filter technology cuts down room reflections
Dual mic mounting
Special base and height adjustment optimizes positioning