Smart, Affordable Digital Wireless
The Shure GLXD24/BETA58A Digital Handheld Wireless System gives you exceptional audio clarity, amazing ease of use, and huge bang for your buck. GLX-D systems feature Shure's sophisticated LINKFREQ automatic frequency management, and bidirectional communication that lets your transmitter automatically link to your receiver and follow any frequency changes. The system includes the GLXD4 wireless receiver, the GLXD2/BETA58A handheld transmitter, and Shure's SB902 rechargeable lithium-ion battery, which gives you up to 16 hours of continuous use per charge. Go with smart digital wireless: Shure's GLXD24/BETA58A.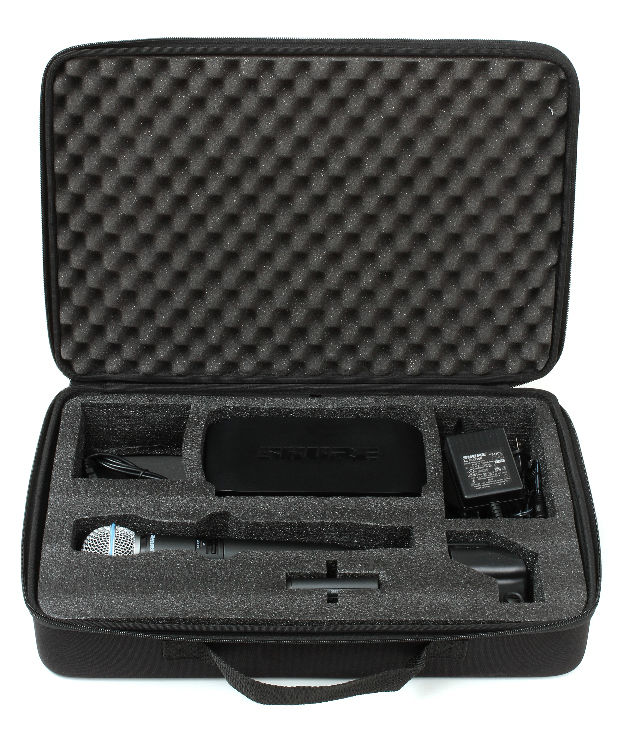 A Smarter Wireless System
Digital clarity and easy operation
Shure's affordable GLX-D Digital Wireless Systems deliver exceptional digital audio clarity and high-tech innovations that make your life easier. Like LINKFREQ automatic frequency management, which automatically chooses the best frequency for the transmitter and receiver, and even shifts to a better frequency if interference becomes likely.
Better battery for a longer life
The intelligent, rechargeable lithium-ion battery in the GLXD2/BETA58A handheld transmitter provides up to 16 hours of continuous use at full charge. It's rated for up to 10,000 hours of use, the equivalent of up to 2500 AA batteries - you'll save a lot on batteries over the years. The receiver is equipped with a built-in charging port, and you can also recharge a battery while in a handheld transmitter using a USB charging cable. Need a quick-charge? 15 minutes gives you 1.5 hours of operation.
Ready for any application
GLX-D Systems are available in a variety of configurations, including vocal, headset, and presenter systems, as well as a new pedalboard-mount guitar option. Whether you're a singer, a musician, or giving presentations, there's a Shure GLX-D system for you. And because Shure's digital wireless systems transmit in the 2.4GHz frequency band, you're free to use your GLX-D system anywhere in the world, license free.
Shure GLXD24/BETA58A Digital Handheld Wireless System Features:
Globally unlicensed 2.4GHz frequency band allows operation of up to 8 compatible systems

LINKFREQ intelligent frequency management quickly identifies the best open channels

Bidirectional communication lets the transmitter automatically follow receiver frequency changes

Continuous interference monitoring and automatic frequency switching eliminates signal interruptions

Transmitter automatically links to receiver for seamless frequency changing

Up to 16 hours of continuous use with Shure lithium-ion rechargeable batteries

Transmission radius up to 200 feet

GLXD4 wireless receiver

GLXD2/BETA58A handheld transmitter with integrated Beta 58A supercardioid dynamic microphone

SB902 rechargeable lithium-ion battery; USB charge cable

Microphone clip and padded zipper case