Hands-free Control of Your Digital Audio Labs Personal Monitor Mixer
You already know that Digital Audio Labs makes the most feature-rich personal monitor mixers on the market. But did you know that you can interface with the LCD touchscreen on your mixer through the Digital Audio Labs FP-2 Footpedal? Whether you have the CS-SOLO or CS-DUO, the multifunction FP-2 makes short work of selecting channels, creating unique mixes, and saving them for future use. You can also access and control other essential features and settings, and with the addition of a second FP-2 Footpedal unit, you can control both Mix A and Mix B. With a small 4-inch by 6-inch footprint and weighing in at less than a pound, the FP-2 is your portable hands-free solution to mixer control.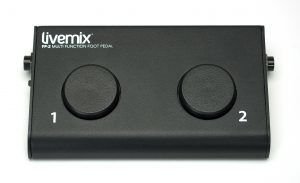 Multifunctionality in a small footprint
There may be times when you can navigate the CS-SOLO's large, bright touchscreen by hand, but when that's not an option, the Digital Audio Labs FP-2 has you covered. By tapping and/or holding each of the buttons, you can select channels, adjust volumes, and even activate the built-in intercom on the personal mixer. When using a CS-DUO, select Mix A or Mix B on the side of the FP-2 and the buttons will then provide easy access to the settings of the corresponding mix. And if you connect two FP-2 units together, both mixes on the CS-DUO can be adjusted. Don't worry about having room for two units; they'll take up less than half a square foot of space!
Rugged build quality with no power supply needed
The FP-2's all-metal chassis is built to take live gig abuse and keep performing as it should, but it still weighs less than a pound, so you can afford to pack that extra cable or mic you might need. And here's another reason Sweetwater loves the Digital Audio Labs FP-2: it's "green." That is, it needs no power supply — in fact, it draws no power at all!
Digital Audio Labs FP-2 Footpedal Features:
Hands-free connection with your CS-SOLO or CS-DUO personal monitor mixer

Multifunction pedal provides easy access to mixes, channels, and settings

Rugged metal construction will stand up to rehearsals and life on the road

Option to control both Mix A and Mix B on the CS-DUO by connecting 2 FP-2 units together