A Revolutionary Songwriting Tool and Virtual Piano
With Toontrack's EZKeys software, you don't have to be a piano player to put together a professional-sounding piano part! Songwriters will love how simple it is to create a song from parts or turn a complete song into a beautifully played piano piece. Want to transpose the key for a song or section? It's easy! Experiment with different chords and progressions? Simple! No matter what genre your project falls into, EZKeys has you covered, with professionally played parts that fit all kinds of different musical styles. Perfect for songwriters, arrangers, and performers alike, EZKeys works inside your DAW or in standalone mode.
Toontrack EZKeys Vintage Upright Features:
Premium sampled 1930s Östlind & Almquist piano
Powerful yet incredibly easy to use songwriting tool
Works as a standalone application or as an RTAS, AU, or VST plug-in
Cut, add, move, analyze, and randomize your chords and song structure
Incredibly simple drag-and-drop MIDI file import, analysis, and export
Customizable velocity curve to match your individual playing style
Includes Music Theory Basics, with playable examples in EZKeys
True Vintage Piano Tone
Toontrack's EZkeys Vintage Upright virtual piano software gives you authentic 1930s Östlind &Almquist upright piano sound. The sound of a vintage upright piano is incomparable — from delicate, shimmering highs and distinct midrange presence to the warm, full low end, you'll have the meticulously sampled tone of the instrument without having to hire movers and clear a space in the living room. The generous selection of mix-ready presets allows for individual control of sound parameters, so you can dial in perfect piano sounds for your songs.
Accurate and responsive samples of a vintage Östlind &Almquist upright piano
Standalone functionality makes classic tones easily accessible for live performance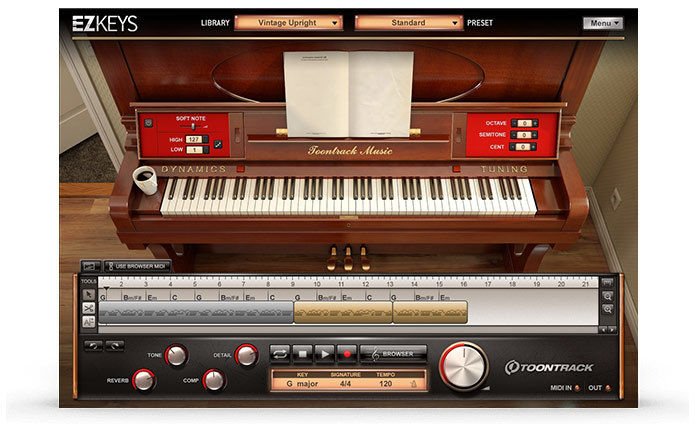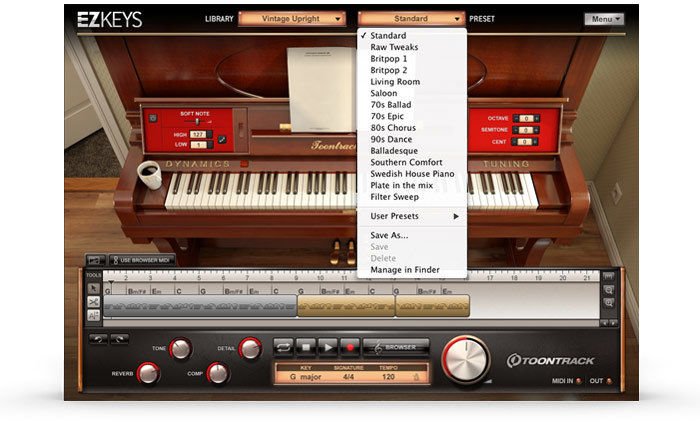 Customizable Presets
To give you tons of flexibility, Toontrack has included 14 mix-ready presets in EZKeys. From pure to gritty, dirty to dreamy, there is a piano sound for any project you're working on. Want to tweak the tone further? Each preset has four variable settings to change everything from space, drive, echo, tone, loudness, body, detune, and more!
Super-powerful and Simple for Songwriters
The heart and soul of EZKeys is its songwriting function. Whether you're starting from scratch, bringing in an existing MIDI file, or using the Song Browser to piece together some of the included ready-made parts, you'll find that EZKeys is both intuitive and feature-rich. Even if you've never played a keyboard before, it's easy to start playing and making files in EZKeys! Pick the style you want to work in and immediately start working with intros, verses, choruses, and other song components — all real piano parts that are played by real session pianists!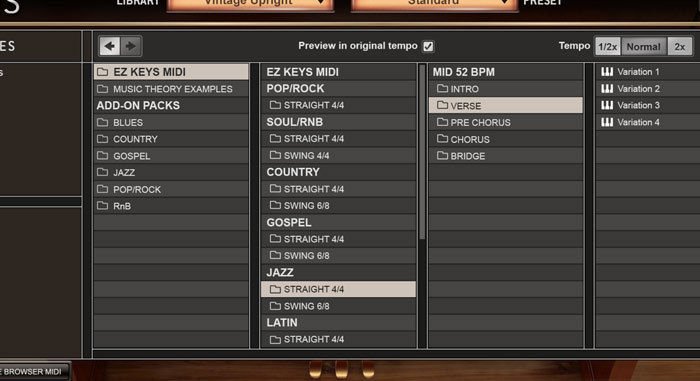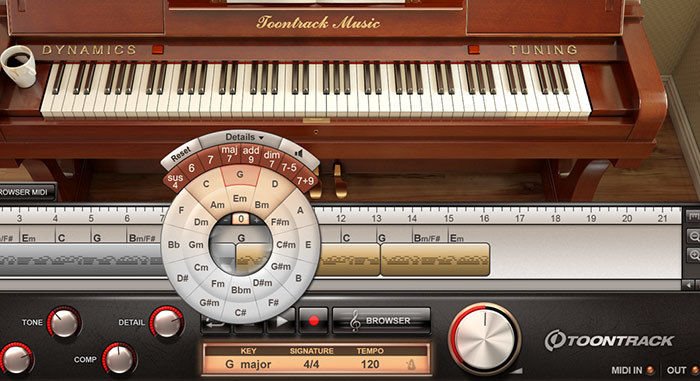 Slice, Dice, Change, and Rearrange
Thanks to Toontrack's innovatively designed Chord Wheel and key transposition tools, you can quickly pick your song's key, add chords (majors, minors, and all the "flavors" within them), and then experiment with different chord progressions, song part arrangements, change the dynamics, add color to chords... nearly anything at all!
MIDI File Import
Need to bring in a project you've already started? Or maybe you'd like to start with another song and make it your own? Simply drag and drop a MIDI file onto the Arranger timeline, and EZKeys will not only import it but also analyze the chord progression and even change the key to fit your current project, if you choose!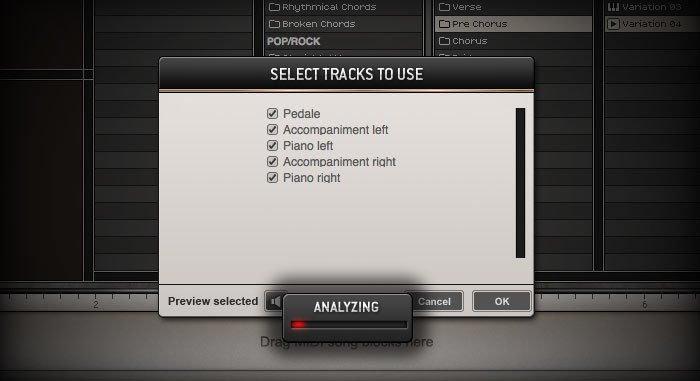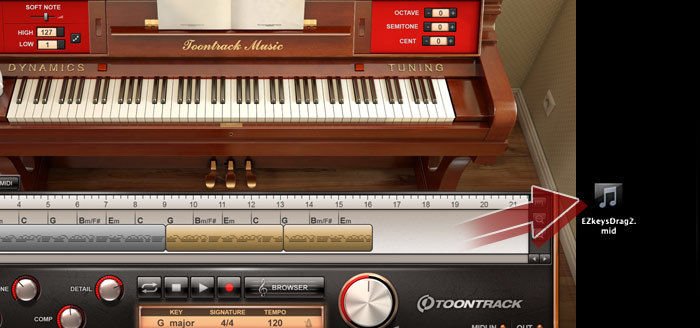 MIDI File Export
Once you've created the song or chord progression you want, exporting a MIDI file from EZKeys is a snap. Just select the chords in your song track, drag them over to your computer's desktop, and your MIDI file is automatically created for you! Now, you're ready to use that progression inside your DAW or with your favorite virtual instrument! It doesn't get any easier than this!
Use and Record in Your Favorite DAW
Using EZKeys as a plug-in inside your DAW of choice, you can record audio directly to an audio track. Or, when your chord progression or song is complete, simply drag and drop the MIDI from the Arranger timeline onto a MIDI track for routing through any other virtual instrument you choose!