The Perfect Addition to Your Decade Series Drums
Looking to build out your kit? This add-on pack makes the perfect addition to your Pearl Decade Maple drums. Included are an 8" high tom, a 14" floor tom, and all required mounting hardware. Each 6-ply, 100% maple SST shell is crafted for superior tone and toughness, with a big, timeless tone that suits any musical application — jazz to metal. Pearl's attention to detail even extends to its hand-treated shell interiors and tone-enhancing lugs and mounts. Get more sounds out of your kit with this Pearl Decade Maple add-on tom pack.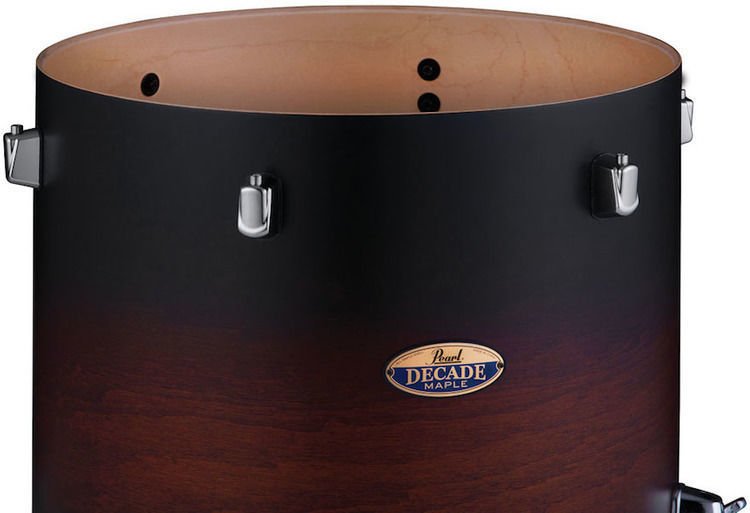 100% maple shells are the industry standard
Maple has long been a favorite shell wood of both drum manufacturers and players. Its boosted low end and smooth mids and highs are suited for just about any style of music. This is why you'll see maple drums in the hands of today's most in-demand players, studios, and drummakers. Pearl's Decade Maple shells are built from six thin plies of maple, with hand-treated bearing edges to ensure you get the same performance as kits costing several times more.
Shell and hardware are built tough and toneful
The attention to detail put into Pearl's Decade Maple series far surpasses its rock-bottom price point. These thin 5.4mm shells are built with Pearl's SST technology with overlapping scarf-joint seams and proprietary AcoustiGlue. Both the interiors of the shells and the bearing edges are hand treated. And the Reference-inspired Mini-Lugs and included mounting hardware are all built to tour-ready spec. If you're looking to get more tonal options from your kit, Sweetwater drummers recommend the affordable Pearl Decade Maple add-on tom pack.
Pearl Decade Maple 2-piece Add-on Tom Pack Features:
Two all-maple toms at a great price
Shell sizes (depth x diameter): 7" x 8" tom, 14" x 14" floor tom
6-ply, 5.4mm SST (Superior Shell Technology) construction yields a tough and toneful drum
Mini-lugs inspired by Pearl's Reference series
Hand-treated shell interiors and bearing edges
Includes high tom mount and holder, ADP20 stand adapter, and floor tom legs
Backed by Pearl's lifetime warranty