Switchless Wah with Smooth Looks & Tone
Sixx:A.M. guitarist and fellow Indiana native DJ Ashba is a solid player and an all-around great dude. We've been a fan of his work since he spoke at Sweetwater's GearFest in the summer of 2015. So when we found out he and Morley partnered up for the DJ Ashba Skeleton Wah, we had to get our hands on one. This thing sounds as smooth as it looks. Morley's switchless electro-optical design guarantees your wah stays in perfect working order for years to come. There are no pots to get scratchy — no switches to wear out. Just step on the treadle to activate the wah circuit, then step off to bypass. An LED indicator provides visual feedback at all times. The Skeleton Wah's steel housing proudly bears the DJ Ashba insignia with custom artwork by the man himself. What's really cool is that this pedal glows in the dark, so you'll have no trouble locating your wah on a dark stage.
Future-proof design
Natural wear is enough to scare all but the most committed guitarists from bringing their studio wahs out on the road. Fortunately for the Morley DJ Ashba Skeleton Wah, this is never an issue. Not only does its switchless, potless design mean it'll outlast all the other pedals on your board, but its simplicity guarantees an anxiety-free performance. Never again do you have to wonder whether you left your wah on or off — the Skeleton Wah goes into bypass mode the second you step off the treadle, then re-engages when you saddle up. This has the added benefit of leaving your wah in the sweet spot at all times, rather than forcing you to cycle through icepick territory to access the switch.
Durable cold-rolled steel housing
Any product that's designed to be rocked and stomped needs to be durable. And Sweetwater is pleased to report that the Morley DJ Ashba Skeleton Wah more than stacks up. Its cold-rolled steel housing is built to take nightly abuse and keep on ticking. In addition, its smooth-action treadle with comfortable fabric top is a joy to use underfoot. All components are covered by Morley's two-year manufacturer warranty.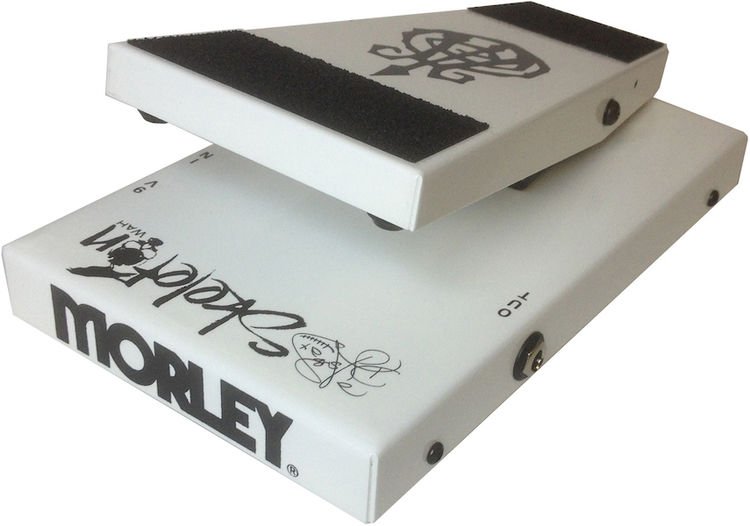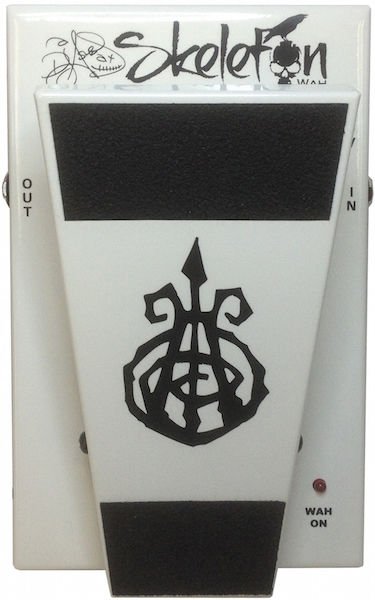 Morley DJ Ashba Skeleton Wah Pedal Features:
Signature wah for Guns N' Roses/Sixx:A.M. guitarist DJ Ashba
Tuned

to DJ's preferred tone and

s

weep

Glows in the dark — great for dim stages

Bear's DJ's custom artwork and insignia
No pots to get scratchy, no switches to wear out
Activates the moment you step on the treadle; bypasses when you step off
True Tone Buffer is "better than true bypass" at preserving your tone for long cable runs
Custom low-noise MQ2 inductor
Rugged cold-rolled steel housing is built for nightly abuse
Smooth treadle with comfortable fabric top
Uses standard 9V power supplies (not included)
2-year manufacturer warranty