A Smart Combination of Industry-renowned Microphones
Equip your studio with an enviable collection of world-class microphones with the Sweetwater Dream Mic Locker Collection. With a total of 18 microphones specifically chosen by Sweetwater experts, you'll be ready to capture outstanding audio in practically any application and any musical style. Whether you're aiming for sultry vocals, intimate acoustic recordings, hard-hitting rock drums, lifelike classical recordings, or brilliant brass sections, you'll have the mics you need to achieve the sound you want with the Sweetwater Dream Mic Locker Collection.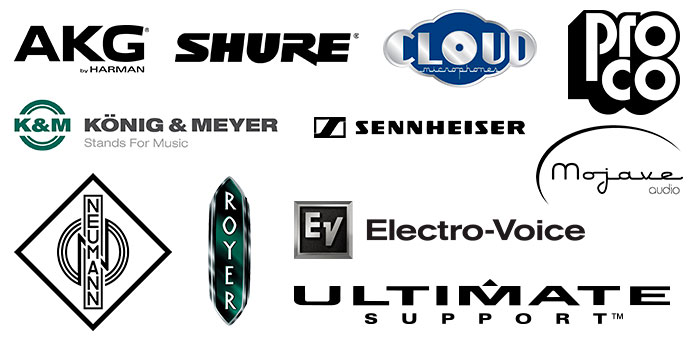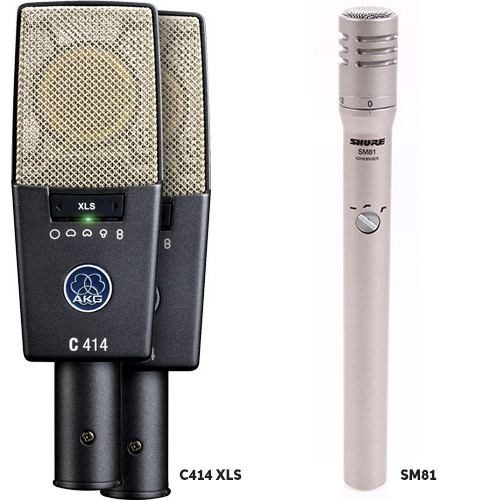 10 world-class microphones
The Sweetwater Dream Mic Locker Collection includes 10 condenser microphones that have proven their value time and time again. With these mics, you'll be well equipped for recording lead and backing vocals, acoustic instruments, drum overheads, string sections, and much more.
AKG C414 XLS
The multi-pattern AKG C414 XLS large-diaphragm condenser mic features an astoundingly low noise floor and a 152dB dynamic range, making it ideal for any musical environment. This package includes two of them, each with its own shockmount, pop filter, windscreen, and storage case.
Shure SM81
The SM81 is a world standard for choir and overhead cymbal applications, and it excels on acoustic instruments too. Its ruler-flat frequency response can be modified via a bass roll-off switch.
AKG C451 B
One of the C451 B's most common applications is for drum overheads, and many engineers say there's nothing quite like it for miking cymbals — the metallic "crash" and brilliance come through perfectly. The C451 B is also an excellent tool for accurately capturing signals rich in transients, such as instruments with a percussive sound, acoustic guitar, or for overhead miking.
Shure KSM44A
The KSM44A's transformerless output eliminates unwanted coloration, making it a smart choice when you want to capture true-to-life recordings. A switchable pad, selectable highpass filter, and extraordinarily wide frequency range all help to make the KSM44A one of Shure's most versatile microphones.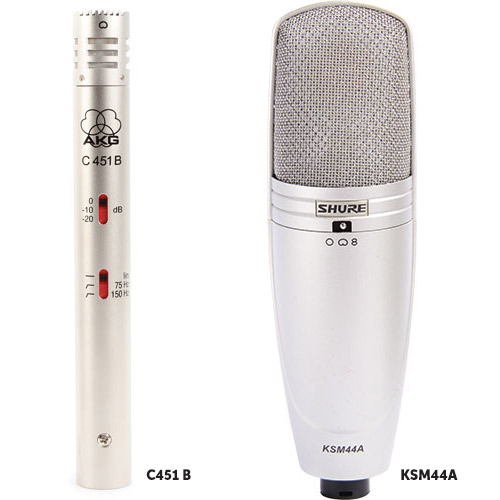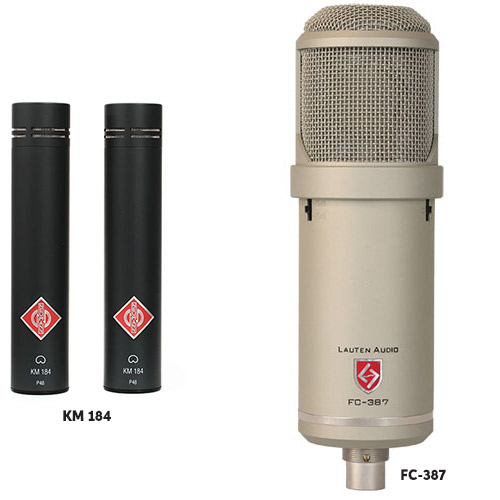 Neumann KM 184 Stereo Pair
Need a microphone to record percussion, cymbals, or brass instruments? Neumann's KM 184 Stereo Pair is capable of handling high sound pressure levels with ease — as high as 138dB before overloading. These mics are also extremely quiet, making them an excellent choice for capturing the subtle nuances of acoustic guitars and orchestral instruments.
Lauten Audio Atlantis FC-387
Three distinct voicing switches let you use the Atlantis FC-387 to bring out the richness in your lows, the character of your mids, and the smoothness in your highs. From enhancing bass power to adding detail and air to vocals, the Lauten Audio Atlantis FC-387 helps you get the best possible sound right at the source.
Neumann U 87 Ai Set Z
The Neumann U 87 Ai is known for its unique frequency and transient response characteristics, which deliver a smooth, detailed sound with a variety of source material. It's commonly used as a main microphone for orchestra recordings, as a spot mic for single instruments, and extensively as a vocal microphone for all types of music and speech.
Mojave Audio MA-1000
Inspired by the most revered microphones of yesteryear, the MA-1000 features an NOS 5840 tube, 251-style capsule, and custom-designed Coast Magnetics transformer. Expect a sweet, airy top end, realistic mids, and robust bottom end, perfect for vocals, acoustic instruments, and drum overheads.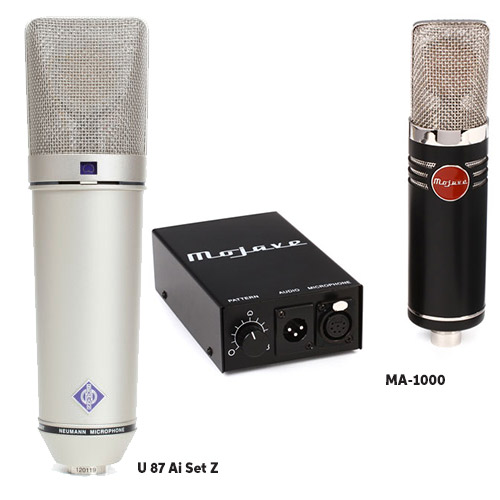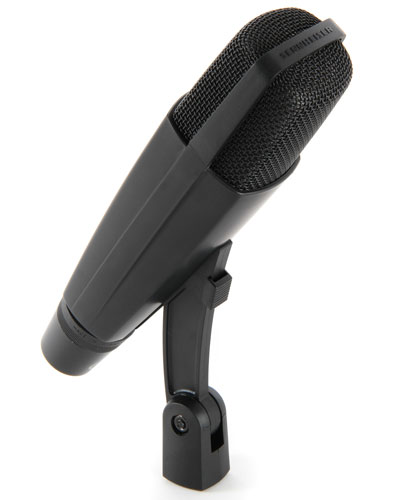 Seven workhorse dynamic mics
While condenser mics usually get the spotlight, every studio needs a versatile selection of dynamic microphones for high-SPL sound sources and for minimizing mic bleed in certain situations. Sweetwater's Dream Mic Locker Collection includes seven dynamic mics that you'll find in any top studio around the world.
Sennheiser MD 421 II
The MD 421 II's versatility is the reason you'll find them in pro studios worldwide. Its ability to handle high pressure levels makes it a natural for guitars and drums, but that's just the beginning. The MD 421 II's full-bodied cardioid pattern and five-position bass control means it's an excellent choice for most instruments and even aggressive vocalists.
Electro-Voice RE20
The RE20 is the broadcast studio voice-over mic used by pros for years. The RE20 is smooth across a wide spectrum of frequencies, and because it's a continuously Variable-D mic, it's virtually free of bass-boosting "proximity effect" when used close. It's a great choice for bass instruments and drums.
AKG D12 VR
The AKG D12 VR active dynamic microphone is specifically made to handle the wide dynamic range of bass drums, and it has three active filters that help you sculpt a production-ready kick drum sound. Engage phantom power, and you get three active filter settings that dramatically help you sculpt the perfect sound. The D12 VR will also work without phantom power, delivering the true sound of your bass drum.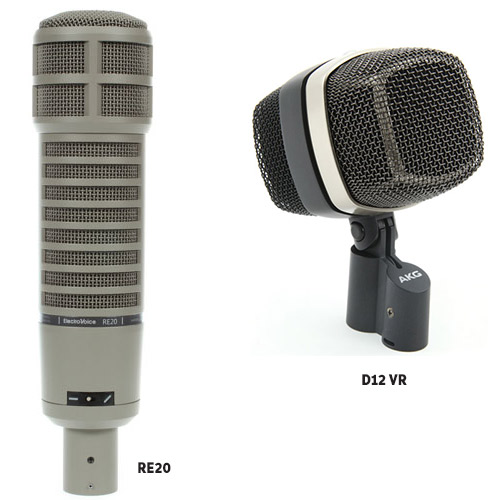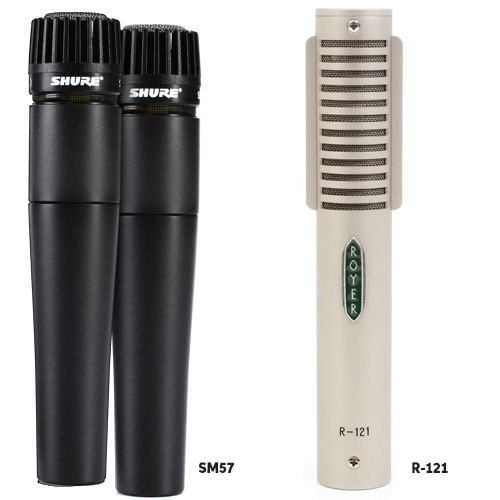 Shure SM57
The Shure SM57 sounds great on a wide variety of sources. A large percentage of the snare drums and many guitar cabinets and vocal tracks recorded in the last several decades owe their sound to the SM57. Try one and you'll find out why live sound professionals and seasoned studio engineers alike swear by the Shure SM57 more than any microphone on the planet.
The Grammy Award-winning R-121
Every studio needs at least one great ribbon microphone, and the Royer R-121 ribbon mic is a great choice — it even won a Grammy Award for "moving the art of recording forward." Use it on everything from guitar amps, vocals, and percussion to woodwind and acoustic instruments when you want to capture rich, lifelike tone. The R-121's response is flat and well balanced: the low end is deep and full without getting boomy, mids are well defined and realistic, and the high-end response is sweet and natural sounding, never edgy or sibilant.
Cloudlifter CL-1 enhances your mic output for optimal results
Driven by the phantom power circuit on your microphone preamplifier, the Cloudlifter CL-1 adds up to +25dB of perfectly transparent gain to your signal, giving low-output mics a major boost. Low-output dynamic mics, like the RE20s in this mic bundle, need a healthy amount of preamplification to sound their best. If your mic preamps don't offer enough gain, or you find that you're introducing too much noise by turning up your preamps that high, use a Cloudlifter CL-1. You'll get ample output from your mics, maximizing fidelity while minimizing noise.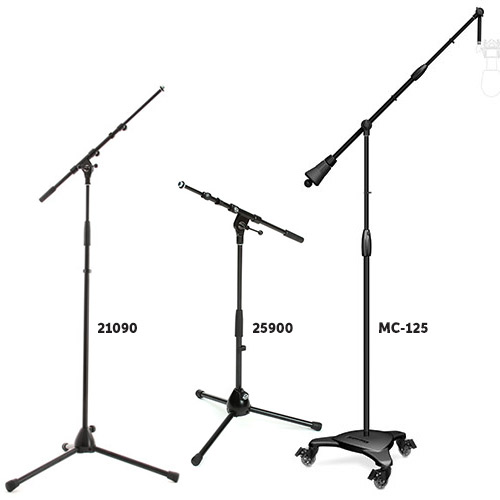 High-quality stands and cables included
Premium microphones deserve pro-quality mic stands and cables, and that's what you get with the Dream Mic Locker Collection. It includes ten K&M 21090 boom mic stands, four K&M 25900 short floor boom stands, and two Ultimate Support MC-125 boom stands.
K&M 21090 boom mic stands
You'll be using these K&M 21090 boom mic stands on almost every session, and they're designed to last a long time. It features a rock-solid T-bar locking screw that won't drift once it's set, and a high-quality clutch holds the stand's height reliably over long sessions. You get 10 of these stands in this package, and they'll serve you well in a variety of applications.
K&M 25900 floor boom stands
The Dream Mic Locker Collection also includes four K&M 25900 floor boom stands. Each comes with a handy 2-piece boom arm for accurate positioning, and foldable legs give them a sturdy, solid base as well as convenient portability. They're perfect for miking up kick drums and guitar amplifiers without taking up too much space in your recording room.
Ultimate Support MC-125 boom stands
When you're using premium microphones like the AKG C414 XLS or Neumann KM 184 for overhead recordings, you'd better make sure you're using a robust mic stand like the Ultimate Support MC-125 studio boom stand. You get two in this mic package, perfect for overhead applications. The rolling base is convenient for achieving the best mic placement, and included counterweights ensure stability when using heavier microphones.
Pro Co Ameriquad Microphone Cables
The Dream Mic Locker Collection wouldn't be complete without a set of high-quality Pro Co microphone cables. These cables feature industry-standard Neutrik connectors, with a quad-cable design and braided shield for maximum resistance to interference. The double outer jacket and Kevlar core ensure a long lifespan.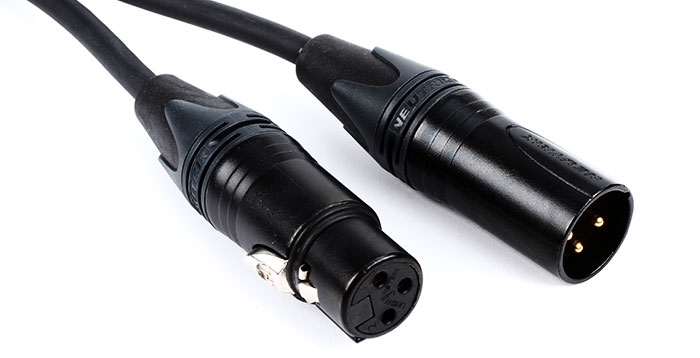 The Sweetwater Dream Mic Locker Collection Includes:
2 AKG C414 XLS large-diaphragm condenser mics
1 Shure SM81 small-diaphragm condenser mic
1 AKG C451 B small-diaphragm condenser mic
1 Shure KSM44A large-diaphragm condenser mic
2 Neumann KM 184 small-diaphragm condenser mics
1 Lauten Audio Atlantis FC-387 large-diaphragm condenser mic
1 Neumann U 87 Ai Set Z large-diaphragm condenser mic
1 Mojave Audio MA-1000 large-diaphragm condenser mic
2 Sennheiser MD 421 II dynamic mics
2 Electro-Voice RE20 dynamic mics
1 AKG D12 VR active dynamic mic
2 Shure SM57 dynamic mics
1 Royer R-121 ribbon microphone
2 Cloudlifter CL-1 with up to 25dB of transparent gain for low-output mics
10 K&M 21090 boom mic stands
4 K&M 25900 floor boom stands
2 Ultimate Support MC-125 boom stands
16 Pro Co Ameriquad 20' microphone cables
The Sweetwater Dream Mic Locker Collection takes the guesswork out of equipping your studio.