An Affordable Entree into the World of Cubase
There's never been a better time to step up to the big leagues of audio production. The entry-level Cubase Elements 9, despite its modest price, is everything the budding songwriter or producer needs to craft marketable hits at home. This DAW suite transforms your Mac or PC into a world-class production environment, streamlined for new users, and complete with inspiring virtual instruments, smart compositional tools, and a rich palette of audio FX. It's no mystery why Cubase is preferred by professional artists across the globe — from prolific film composer Hans Zimmer to scene sweethearts Chvrches. And with its latest features, Cubase Elements 9 is giving even the top DAWs a run for their money.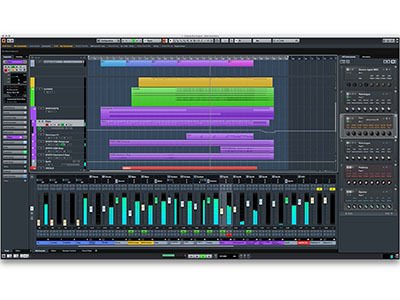 New Features in Cubase 9
Mix and edit from the same window with the Lower Zone
Laptop and single-screen users will enjoy Cubase 9's Lower Zone, which provides access to the MixConsole and your favorite editors without leaving the Project window. Mix, edit, and process your tracks in whatever layout feels natural.
Build loops & phrases with Sampler Track + Caleidoscope
Cubase 9's integrated sample editor, Sampler Track, chops-and-screws any piece of audio for building loops and one-shots on the spot. Pitch-shift vocals and filter beats directly within the editor to create your own remixes and mash-ups. And if you're just getting started, Cubase 9's Caleidoscope sample library has hundreds of samples and presets baked right in.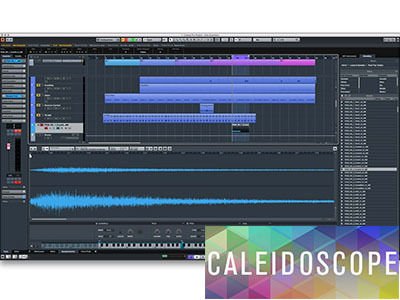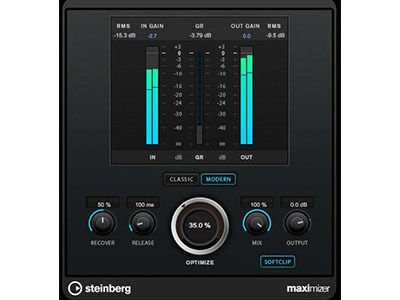 Keep your work competitive with the new Maximizer
The overhauled Maximizer plug-in keeps tracks at a competitive level. The clean new look makes Maximizer easier than ever to adjust. Features and modes — the transparent Classic mode and contemporary Modern mode — are intuitively placed on the front panel.
Protect sessions with Plug-in Sentinel
Audio folks go to great lengths to protect their systems from malware and corrupted plug-ins. But even today's internet-free, dedicated audio system, is subject to infection. Plug-in Sentinel eliminates pre-project anxiety by scanning for invalid or harmful plug-ins at startup.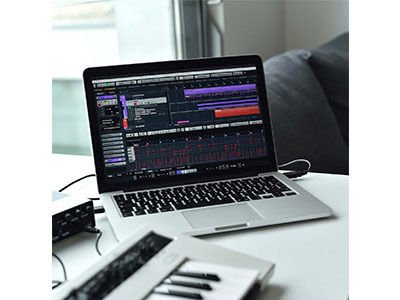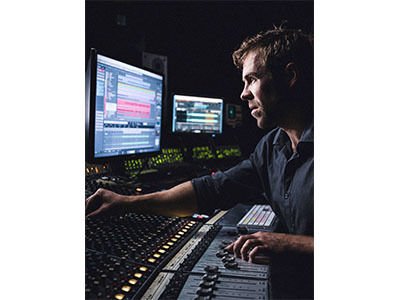 Packed with Powerful Production Tools
Track performances IRL, or craft songs ITB
Whether you capture audio in the real world or generate it in the box, Cubase 9 is the DAW to use for seeing your projects from concept to completion. Recording engineers will appreciate Cubase 9's advanced routing and bouncing options. And songwriters and composers of all backgrounds will enjoy its streamlined interface and satisfying virtual instruments.
Shape audio with a full-featured FX suite
Everything you need to shape, mold, and mangle your audio is at your fingertips with Cubase. Version 9 includes a full suite of audio effects with rich features and streamlined interfaces. Fatten drums, tune vocals, tame brass, and texture guitar layers natively, without spending extra on third-party plug-ins.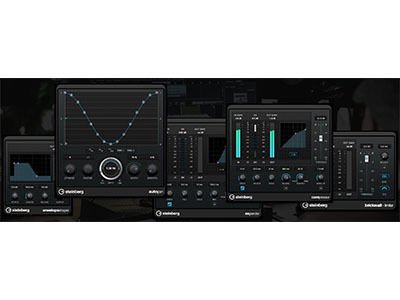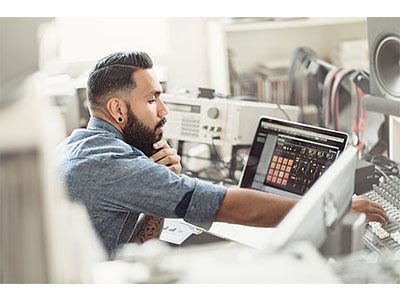 Build beats with Groove Agent SE 4 Drum Machine
Groove Agent SE 4 Drum Machine puts you in the pilot's seat of an intuitive sequencer based on some beloved classic drum machines. Tap out the beats you hear in your head, or choose from a selection of loops for access to instant inspiration.
Write better songs with Chord Assistant
You don't have to be a music theory wizard to build compelling tracks in Cubase 9. Chord Assistant takes your starting chord and suggests a number of chord progressions based on a set of harmonic rules. This is helpful when writing engaging verses, choruses, or for penning a dramatic bridge before your final hook.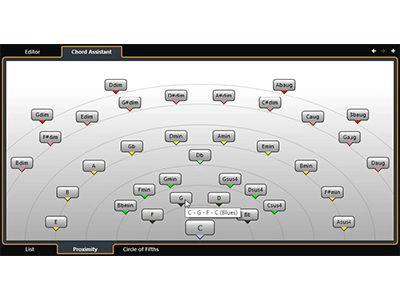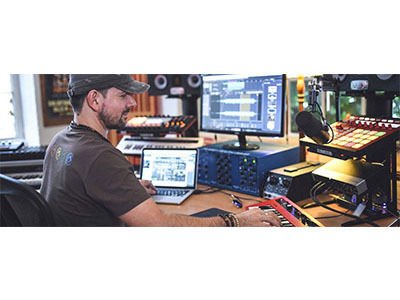 Integrates seamlessly with Steinberg & Yamaha hardware
Every piece of Steinberg hardware, plus a growing number of Yamaha interfaces and controllers, integrates perfectly within Cubase 9. This is joyous news for electronic drummers, keyboardists, and recording engineers who want to take full advantage of the hardware they already own.
Cubase 9 Upgrade Information
Cubase 8.5 users upgrade for free!
Here's good news for existing users — if you purchased Cubase 8.5 Pro on or after 10/26/16, you're eligible to upgrade to Cubase Elements 9 for free. Call your Sweetwater Sales Engineer for upgrade information.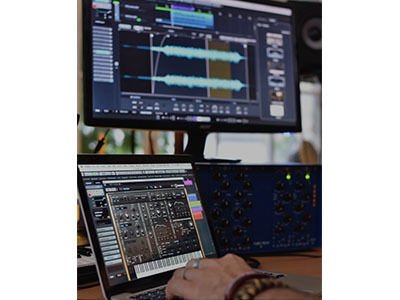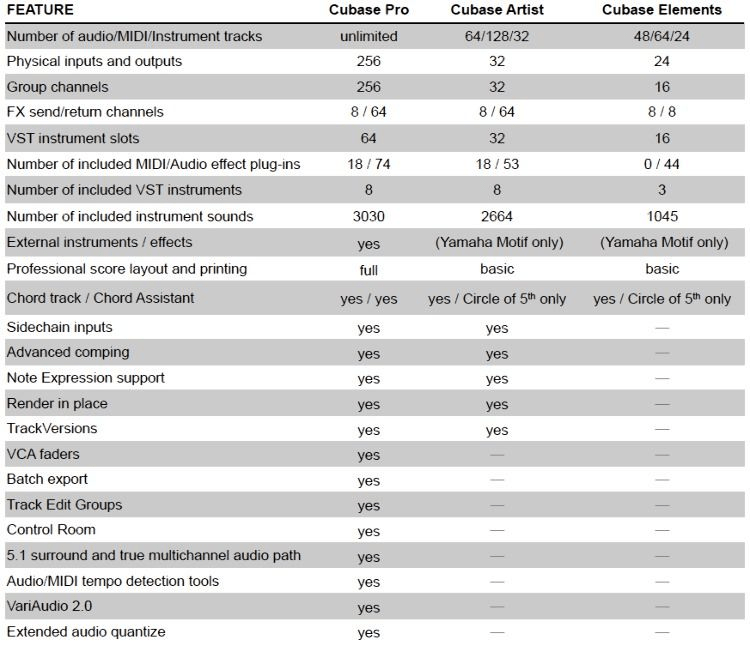 Which version is right for me?
Not sure which version of Cubase 9 is right for you? We've included a comparison chart for your convenience. If you have further questions, don't hesitate to call your Sweetwater Sales Engineer. We undergo extensive training on Steinberg products, and we're happy to help you find an option that suits your needs and budget.
Steinberg Cubase Elements 9 DAW Software Features:
A powerful, affordable entree into the world of Cubase
All you need to create marketable music at home
Perfect for budding audio engineers, songwriters, composers, and conductors
Capable of recording audio in future-proof 32-bit/192kHz quality
Lower Zone lets you mix and edit from the Project window
Sampler Track sample editor creates loops and one-shots from any piece of audio
Overhauled Maximizer and other plug-in GUIs speed up workflow
Plug-in Sentinel protects your system against invalid plug-ins
Chord Assistant suggests chords for your verses, choruses, and bridges
Groove Agent SE 4 Drum Machine provides old-school beat inspiration
Integrates seamlessly with all Steinberg and most Yamaha hardware
Simultaneous playback of 48 audio tracks and 64 MIDI tracks
Supports up to 24 physical in and outs
3 virtual instruments and 16 VSTi slots to build textures inside the box
44 audio FX plug-ins to mold and shape sounds to your will
1,045 included instrument sounds