Cordoba's Original Tenor Ukulele with Premium Appointments
With its solid acacia top, figured acacia back and sides, and snazzy wooden rope-style binding, the Cordoba 25T-CE tenor ukulele offers premium tone and looks in its class. The sound is bright and round, and the built-in active 2-band pickup delivers clear plugged-in tone. The real bone nut and saddles provide excellent vibrational transfer, creating an exceptionally articulate and dynamic voice. For a smooth-playing, sweet-sounding tenor ukulele that stands out from the rest, check out the Cordoba 25T-CE.
Back to the ukulele's roots
In designing its ukulele series, Cordoba traced the instrument back to its heritage: the Portuguese braguinha. Cordoba began building in Portugal with period-appropriate build methods and body woods before learning where they could innovate for better tone and playability. Sweetwater is sure that even experts will be impressed by the Cordoba 25T-CE's impressive features for the money.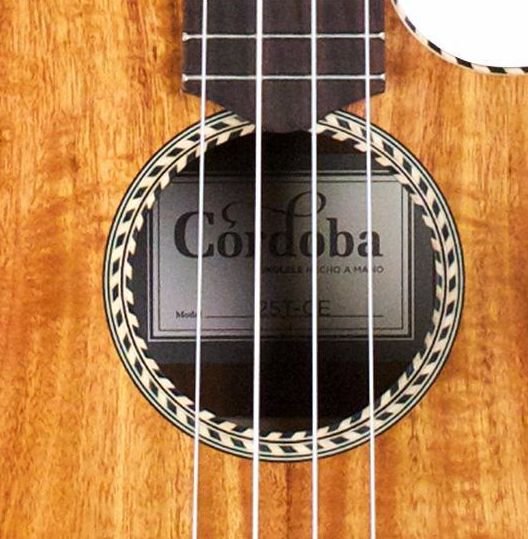 Cordoba 25T-CE Tenor Ukulele Features:
Solid acacia top and figured acacia back/sides for bright, round tone
Premium cosmetics including maple/ebony rope-style binding with matching rosette and tie-block
2-band active pickup system for plugged-in performance
Spruce fan bracing for balanced tonality and better projection
Bone nut and saddles enhance articulation and harmonic richness
Thin satin finish for an organic feel