Versatile and Amp-like Distortion
The Radial Engineering Tonebone Classic-V9 distortion pedal can be any type of grit device you need it to be. Its powerful EQ-shaping capabilities and multiple gain stages allow you to achieve boosted tones into your dirty amp, a standalone saturated distortion, and much more. And you'll be impressed with how amp-like the Classic-V9 feels due to its dual-stage input. Cleaner tones are a simple twist of your guitar's volume knob away. Adding the Tonebone Classic-V9 distortion pedal to your rig is like putting a new channel on your favorite amplifier.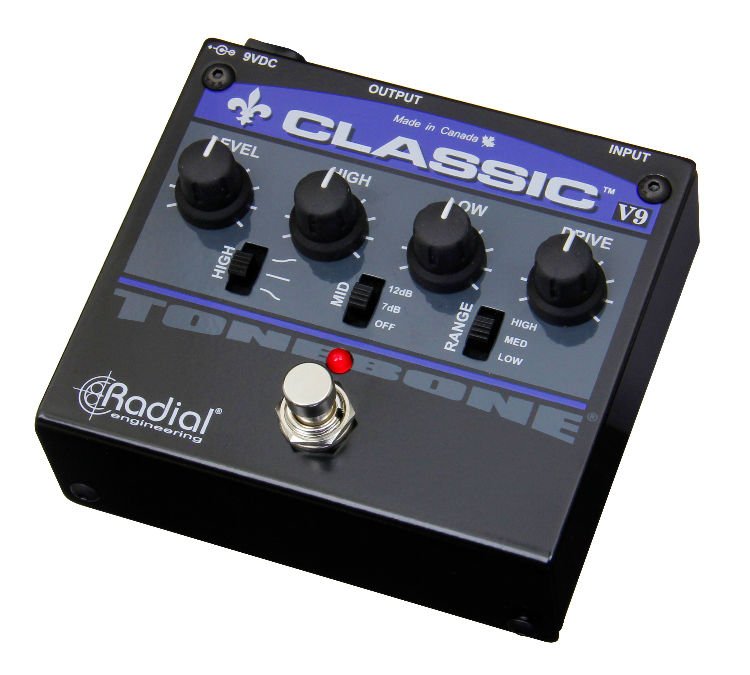 Feels like a great tube amp
What really sets the Radial Engineering Tonebone Classic-V9 distortion pedal apart from other dirt boxes is its dual-stage input design. You'll immediately notice how the Classic-V9 responds to all of your playing nuance much more like a cranked tube amp than a typical distortion pedal. Want more grit? Just dig in harder. Want to back off for a cleaner passage? Roll back your guitar's volume knob, and you're there. With the Tonebone Classic-V9, your individual playing character will come through loud and clear.
Three gain settings
Guitarists all use overdrive and distortion pedals differently. Some run the gain low and the output high to boost an already overdriven amplifier. Some run clean amps and lean on their pedals to supply the dirt. No matter how you choose to get that harmonically rich tone, you'll find the Classic-V9 is more than capable of taking care of the job. Three gain stages are available with the flip of a switch. From there, the Drive knob takes you from crunchy to liquid. Sweetwater players are impressed with how well this pedal nails the tone of a driven amplifier.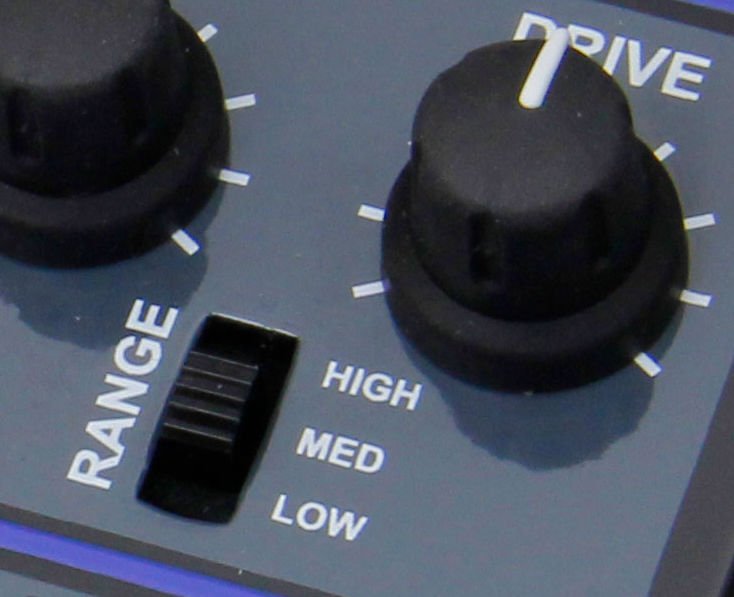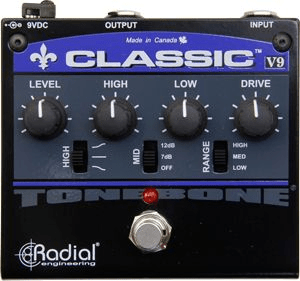 Powerful EQ controll
The Radial Engineering Tonebone Classic-V9 distortion pedal's tonal options are every bit as powerful as its gain options. By placing a 2-band EQ after the gain stage, the High and Low knobs have a massive effect on your sound. A 3-way Mid switch tailors the center frequencies of the pedal. And the High switch determines the pedal's top-end character. All of this tweaking ability ensures the Classic-V9 distortion pedal will be a welcome addition to your rig, no matter what styles you play.
Radial Tonebone Classic-V9 Distortion Pedal Features:
Distortion pedal with amp-like characteristics
Dual-stage input allows the pedal to react naturally to your playing dynamics
3 switchable gain stages from slight grit to saturation
Post-distortion 2-band EQ dials in your lows and highs
Mid-shift control selects your middle frequency
High control tames or boosts your high end