Wide-ranging Hand-hammered Hats with Color Coating
Paiste Color Sound 900 15" Heavy Hi-Hats exhibit a wide-ranging voice, a defined chick, and an extra-responsive feel. Experience excellent touch sensitivity, along with a lively intensity and a crisp stick sound. A heavy top and bottom generate a cutting, sharp sound with medium to loud volume. Color Sound 900 Heavy Hi-Hats produce a medium to long sustain that is bright, energetic, and works well in a variety of playing environments. And of course, their luminous translucent finish is sure to garner lots of attention.
Color Sound 900 — experience new dimensions in visualized sound
Based on Paiste's 900 Series cymbals, the Color Sound 900 Series yields a slightly drier sound with shorter sustain. Otherwise, you can expect the same great sound and flexibility. The translucent color-coated finishes on these cymbals are positively radiant. They maintain the natural appearance of the cymbals, including the grooves and hammer marks. Best of all, the color coating is specially formulated to resist cracking, chipping, and peeling. Drummers here at Sweetwater use 900 Series cymbals to color-coordinate their cymbals with the rest of their drum kits, match their stage decor, and create a custom look under the lights.
Paiste — a history of visual expression
The Color Sound 900 Series isn't Paiste's first foray into color-coated cymbals. In 1984, Paiste stunned the industry with their Colorsound 5 Series. When the '90s rolled around, the Visions Series hit the scene. And more recently, Paiste unveiled their Artist Inspiration models, such as Stewart Copeland's Blue Bell Ride, Aquiles Priester's Giga Bell Ride, and Danny Carey's Dry Heavy Ride. Also, top drummers such as Joey Jordison, Tico Torres, and Paul Bostaph have custom color-coated cymbals.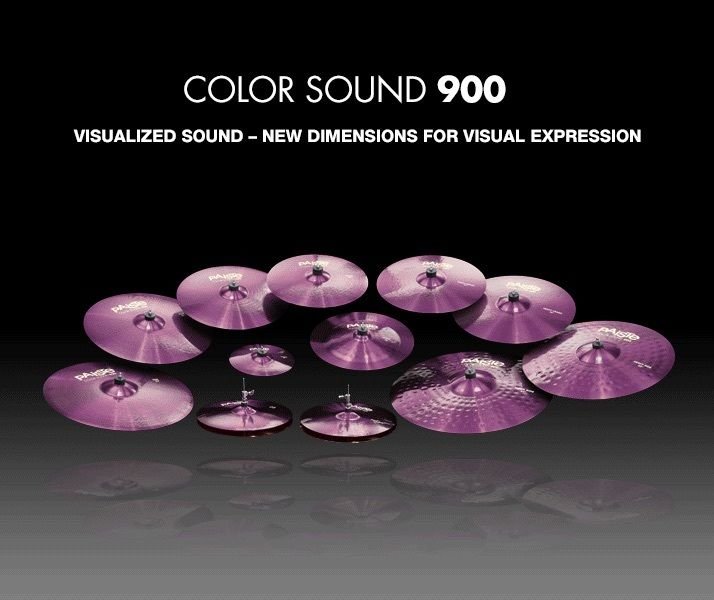 Paiste Color Sound 900 15" Heavy Hi-Hat Features:
15" bronze alloy hi-hats with translucent color coating
Heavy top and bottom produce medium to loud volume that cuts through the mix
Hand-trued edges and hand-hammered bow emit medium bright, crisp tones and a defined chick
Wide-ranging sound with medium to long sustain
Suitable for a variety of playing styles