A Killer Recording Starter Package
Are you new to recording? If so, Sweetwater has got a bundle for you! It all starts with a Creation Station 100v5. This compact computer packs a Core i5 processor, and is ready to tackle your next project. Ideal for singer-songwriters, the included PreSonus AudioBox iTwo interface features a pair of mic preamps — one for your voice and one for your instrument. It's also great for podcasters and voice-over artists. You also get a PreSonus condenser mic and headphones for recording and monitoring. Get up and running quickly with Studio One Artist DAW software. A mic cable, desktop mic stand, keyboard, and mouse complete this all-inclusive bundle.
Powerful computing in a micro-sized package
The Creation Station 100v5's ultra-compact design packs a surprising amount of power into four square inches. It fits effortlessly on a rack shelf or desktop alongside your audio interface and external hard drive. A blazing-fast Intel 6th Gen Core i5-6260 provides uncompromised speed and reliability, a 500GB hard drive effortlessly handles your computing tasks, and a slot is available if you'd like to add a solid state drive. Dependable, high-grade RAM delivers reliable, error-free operation. If you rely on a computer for your studio's success, putting Sweetwater's Creation Station 100v5 at the heart of your system is the right move to make.
All-inclusive recording system
With everything you need to start recording and mixing music, the PreSonus AudioBox iTwo Studio bundle is a complete production solution. You can connect two microphones, instruments, or line-level sources to the AudioBox iTwo USB audio interface, with outputs for studio monitors and MIDI I/O for your controllers and keyboards. The included M7 condenser microphone is perfect for high-quality vocal and instrument recordings. Complete with Studio One Artist DAW software for your new Creation Station and the Capture Duo recording app for your iPad (sold separately), there's amazing production potential in the PreSonus AudioBox iTwo Studio.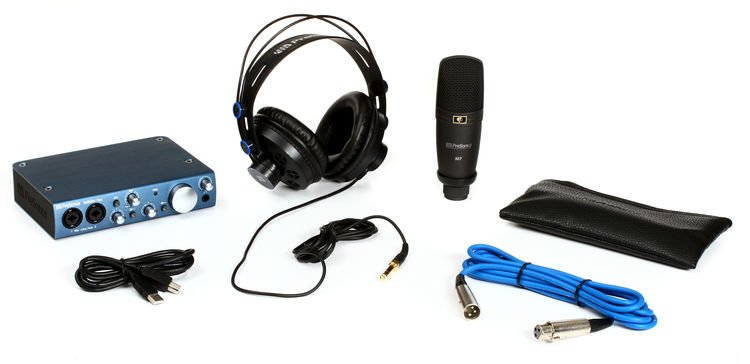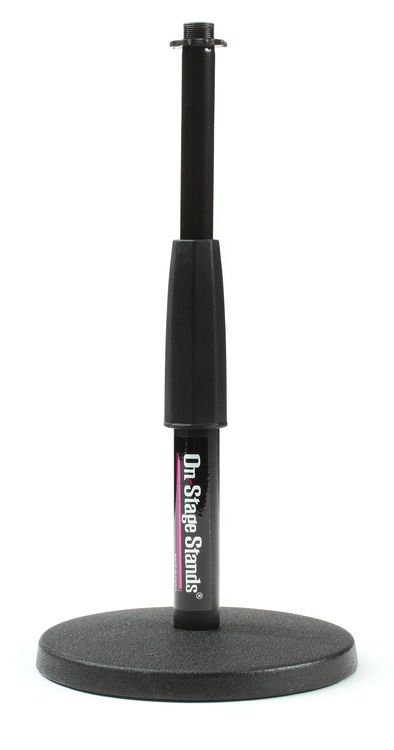 A handy adjustable-height desk mic stand
The On-Stage Stands DS7200B adjustable-height desk mic stand provides a simple, compact, and straightforward solution for desktop and short-height instrument miking situations. Using a sturdy weighted steel base, the DS7200B is made to stay put and resist tipping. Its removable shaft gives you a 9"-13" height-adjustment range and a die-cast steel clutch ensures that your microphone stays right where you place it.
Convenient one-touch controls
Simplify your computing life with the Logitech MK200 Media Combo. This keyboard and mouse package streamlines your workflow with one-touch controls that provide you with instant access to music, volume, the Internet, and more. A low-profile keyboard with whisper-quiet keys makes typing incredibly comfortable. Enjoy smooth point-and-click action with a precise, high-definition optical mouse.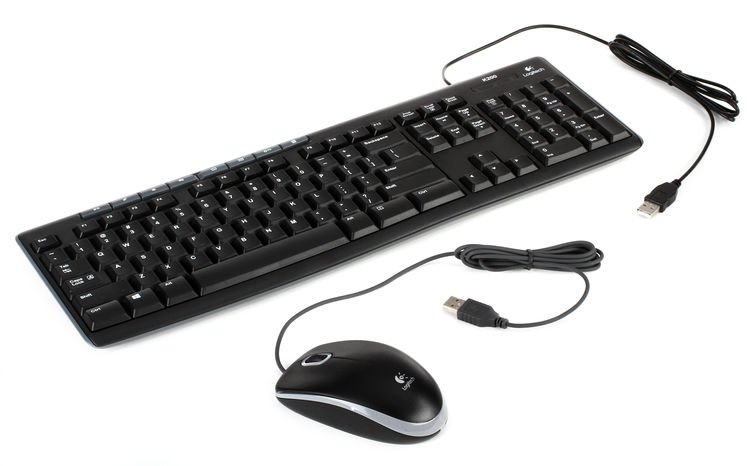 Sweetwater Custom Computing CS100 Recording Bundle with AudioBox iTwo Studio Includes:
Sweetwater Creation Station 100v5 micro desktop workstation
PreSonus AudioBox iTwo USB USB 2.0 audio interface
PreSonus M7 condenser mic
PreSonus headphones
Studio One Artist DAW software
Capture Duo recording app for iPad
Microphone cable
On-Stage Stands DS7200B adjustable height desktop mic stand
Logitech MK200 keyboard and mouse
Sweetwater Custom Computing CS100 Recording Bundle with Scarlett 2i2 Studio Features:
Recording bundle with computer, audio interface, microphone, headphones, software, mic cable, mic stand, keyboard, and mouse
Convenient small-format Next Unit of Computing (NUC) chassis
HDMI and Mini DisplayPort support up to 2 displays simultaneously
Suite of amazing programs and utilities
USB 3.0 ports and SDXC slot enable connectivity with peripherals
Bus-powered USB audio interface for true portability (USB cable included)
Low-noise, high-headroom mic preamps are perfect for recording vocals and instruments
Capture vocals and instruments with the M7 condenser microphone (mic cable included)
Included Studio One Artist DAW software gives you a full-featured recording and mixing solution
Capture Duo iPad app makes it easy to record and transfer projects to your Studio One Artist DAW
Completely portable with no power supply required